OKay start in the Federal after taking on the Queensland men
The pressure of the spotlight was intense, but Queensland golfer Rebecca Kay says the experience of playing against the men in the Queensland Open will only help.
Kay shot an opening round 74 to put her two-over and four shots off the lead in the women at the Federal Amateur Open on Friday.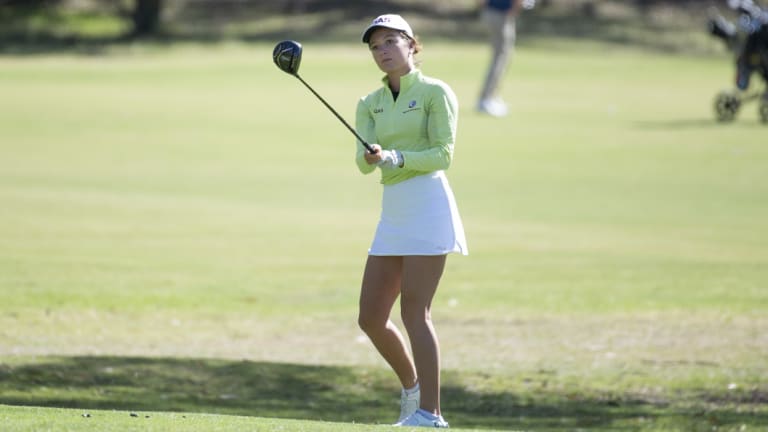 Rebecca Kay said the pressure was intense playing in the men's Queensland Open.Credit:Sitthixay Ditthavong
Grace Kim leads at two-under, while in the men Lukas Michel holds a one-shot lead ahead of Aiden Didone, Corey Lamb and Charlie Dann after carding a six-under 66.
Adam Thorp and Kristopher Cole lead Canberra's charge for the men, six shots off the pace, while Isabelle Hawes is Canberra's best in the women at five-over.
Kay was hoping she could hole some putts on Saturday and begin her charge up the leaderboard.
The 19-year-old qualified to play in the men's Queensland Open last week, where she said the pressure was intense.
"It was awesome. The experience I got from that was absolutely unreal. I was super grateful to even get that opportunity," Kay said.
"There was a Queensland Academy of Sport qualifying and I shot two-under off the back markers to win the qualifying there, which got me a start so it was an unbelievable week.
"It was a bit of a different thing, taking myself out of my comfort zone, which is going to make me progress even more.
"I got a lot of media attention, which put a lot of pressure on me. It was news reports all the time and Channel Nine, Seven and Ten always around me so it did put a lot of pressure on me."
Kay was born in Newcastle in the north of England, but moved to Australia, where her father's from, when she was eight.
January will be a big month for her with the Australian Master of the Amateurs at Royal Melbourne and then the Australian Amateur Championships at Woodlands.
But first, Kay's hoping to make the cut at the Federal and advance to Sunday.
"I just couldn't get anything rolling today. I couldn't sink the putts. I didn't really sink any," she said.
"It's definitely a course where you can go low. I just wasn't there today so I'm hoping for a low one tomorrow and hopefully just climb the leaderboard."
Meanwhile, Canberra's Matthew Millar remains in the hunt for the NSW Open at the halfway point of the tournament.
He shot four-under in the second round at Twin Creeks on Friday to move to nine-under overall to be three shots behind leader Harrison Endycott.
FEDERAL AMATEUR AT A GLANCE
Men: 1. Lukas Michel -6, 2. Aiden Didone, Corey Lamb, Charlie Dann -5, 5. Lucas Higgins, Lawry Flynn -4.
Women: 1. Grace Kim -2, 2. Doey Choi, Konomi Matsumoto -1, 4. Sophie Yip, Hye Park even.
Source: Read Full Article