Saturday Serve: Hodgson rule hardly helping Raiders
If it's the thought that counts, then the "Josh Hodgson" rule is a good thing. But in practice it might not be that practical.
The Canberra Raiders have contacted the NRL about whether they'd be able to get salary cap relief to sign cover for injured duo Jordan Rapana and Ata Hingano, who both suffered shoulder injuries playing for New Zealand and Tonga respectively.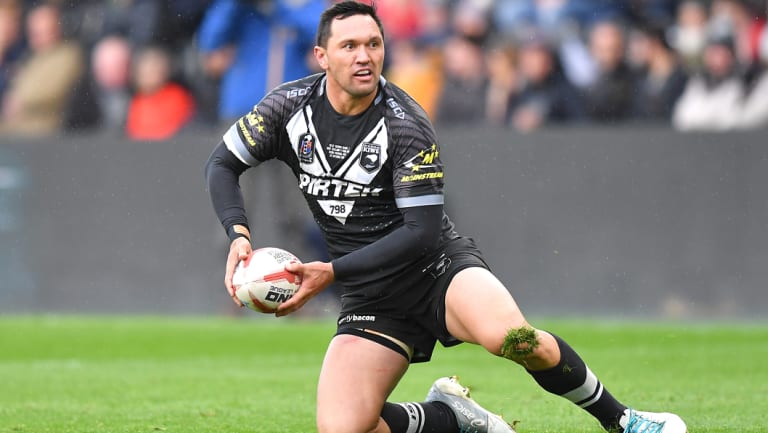 Does the Josh Hodgson rule need a tweak to help the Raiders cover Jordan Rapana?Credit:Dave Howarth
Hingano's already had a shoulder reconstruction and Rapana's likely to have one next week, putting them both out for about six months.
It would mean Hingano would return about round eight, while Rapana might be available round 10.
Despite being out of action for half a year, neither would likely miss the 12 games needed for the Green Machine to get any benefit from the new rule that was introduced in the wake of Hodgson's knee injury.
Hodgson missed the opening 14 rounds of the 2018 NRL season after tearing his anterior cruciate ligament playing for England in last year's World Cup.
It left the Raiders without their star player for more than half the season with no salary cap room to sign a replacement.
The NRL sprung into action and changed the rules to allow clubs the ability to get up to $350,000 in cap relief for players injured playing representative football.
Injured players have to miss a minimum of 12 NRL matches and then clubs can get a pro-rata value of that player's contract up to a maximum of $350,000.
That amount is calculated from a $1 million player missing 12 games.
The Raiders have already given up on getting any salary cap relief for Hingano, whose shoulder reconstruction was the second injury he suffered playing for Tonga this year.
The first was a season-ending ankle injury in the mid-season Test against Samoa.
Whether they can get any compensation for Rapana if the star winger also needs surgery is still up in the air, with the Raiders required to submit a request to the NRL outlining their case.
So for two six-month injuries the Green Machine could get zero allowance in their salary cap.
Despite missing both players for the entire pre-season and having to pay them the entire time.
In comparison, a player could suffer a 12-week injury during Origin I and their club will be able to take full advantage of the rule.
The problem comes from the fact a lot of the representative football takes place at the end of the NRL season – in October and November.
Which means it takes a pretty serious injury for the NRL clubs to benefit from it.
While there's always going to be hard-luck stories when an arbitrary number is plucked out of thin air to decide whether the Hodgson rule should apply, there needs to be some sort of tweak to take into account serious injuries suffered during the off-season.
There needs to be another clause added for off-season injuries. Six months has a nice ring to it, let's go with that.
Sure, the Raiders will get Hingano and Rapana, if the latter needs surgery, back in the first half of the season, but they would be without both for the entire pre-season.
In Rapana's case that might not be such a big problem – overlooking the fact you're missing one of the best finishers in the NRL for 10 games.
He's been with the Raiders for a while now and he'll be able to slot seamlessly back in to his combination with centre Joey Leilua.
But Hingano would have been pressing his claims to be part of Canberra's starting halves pairing and his loss has left them looking for cover.
It's a big blow for both the Raiders and Hingano, who is still trying to establish himself in the NRL.
But even if they did get salary cap relief, who could they bring in?
It has to be a like-for-like replacement under the Hodgson rule, which makes for slim pickings among the halves currently without a contract.
The wingers aren't much better when you take into account the small amount of relief available.
Jarryd Hayne, Corey Oates and Robert Jennings are all yet to re-sign with their clubs, although Jennings is expected to agree to terms with South Sydney.
Oates is also likely to stay with Brisbane, leaving Hayne as the only option of a similar quality to what you'd be losing in Rapana.
But can you imagine him coming to Canberra to play for whatever fraction of the $350,000 the Raiders got in relief?
Even if they wanted him, it's unlikely. (Although every day that passes without him signing somewhere strengthens the Raiders' slim chances.)
Maybe that just highlights the problem with the rule.
It's a bit of a toothless tiger – unless you can find a bargain-basement player or have plenty of wiggle room in your salary cap already to be able to try and land a big fish.
Then you probably don't need it anyway. Nice thought though…
Source: Read Full Article