Beyoncé and Jay-Z have been together for more than 20 years, an absolute eternity in the world of celebrity relationships. For the most part, it's been 100 percent blissful in the public eye, with a minor hiccup in 2014 when TMZ released footage of the elevator fight that broke the internet. Though a resulting prophesied divorce never came to pass, their relationship returned to the spotlight in 2016 with the release of Beyoncé's Lemonade and again with the release of their joint album Everything Is Love. Below you'll find a recap of everything that's gone down between Bey and Jay, from "'03 Bonnie and Clyde" and "Crazy In Love" to the On the Run tour and Becky with the good hair.
1997–2000: Jay-Z and Beyoncé meet at some point. In a 2008 Seventeen cover story, Bey said she met Jay when she was 18, which would be in late 1999 or 2000. In a 2007 Charlie Rose interview, Jay said he'd met Bey "10 years ago," or in 1997.
November 2001: They appear on the cover of Vanity Fair's music issue with David Bowie, Beck, and Gwen Stefani. In a 2013 VF interview, Jay says that during that first shoot they were "just beginning to try to date each other," and joked he had to "wine and dine" her.
October 2002: Beyoncé appears on Jay-Z's "'03 Bonnie and Clyde," marking the first of many musical collaborations between the two.
November 2002: They appear on MTV's TRL to promote "'03 Bonnie and Clyde." A few giggles notwithstanding, they seem to deliberately act like everything is strictly professional. Beyoncé also notes that they "met a long time ago."
February 2003: Bey and Jay attend the NBA All-Star Game together and are seen at several more basketball games throughout the spring.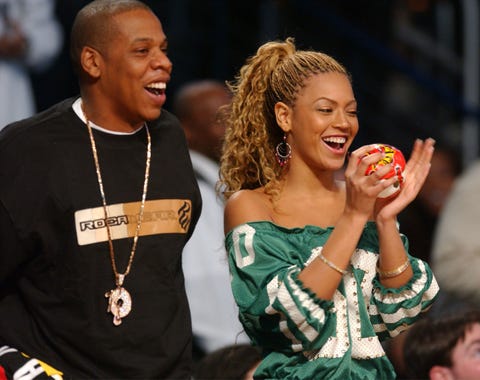 April 2003: Jay-Z downplays his relationship with Beyoncé in a Playboy interview: "We're just cool," he said. "We're just friends." LOL, we all know how that turned out.
May 2003: Beyoncé releases her first solo single, "Crazy In Love," featuring Jay-Z. Given the song's lyrical content, it becomes increasingly hard to believe that these two are not involved.
June 2003: Beyoncé releases her first solo album, Dangerously In Love. On the severely underrated "Signs" with Missy Elliott, Bey sings about being in love with a Sagittarius. Jay-Z, born December 4, is a Sagittarius.
August 2003: They perform "Crazy In Love" at the MTV Video Music Awards together.
November 2003: Jay-Z releases The Black Album. On the song "Public Service Announcement," he says he's "got the hottest chick in the game wearin' my chain." At the end of the month, Beyoncé appears at Jay's "retirement" concert at Madison Square Garden, where they sing "Crazy In Love" together.
August 2004: Beyoncé and Jay-Z make their first red-carpet appearance together at the MTV VMAs.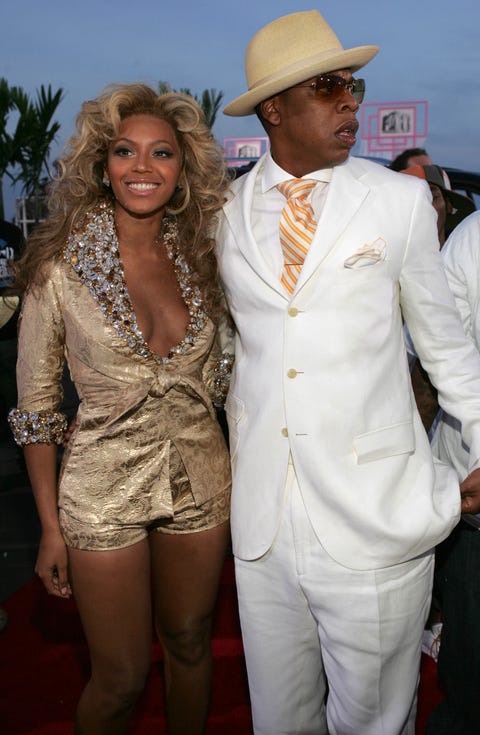 2005: Rumors circulate that Jay is hooking up with his new protégé Rihanna. In his 2015 unauthorized biography Becoming Beyoncé, J. Randy Taraborrelli claims these rumors were planted to drum up publicity for Rihanna.
September 2006: Beyoncé releases B'Day on her 25th birthday. The album features two collaborations with Jay-Z, "Déjà Vu" and "Upgrade U." In the music video for the latter, she dresses like him.
B'Day also features "Ring the Alarm" and "Resentment," two songs purported to be about Jay-Z's alleged affair with Rihanna. Beyoncé's father, Mathew Knowles, releases a statement implying that these rumors are just an attempt to sabotage his daughter's album release.
November 2006: Jay-Z releases Kingdom Come. In the song "Lost One," Jay raps these lyrics: "I don't think it's meant to be, B / But she loves her work more than she does me / And honestly, at 23 / I would probably love my work more than I did she." In his book Decoded, Jay later wrote, "These lines are about trying to have a real, serious relationship with another ambitious professional."
January 2007: Jay-Z releases "Hollywood," his Kingdom Come collaboration with Beyoncé.
April 2008: On April 4, Beyoncé and Jay-Z marry in a super-private ceremony at Jay's apartment. No photos are released of the event, but wedding videos later appear in footage for the "On the Run" tour and in Lemonade. In a 2009 interview with Oprah Winfrey, Jay says that "maybe 30" people were there.
January 2009: They attend the inauguration of President Barack Obama.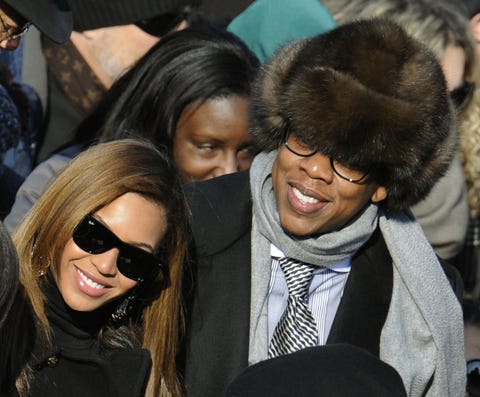 October 2010: Rumors circulate that Beyoncé is pregnant. Beyoncé's mom, Tina Knowles, denies it in an interview with Access Hollywood.
May 2011: Jay posts an extremely cute video of Beyoncé rehearsing backstage for American Idol. "Sometimes you need perspective," he wrote. "You've been right in front of greatness so often that you need to step back and see it again for the first time…NO MICROPHONE. No effects."
August 2011: Beyoncé appears on "Lift Off" with Jay-Z and Kanye West from their collaborative album Watch the Throne. Later that month, Beyoncé reveals she's pregnant during a performance of "Love on Top" at the VMAs.
January 2012: Beyoncé gives birth to Blue Ivy Carter. Ten days later, Jay releases "Glory," featuring a sample of Blue crying.
February 2012: Beyoncé shares the first photos of Blue on Tumblr.
April 2012: Bey and Jay reportedly renew their vows in a private ceremony.
May 2012: Jay tweets that Beyoncé is "the best performer in the world. Period."
"I'm gonna say this and then I'm gonna end mine." BEYONCE is the best performer in the world. Period.
January 2013: They attend President Barack Obama's second inauguration, where Beyoncé sings the national anthem.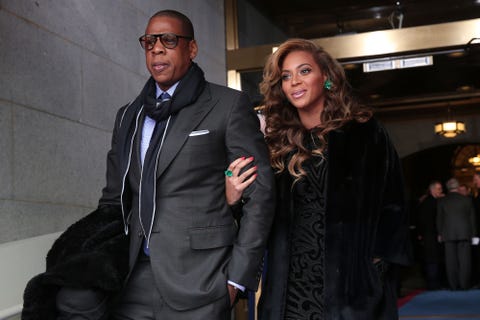 Also that month, rumors begin circulating that Jay-Z is having an affair with Rita Ora.
February 2013: HBO airs Beyoncé's documentary Life Is But a Dream, which features plenty of footage of Bey and Jay looking happy and in love. In an Oprah interview the same weekend, Beyoncé says she suffered a miscarriage before getting pregnant with Blue.
April 2013: Beyoncé and Jay-Z travel to Cuba to celebrate their fifth wedding anniversary. Despite rumblings of the contrary, the U.S. Treasury Department eventually concludes that the trip was legal.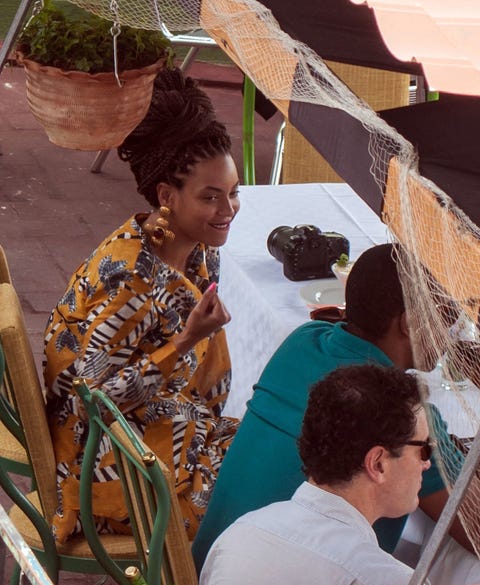 July 2013: Jay-Z releases Magna Carta Holy Grail. Beyoncé appears on the song "Part II (On the Run)."
August 2013: Rapper and model Liv claims that Jay-Z hit on her back in 2008, but she declined his advances out of respect for Beyoncé.
November 2013: Belgian beauty queen Claudia Scheelen claims that Jay-Z sent her drinks in a European nightclub and says he did not mention Beyoncé or Blue during their conversation.
December 2013: Beyoncé stops the world with her self-titled surprise visual album. Jay-Z features on "Drunk In Love," a song that seems to confirm the couple have an extremely healthy sex life.
However, the album also includes darker tunes "Jealous" and "Mine," both of which explore trouble in a relationship.
January 2014: Bey and Jay perform "Drunk In Love" at the Grammys. It is hot!
February 2014: A French newspaper claims that Beyoncé is having an affair with President Obama. Beyoncé's spokesperson dismisses the rumor as "absurd."
April 2014: Rita Ora denies the Jay-Z affair rumors during an interview on Power 105.1 after being asked if she and Jay are "boinking." "Don't you dare disrespect Beyoncé like that ever again in your entire life," she replied. "You should know better than that. That's just straight-up disrespect." Beyoncé and Jay-Z also announce their joint On the Run concert tour.
May 2014: Beyoncé and Jay-Z attend the Met Gala together. The day after the event, Beyoncé shares a photo of herself wearing an Aaliyah shirt (this will be important later).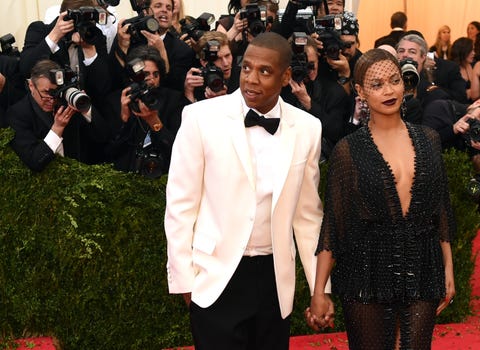 https://www.instagram.com/p/nrXbj5vw2e/?utm_source=ig_embed&utm_campaign=loading
A post shared by Beyoncé (@beyonce)
One week after the Met Gala, TMZ releases footage of Bey's sister Solange hitting Jay in an elevator at an after-party. Rumors immediately circulate that Solange was upset at Jay for his philandering, specifically with Rachel Roy. The family releases a statement to the Associated Press about the incident, saying that they've "worked through it" and everyone is moving on. "At the end of the day families have problems and we're no different," the statement reads. "We love each other and above all we are family. We've put this behind us and hope everyone else will do the same."
Around this time, reports also claim that Beyoncé is having the IV tattoo on her ring finger removed, though it appears two years later in undated Lemonade footage. On the 18th, Jay and Bey release a " data-vars-ga-product-id="c118ebaa-b9b2-4f07-9aac-bde5e3707d22″ data-vars-ga-product-price="0.00″ data-vars-ga-product-sem3-brand="" data-vars-ga-product-sem3-category="" data-vars-ga-product-sem3-id="" data-affiliate-network="" data-vars-ga-media-type="" data-affiliate="true">fake movie trailer to promote the On the Run tour.
On May 24, Beyoncé posts a selfie confirming that she did not attend Kim Kardashian's wedding to Kanye West. Though multiple theories abound as to why she didn't go, the one that sticks is that she was trying to avoid Rachel Roy, a close friend of Kim's. When Rachel's name comes up again in 2016, conspiracy theorists point to the aforementioned Aaliyah shirt as evidence of Jay's infidelity with Rachel. (Rachel's ex-husband Damon Dash dated Aaliyah before her death in 2001.)
https://www.instagram.com/p/oYwUVUvw-m/?utm_source=ig_embed&utm_campaign=loading
A post shared by Beyoncé (@beyonce)
June 2014: InTouch claims that Jay-Z had an affair with Princesses: Long Island star Casey Cohen, but Casey denies it and demands a public apology.
On the 25th, the On the Run tour kicks off in Miami. At the tour's Cincinnati stop, Beyoncé changes the lyrics of "Resentment" from "been ridin' with you for six years" to "been ridin' with you for 12 years," or since 2002, when Bey and Jay started dating.
July 2014: Page Six runs a series of reports claiming that Jay-Z and Beyoncé are on the verge of the divorce. According to their sources, the only thing keeping them together is the On the Run tour, and the marriage will end after the tour ends. A Blind Gossip item seemingly about the pair also indicates that the end is nigh. Clearly, neither of these rumors were true.
August 2014: Beyoncé releases the "Flawless" remix with Nicki Minaj and addresses the elevator fight in the line, "Of course sometimes shit go down when it's a billion dollars on an elevator."
A few days later, rapper and model Liv (see: August 2013) releases a song called "Sorry Mrs. Carter" in which she reiterates her claims that Jay-Z is into her. Beyoncé, meanwhile, hangs out with Gwyneth Paltrow, fueling rumors that she's planning to divorce Jay. (Gwyneth had announced her separation from Chris Martin earlier in the year.)
An Us Weekly cover story declares that Beyoncé is ready to end it, but later on Mathew Knowles says that the rumors are a "Jedi mind trick" cooked up by Jay and Bey in order to sell On the Run tickets. Beyoncé's mom also denies the rumors. Meanwhile, Rita Ora appears in public wearing a shirt featuring the face of Madame du Barry, Louis XV's mistress.
On the 24th, Beyoncé accepts the Video Vanguard Award at the VMAs. Jay-Z and Blue present her with the trophy, and Bey thanks Jay by saying, "My beloved, I love you."
September 2014: Beyoncé and Jay-Z engage in some light PDA at his "Made in America" festival in Philadelphia.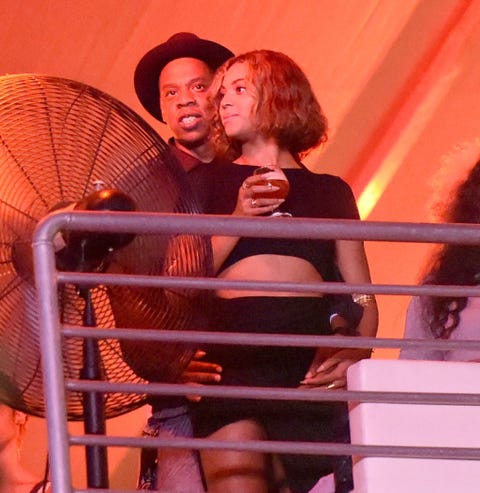 For her birthday, they celebrate with a vacation in France, and Jay-Z shares an adorable video tribute to her on his YouTube channel. On the 20th, HBO airs an On the Run concert special.
November 2014: Beyoncé releases "Ring Off," about her mother's experience with infidelity in her marriage.
February 2015: A photo shows Beyoncé upset at dinner with Jay-Z.
May 2015: They attend the Met Gala together, one year after the elevator fight.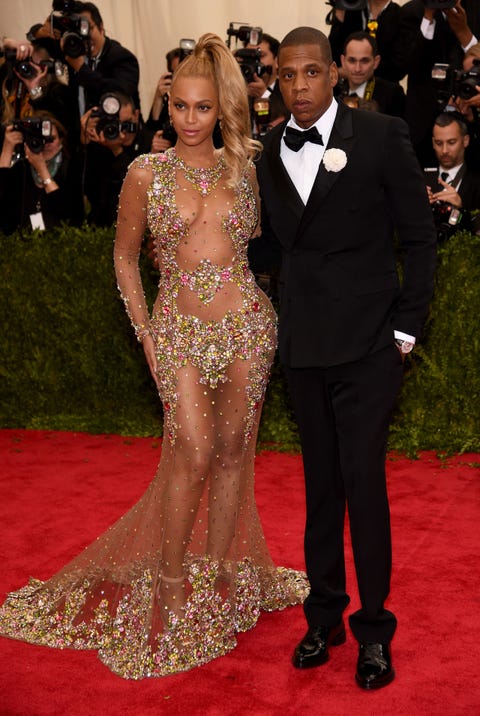 February 2016: Jay reportedly sends Bey 10,000 roses ahead of her Super Bowl performance. Elsewhere, rumors circulate that the couple have finalized a post-nup for an impending divorce. (Which, LOL, did not happen.)
April 2016: Beyoncé releases Lemonade, which among other things deals with the topic of infidelity. Though several lyrics suggest that Jay-Z cheated on Beyoncé, others indicate that they reconciled. A witch hunt for "Becky with the good hair" begins immediately. After posting a "coincidental" Instagram about having good hair, Rachel Roy denies that it's her. Rita Ora also comes under examination for wearing a lemon bra, Beyoncé's Gucci dress from the "Formation" video, and posting an Instagram of an Elizabeth Taylor movie about a woman afraid of losing her husband. She also denies being Becky.
On the 27th, the Formation tour kicks off in Miami. Bey and Jay are photographed without their wedding rings, but Bey dedicates "Halo" to him: "I want to dedicate this song to my beautiful husband. I love you so much."
May 2016: Just days after releasing Lemonade, Beyoncé attends the 2016 Met Gala alone, causing many to think she and Jay-Z are actually on the brink of splitting up for good.
November 2016: The famous duo is often spotted together throughout the 2016 presidential campaign supporting the Democratic nominee Hillary Clinton.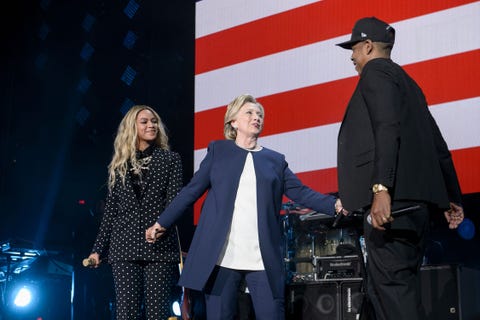 October 2016: Jay appears on the last stop of Bey's Formation tour just in time to perform "Drunk in Love" together, and they look pretty good doing it.
https://www.instagram.com/p/BLSf9xvl-hN/?utm_source=ig_embed&utm_campaign=loading
A post shared by Laura Stylez (@laurastylez)
February 2017: Beyoncé announces that she and Jay-Z are expecting twins. The Instagram quickly broke the record for most-Liked photo in the social network's history.
https://www.instagram.com/p/BP-rXUGBPJa/?utm_source=ig_embed&utm_campaign=loading
A post shared by Beyoncé (@beyonce)
The pregnancy also means that Beyoncé can't actually headline Coachella, which is fine because, hello, it's Beyoncé. "Following the advice of her doctors to keep a less rigorous schedule in the coming months, Beyoncé has made the decision to forgo performing at the 2017 Coachella Valley Music & Arts Festival," Coachella promoter Goldenvoice and Parkwood Entertainment said in a joint statement Thursday afternoon. "However, Goldenvoice and Parkwood are pleased to confirm that she will be a headliner at the 2018 festival. Thank you for your understanding." We'll take it!
April 2017: You're gonna wanna grab some tissues for this one. On April 4, the couple celebrates nine years of marriage together and the mom-to-be shares a series of photos and a video montage to the tune of her song "Die With You" to commemorate it.
https://www.instagram.com/p/BSeXmo3gRf4/?utm_source=ig_embed&utm_campaign=loading
A post shared by Beyoncé (@beyonce)
Oh, and the IG post also allowed us to take a sneak peek at the still there matching ring finger "IV" tattoos (Beyoncé was born on September 4, Jay-Z was born on December 4, and they wed on April 4—are you sensing a theme here?).
https://www.instagram.com/p/BSeXmo3gRf4/?utm_source=ig_embed&utm_campaign=loading
A post shared by Beyoncé (@beyonce)
Later that month, the two jet off to Bora Bora for a vacation in the South Pacific just before the twins are set to arrive. #relatable
June 2017: On June 13, Beyoncé gives birth to Rumi and Sir. She does not announce the news until July, on the occasion of their one-month birthday.
https://www.instagram.com/p/BWg8ZWyghFy/?utm_source=ig_embed&utm_campaign=loading
A post shared by Beyoncé (@beyonce)
On June 30, Jay-Z releases 4:44, which also addresses the marital problems that Beyoncé hinted at on Lemonade. Later, in a lengthy interview with The New York Times, Jay-Z confirms he and Beyoncé had a few problems, which both of them channeled on their respective albums.
August 2017: After searching for a home for their growing family for two years, the A-list pair settle into a super cute and cozy $88 million Bel Air mansion. Okay, same.
September 2017: The lovebirds kick off the month at the "Made in America" festival in Philadelphia, where the rapper gets the entire crowd to sing "happy birthday" to his wife, who is one day shy of her 36th birthday.
https://www.instagram.com/p/BYnGmn2BoE9/?utm_source=ig_embed&utm_campaign=loading
A post shared by Tina Knowles (@mstinalawson)
Fast-forward to September 14, and the couple make their first red carpet appearance since the birth of their the twins at Rihanna's Diamond Ball in New York City, and the two look *chef's kiss*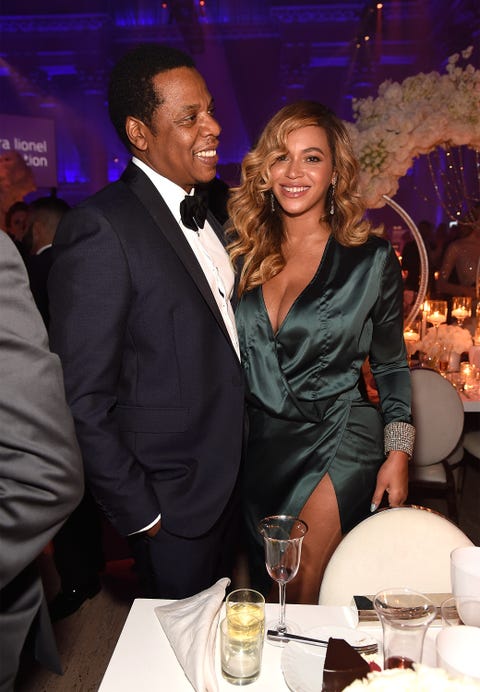 The superstar couple also reportedly purchases a $26 million waterfront estate in the Hamptons together just in time for the summer.
November 2017: On November 29, T: The New York Times Style Magazine releases an intimate interview between Jay-Z and the Executive Editor of the New York Times, Dean Baquet, in which the rapper admits to infidelity and discusses how he and Beyoncé are trying to make their relationship work in the wake of it.
"You know, most people walk away, and like divorce rate is like 50 percent or something 'cause most people can't see themselves. The hardest thing is seeing pain on someone's face that you caused, and then have to deal with yourself," he says, also revealing that therapy has helped him significantly. "So, you know, most people don't want to do that. You don't want to look inside yourself. And so you walk away."
January 2018: On January 27, the couple attends Clive Davis and the Recording Academy's annual pre-Grammys gala in New York City, where the rapper receives the 2018 Salute to Industry Icons Award. In his acceptance speech, Jay-Z underscores that he ended his six-year boycott of the Grammys to support Bey in 2004, "when a beautiful young lady, whom I love dearly, had a solo album, and it was the breakout—she was nominated." He added that, "I'm gonna say a lot of things tonight, but it's all coming from a place of honesty."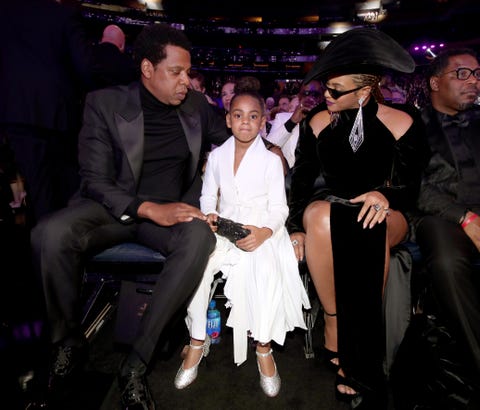 Earlier that day, Jay-Z sits down as the first guest on The Van Jones Show for a wide-ranging interview in which he discusses everything from Trump's presidency to his marriage. He says, "The best apology is changed behavior…The other side is beautiful—at least for us."
The rapper also speaks about the now 7-month-old twins, Rumi and Sir. "We are in a beautiful time now because they are seven months and they can't move. They can just coo…they just coo and you don't have to 'wait, wait, wait, wait.'… You know, they're not running anywhere yet. We are going to enjoy these couple of months until they start running, and then it's over."
March 2018: On March 12, Beyoncé and Jay-Z announce their On the Run II tour. This leads to further speculation that there will be a joint Bey-Z album. A source confirms to People, "They are incredibly excited. It took a lot of work to make this happen. It's the best choice for their family."
https://www.instagram.com/p/BgOcD3cFlDs/?utm_source=ig_embed&utm_campaign=loading
A post shared by Beyoncé (@beyonce)
April 2018: Beyoncé headlines Coachella; Jay-Z pops up for a duet both weekends.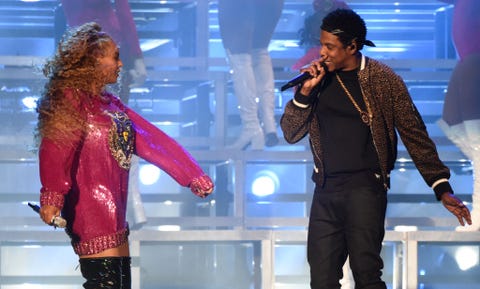 June 2018: On June 6, On the Run II kicks off in Wales. During the show, a video plays that shows Beyoncé and Jay-Z renewing their vows sometime after the birth of the twins, who are visible in the footage.
On June 16, after years of rumors, Beyoncé and Jay-Z release a joint album called Everything Is Love. They first confirm the collaborative project during a London concert on their tour. "You've all given so much love every time we come here—thank you. Because we love you all so much, we have something special for y'all. We want you guys to be the first to experience this new project," Beyoncé tells the crowd.
The album confirms again that they experienced problems in their marriage, as well as rumors like "Beyoncé buying Jay-Z a $40 million jet for Father's Day."
July 2019: On July 14, Beyoncé and Jay-Z attend the premiere of the Lion King live-action film, for which she voices the character Nala. It is there that they meet Meghan Markle and Prince Harry, and for juuuuust a split second everything is okay in the world.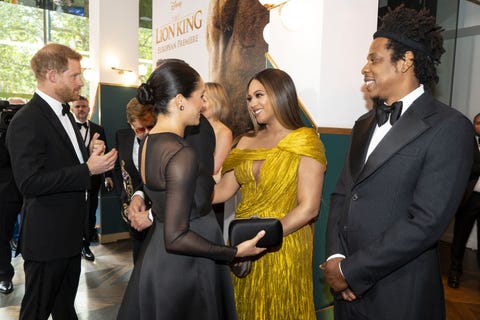 July 2020: Beyoncé debuts her second visual album, Black Is King, on July 31. The film features the ultimate cameos by both her husband and their three children.
August 2021: The power couple stars in a viral ad for Tiffany and Co. on September 2, and Beyoncé becomes the fourth woman ever to wear the yellow Tiffany diamond necklace. In the shots, which were photographed by Mason Poole, Beyoncé recreates Audrey Hepburn's famous Holly Golightly character and wears the necklace with a stunning black gown and sheer gloves.
"Beyoncé and Jay-Z are the epitome of the modern love story," Alexandre Arnault, EVP of product and communications, said in a statement. "As a brand that has always stood for love, strength and self-expression, we could not think of a more iconic couple that better represents Tiffany's value."
https://www.instagram.com/p/CS6BCqoLqGv/?utm_source=ig_embed&utm_campaign=loading
A post shared by Beyoncé (@beyonce)
Welp, that's it for now! Stay tuned for more updates that are sure to come from Bey and Jay—we know you're also dying to know.
Source: Read Full Article