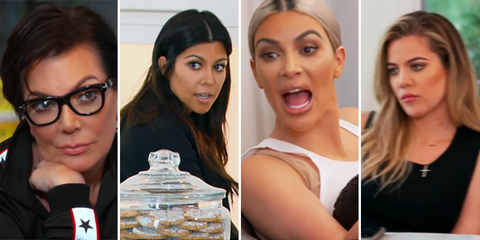 The Kardashians aren't just famous for being famous, thxvm! They're also famous for, well, their cosmetics lines, their social media following, their love lives, their TV shows and, although the list goes on, perhaps most importantly for being dramatic. The fam's feuds with other celebrities (looking at you, Taylor Swift) are well-documented, but you don't even have to leave the KarJenner gene pool for a very healthy (or dysfunctional, depending on how you look at it) dose of drama.
What's more, they love to air out their dirtiest family laundry on air—how else to sustain a season of Keeping Up With The Kardashians that doesn't already feature multiple births, breakups, and, you know, the whole Blac Chyna debacle?! (More on that below.)
Yes, sometimes it makes you wonder what's real beef and what's just staged for the cameras, but, either way, it's impossible not to get sucked in. Here are some of the family's biggest on-TV-for-all-to-see fights of all time, because are you really keeping up with the Kardashians if you aren't keeping up with the times they called each other out?
The time Kim bought a Bentley and everyone was "f*cking rude" about it.
Here's an oldie but a goodie to get things started: Remember way, way back during season 2 of Keeping Up With the Kardashians when Kim had just become successful enough to treat herself to the Bentley of her dreams? (For context's sake, a big plot-point in the first season was her booking an appearance on The Tyra Banks Show, so the whole car splurge was legit.) Anyway, remember when Kim took Khloé and Kourtney with her to pick it up from the dealership, and the delays just really got to them and they went off on the guy who was in charge of getting Kim her ride?
Kim took the guy's side, clearly violating the implicit laws of sisterhood—and it started a blow out fight. After the Bentley pickup incident, Khloé and Kourtney went to hang out with Rob and shit talk Kim, who then showed up and furiously assaulted Khloé with her purse:
And the time the whole family ganged up on Kim during a ski trip.
Let's be clear, you don't hit your sister in the face with a handbag and expect things to be hunky dory the next morning—even if it was mostly for TV. (And come on, Kim looked legit pissed in the moment!) So it took a while for the wounds, literal and metaphorical, to heal.
Playing mediator, Caitlyn Jenner suggested the fam take a ski trip to Colorado to bond and drink hot cocoa. It did not go as planned! Everyone ended up all ganging up on Kim (again), culminating in some intense Blackberry throwing and Kim's first iconic ugly cry of the series:
And and the time Rob stole Kim's car.
Nope, still not done with the Bentley dramz! Kim's car truly was the drama-starting gift that kept on giving. But for every "giver," there is a "taker," in this instance, it's Rob, who borrowed the car without telling Kim while staying at her place. She freaked out and, somehow believing her prized wheels had been stolen, called the police, only to have Rob arrive home driving it, while the officers were still there.
The time Kim lied to Kendall and Kylie to get out of hanging out with them.
During KUWTK's fourth season, Kim's tendency to lie to people to avoid following through on plans was the primary plotline for an entire episode. Basically then, she was a trendsetter, because who wants to bother with any social engagements in 2018!?
In the episode, Kim tells Kendall and Kylie that she's too sick to take them to the beach, when it reality, she just didn't feel like engaging in QT.
The Jenner girls, apparently believing the lie, decide to bring Kim some get well soon flowers and catch her in the ruse (in a very scripted-feeling kind of way). It wasn't a blow out fight the way some Kardashian-Jenner feuds are, but the whole family definitely took a side and, in this case, they were right to. Or, you know, right… on cue.
The time Kim lost an earring in the ocean and Kourtney wasn't sympathetic to her plight one bit.
Before Kim and Kris Humphries were engaged and then married and then not married any more, they went on a trip to Bora Bora with Kim's family. At one point, Kris threw Kim into the ocean, which was fine—until she realized she'd lost a very expensive earring in the drink. She proceeded to melt down, and Kourtney proceeded to not sympathize.
Repeat the classic line with me now: "Kim, there's people that are dying."
The time Kim uninvited Khloé from her wedding.
So, Kim and Kris H's relationship was a bit of a dumpster fire and everyone seemed to know it—but Kim just blindly barreled ahead with the wedding anyway. YOLO, right?
In particular, Khloé was one member of the Kardashian family who didn't hold back about how awful she thought Hump was. I mean, she called him Frankenstein! But the real final straw was her not comparing Kim's fiancé to a horrifying, blundering reanimated corpse—it was calling him "opportunistic." Long story slightly less long than it has to be, Kris found out Khloé was impugning his character and tattled to Kim.
Kim confronted Khloé about the situation, and Khloé was basically like, "#sorrynotsorry, everyone is thinking it." At this point, Kim really lost it, saying, "If you're all talking shit behind my back, there's no reason why any of you should be at my wedding," uninviting Khloé from the fairytale affair. (Don't panic: they later made up and Khloé was re-invited.) (And then it turned out the wedding barely "mattered" anyway.)
And the time Kim called Khloé a troll for waking her up.
You know the saying "don't poke a sleeping bear"? Well, don't poke a sleeping Kardashian either—and certainly not when you've got a camera crew with you and said Kardashian you're waking might not have had time to contour before being filmed!
Khloé once made that mistake—big mistake!—when, on one otherwise innocuous occasions, she interrupted Kim's beauty sleep to say goodbye on her way out of town. It might seem like an innocent gesture, but it's actually the behavior of a "dumb, evil, little f*cking troll." At least according to Kim.
Khloé, to her credit, took the insult about as well as anyone could. "[She said] I'm spiteful, I'm jealous of her life," Khloé said. "It's crazy that she thinks that way, but also sad."
Kim later apologized, and everyone watching (and probably Khloé too) realized that the outburst was mostly misdirected anger, since Kim was scheduled to fly to Minnesota to confront then-husband Kris about his decision to live thousands of miles away from her just weeks after their wedding. Which was a whole other fight.
The time Kim hired a private investigator to tail Scott.
Scott Disick has been a KUWTK antagonist since season 1 (and Kardashian-adjacent for the duration also, so he qualifies for this list!). In 2013, during spin-off series Kourtney & Kim Take Miami, Kim took it upon herself to hire a private investigator to follow him around and confirm whether he was up to anything unsavory. Although, really, it's Scott Disick, so you shouldn't need a private investigator for that…
When Kourtney found out about her sister's detective work, she was less than impressed. In fact, she was more "GET EFF OUT OF MY HOUSE," and even went so far as to throw Kim's clothes off their Miami mansion's balcony.
The time Kim lied to Kourtney and used her house for North's birthday party.
If there's one Kardashian you don't cross, it's Kourtney. (She is, TBH, terrifying). While Kourtney and Khloé were busy "taking" the Hamptons in 2014, Kim, Kanye, and North were living with Kris back in Calabalas, waiting for the seemingly-endless renovations on their latest mega mansion to be completed.
Kourtney and Scott had just purchased a new home of their own, meanwhile, complete with a huge, kid-friendly backyard. And Kim, looking for a place to host North's first birthday party , asked Kourtney if she could use her house. Chuck-e-Cheese was fully booked, go figure! Kourtney gave her a firm hell no, which Kim decided to ignore—Kourtney was 3,000 miles away, after all. What's she really going to do!? Well, when Kourtney found out, she flew across the country to tell Kim off in person. Get them frequent flyer rage miles, Kourt!
The time Kourtney refused to be a character in Kim's app.
As Kim Kardashian: Hollywood's popularity grew like no other through 2014 and 2015, Kim was hard at work planning new storylines and, of course, in-app purchases, for the game. That meant all the Kardashians got to join in the fun! But in a Willow Pape-worthy move, Kourtney (at first) refused to sign on as a supporting character. At least, Kourtney said, not without a fat payout!
Kim, meanwhile, insisted that Kourt should just do it for free because Kim had done so much for her. You can imagine how well Kourtney took that.
The time Rob and Chyna mocked Kylie and Kris online and Kim lost it.
Tensions between Rob Kardashian and the whole fam over his relationship with Blac Chyna were apparent from the very beginning, but they boiled over when the couple posted memes about mama Kris and Kylie Jenner online that seemed to mock them. Well, you know they boiled over often but this was one particularly messy instance. You don't meme mama Kris!
Kim stepped up to intervene, calling Rob and laying into him about his (and Chyna's) behavior. "There are so many haters in the world, we do not need it from our own inside circle… Everyone has to just not be blasting people on social media," she said.
And the time Rob re-gifted an iPad from Kendall to Blac Chyna.
There's a fine art to re-gifting, by which I mean, don't do it on social media when the receipts are going to be right there! Case in point: Rob decided to re-gift an iPad that his sister, Kendall, gave him to his then-love, Blac Chyna. The problem? Chyna had all sorts of beef with her prospective in-laws, and especially with Kylie, who was dating her ex, Tyga, at the time. (Rob got in on this drama too—remember the time he tweeted out Kylie's phone number over a baby shower snub?)
Kendall was firmly Team Kylie in all this, it goes without saying, and was all sorts of unhappy when she learned what Rob did with her gift.
The time Kim helped Caitlyn get ready for the ESPYs and Kris LOST IT.
In July 2016, Kim helped Caitlyn get ready for the ESPY Awards—even though, technically Kanye's the stylist in the Kardashian-West household. When Kris found out, she was livid, and went as far as calling Kim a "fucking traitor." (By this point, the beef between Kris and Caitlyn over their split, and their differing perspectives thereof, was stewing.) And when Kim tried to explain that she wanted to be neutral when it came to Kris and Caitlyn's issues, Kris went HAM.
"I want loyalty. I don't want f*cking neutral. I'm trying to be as gracious as I can, I'm trying to be as understanding as I can," the momager said. "I'm betrayed. I've been f*cked over on so many levels that your head would spin."
And the time Caitlyn's book pissed off various Kardashians and Jenners.
In 2017, Caitlyn released her autobiography, The Secrets of My Life, and everyone had THOUGHTS. Not-so-happy thoughts.
Understandably, Kris Jenner was the most vocal about her displeasure with the book, which she said made her more "angry and disappointed" than she'd ever been in her whole life. "Everything she says is all made up," Kris lamented on KUWTK. "Why does everything have to be that Kris is such a bitch and an asshole?"
At first, Kim tried to be diplomatic about the book. "It's taken her a really long time to be honest with herself so I don't expect her to be honest about my mom now," she explained during an interview on The Ellen Show. "But it's just so hurtful. I wish her all the success in the world, but not at our expense."
Later, during an appearance on Watch What Happens Live, Kim was less optimistic, giving Kris and Caitlyn a two percent chance of ever speaking again—and saying that two percent represented Kendall and Kylie.
The drama continued to unfold on KUWTK, with Kim and Kourtney talking about Caitlyn being mad at Kris for "no reason."
Eventually, Kendall became the first Jenner kid to express frustration with the book, calling Caitlyn's bashing of the Kardashians "insane."
"I spoke to Kim about Dad's book and heard about all the stuff she was saying in it and how a lot of it is so not true," Kendall said to Kris. "The weird part is I don't think it's purposeful lying, I think she really just thinks that's what happened… and then she goes around dissing the Kardashians but those are the kids that you raised, if you have a problem with them you raised them."
In a later conversation about Caitlyn, Kim claimed to have learned of her gender reassignment surgery in the media, and Khloé accused Caitlyn of playing the victim.
(Caitlyn later confirmed that she hadn't told the Kardashians about her surgery, saying, "Of course not—of course I didn't trust them.")
The time Kim called Kourtney the "least exciting to look at."
The higher the stakes, the lower the low-blows? As the Kardashians brands, and brand values, have soared, so has their pettiness. It's a sign of the times! Cut to the sisters' latest public feud, over photoshoots and running multimillion dollar businesses. In a recent episode of KUWTK, Kim and Kourtney faced off when Kourtney set a hard out for herself while Kim tried to plan a photoshoot. The fight culminated in Kim banishing Kourtney from the shoot all together, and calling her the "least exciting to look at." Yikes.
In response, Kourtney called Kim an "evil human being"…
And then the time Kourtney called the whole family "disgusting."
… and Kourtney then went on to call her family as a whole "disgusting" and "gross," as well as declaring that she basically hates being on the show. Eek.
"All everyone f*cking says is, 'What's your job?'" Kourtney told her sisters and mom over the phone during an episode this season. "If I had enough money, I wouldn't work. I wouldn't do the show. I would be a full time mom. That's what I want to do. The guilt I carry every day from not being at home when they get in from school, not doing homework—my kids suffer."
Wanting to stay home with her kids and maybe retire from a life of reality TV fame seems reasonable, right? But then Kourt made it extra personal: "Honestly, it's like, we have a disgusting family," she continued. "I'm ashamed to be a part of [it]. It's just gross."
Later in the same episode, Kourtney accused everyone in her family of being "fake" and announced her plans to put a lot of geographic distance between herself and the rest of the KarJenners.
"I will move to another state at some point, or another country," she said. "I cannot wait for that day and hopefully just won't have to have these fake relationships."
Unsurprisingly, Kourtney's recent attitude prompted her sisters, Kim and Khloé, to question if she even wants to be a Kardashian at all anymore. Which, like, fair—but also don't worry about any serious repercussions, because blood is thicker than water and also Nielsen ratings.
BONUS: The time Rob randomly compared Kim to Amy Dunne from Gone Girl.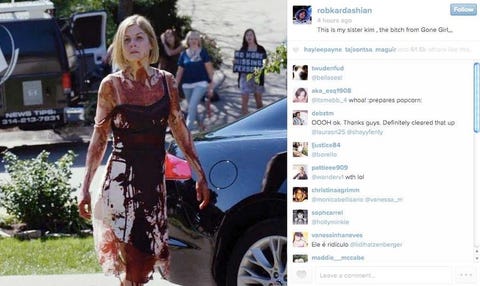 Okay, so this one didn't really play out on KUWTK, but as Kardashian-on-Kardashian feuds go, it's especially head-scratching. In March 2015, Rob posted a picture of Rosamund Pike, in character as "Amazing Amy" from the movie Gone Girl, on his Instagram. His caption: "This is my sister Kim. The bitch from Gone Girl…"
It was a mystery to Kardashian followers everywhere, until almost a year later, when Kim replied to a fan's tweet begging for answers with the (dubious) explanation that Rob just thought he was being funny.
…K.
Source: Read Full Article