While the sports-loving world should be used to being wowed by Simone Biles by now thanks to her many incredible achievements, plenty of her fans were again left with nothing but admiration for the world-class athlete during the Tokyo Olympics. That's because she not only took home a bronze medal (amidst a tragic circumstance), but she also showed us that she was willing to make her mental health — and, in turn, her overall health, safety, and well-being — a priority.
After pulling out of the women's team gymnastics event, Biles explained to reporters (via ESPN), "You have to be there 100%. If not, you get hurt." She added, "Today has been really stressful. I was shaking. I couldn't nap. I have never felt like this going into a competition, and I tried to go out and have fun. But once I came out, I was like, 'No. My mental is not there.'"
While there have been a few outspoken critics of Biles' decision, there have been scores of people who have been willing and eager to support her. That includes Rep. Alexandria Ocasio-Cortez, who had something to say about Biles that you'll definitely want to know about!
Alexandria Ocasio-Cortez thinks Simone Biles proved an important point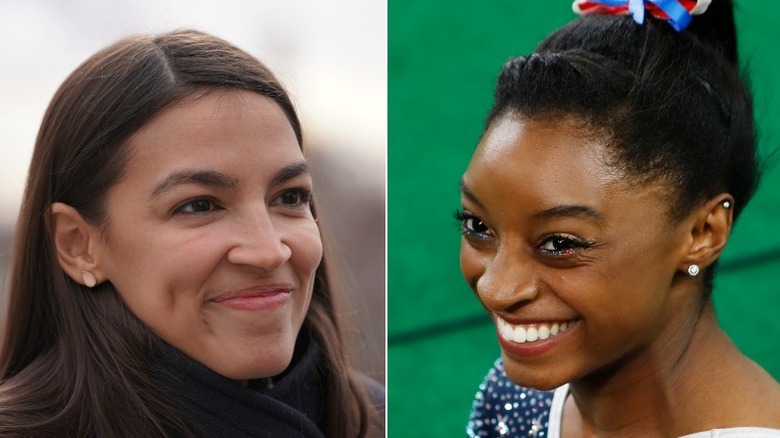 When Simone Biles acknowledged the need to take care of her mental health, "she showed that she's a role model not just as an athlete, but a leader for just all people," according to Rep. Alexandria Ocasio-Cortez. After being asked about the athlete by TMZ in early August, the politician explained that Biles proved that "we do not have to choose between our performance and ourselves and our health, and that … those things are one and the same."
AOC went on to say, "[Biles'] bravery, I think, was a huge example to everybody and her coming back to win another medal … showed that her taking care of herself helped [her] be better in the end." Indeed, if that works for Biles, then it may also work for others. When it was suggested that Biles could end up on Capitol Hill at some point in order to talk about the importance of caring for your mental health, AOC added, "That would be amazing. We need her. We need her voice."
If you or someone you know is struggling with mental health, please contact the Crisis Text Line by texting HOME to 741741, call the National Alliance on Mental Illness helpline at 1-800-950-NAMI (6264), or visit the National Institute of Mental Health website.
Source: Read Full Article