In a Twitter tirade, the 'Black Madonna' rapper calls out the Mother Monster for allegedly having 'zero respect for black women' and harboring ill feeling toward the Trinidadian raptress.
AceShowbiz –Azealia Banks is unstoppable on Twitter as she has returned to the micro-blogging site since Elon Musk bought it for $44 billion. The outspoken raptress has now called out Lady GaGa for allegedly asking her to antagonize Nicki Minaj and disrespecting black women.
The "Anna Wintour" rhymer began her lengthy rant against the pop superstar after fans suggested that she should do a collaboration with the Mother Monster. "No. That woman has zero respect for Black women," she began to write in a series of tweets on Monday, May 9.
"I cannot ever respect her for literally asking me to beef with Nicki Minaj on her behalf," so the 30-year-old claimed. "I refuse and send a less incendiary song, insinuates that we're gonna spill nicki's *human blood* (f**king eye roll)."
Azealia also accused the "Poker Face" hitmaker of mocking late singer Aaliyah as saying, "then she openly Mocks a late-Aaliyah's traumatic, and short lived life marred by sexual Abuse by once again uncontrollably oozing racism for not getting her way, and seemingly doing that r.Kelly collab out of spite."
"The gays have been falling for her hodge podge pseudo bs for years," she wrote in a separate tweet. "At least Lana has the balls to admit that she's a whites only water fountain confederate sally American lynch-mob romanticist."
Azealia went on insinuating that GaGa is holding resentment against the Trinidadian rap star. "Like her deep deep jealousy and hatred for Nicki Minaj and the sneaky s**t she was saying and trying to do behind the scenes was just gross," she penned. "If I want to beef or pop s**t about Nicki I will do so on my own accord. I will never do a white womans bidding for her. TUH."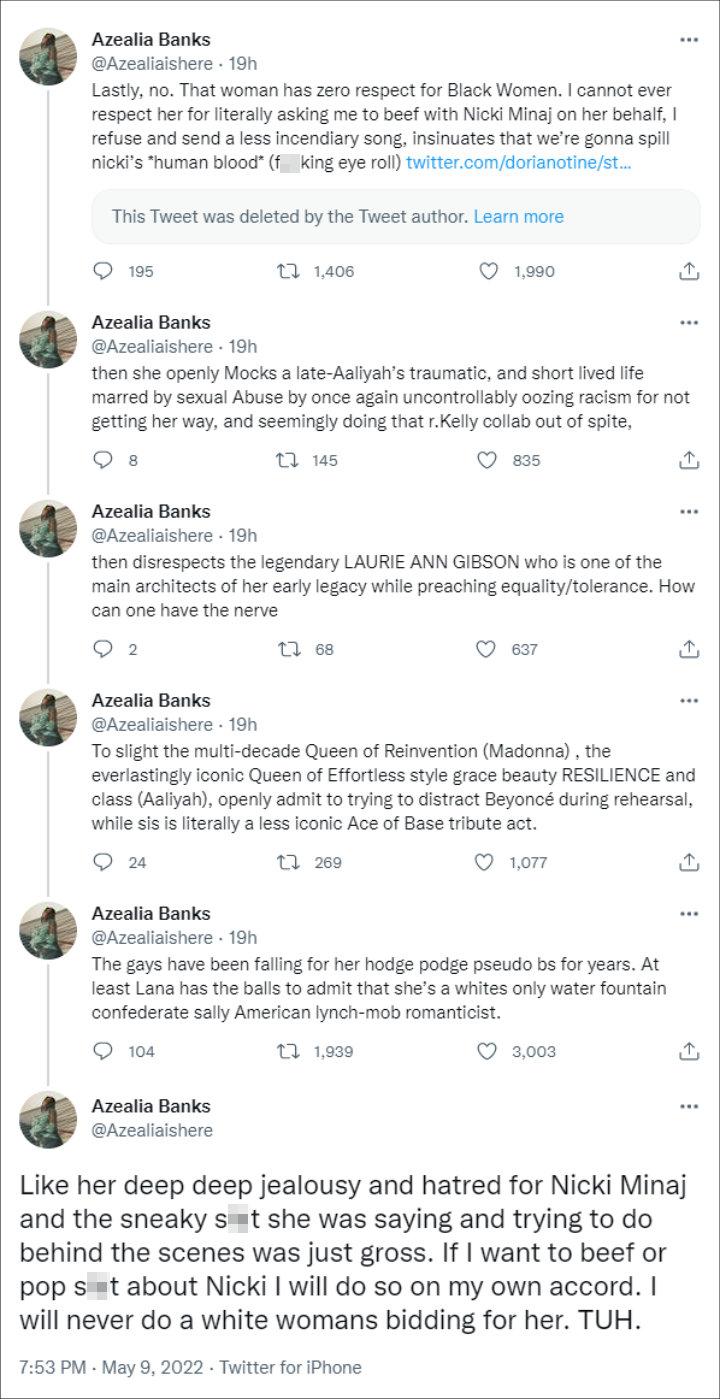 Azealia Banks ranted against Lady GaGa on Twitter.
GaGa has not responded to Azealia's claims.
Source: Read Full Article