Many Bachelor franchise fans were crushed when they found out that Bekah Martinez, a standout contestant from Arie's season, decided to skip Paradise Season 5 because she's in a relationship. Now, Bekah is watching along with the rest of America, which means she's serving up her commentary via social media. And she did not fail to weigh in a certain couple on the show. Bekah M.'s tweets about Tia and Colton on Bachelor in Paradise from the Tuesday night's dramatic premiere kept it real, but what else would Bachelor Nation expect?
Much of BIP's Season 5 premiere was devoted to the ongoing saga of Tia and Colton. Tia, who competed alongside Bekah for Arie's heart on Bachelor Season 22, headed to Paradise with the football player in mind — the two of them had a brief fling prior to his time on Becca's season of the Bachelorette. It was clear that Tia was waiting for Colton to arrive, mainly because she couldn't stop bringing him up.
"I'm disappointed. I was hoping that Colton would be here. Am I ready to just move on?," she said when he didn't show immediately. Even her fellow BIP cast members were clued into the fact that she could not get Colton off her mind, or her lips.
Bekah (and the rest of Bachelor Twitter) took notice.
This isn't the first time Bekah's weighed in on the whole Tia and Colton thing. Back in June, she called them out after for creating a "manufactured narrative" after a photo of them leaked on date in Mexico while filming Paradise. Tia's friend Raven got wind of the remarks which ignited a Twitter feud.
Bekah later apologized for her "heated" behavior, admitting that it's not her "place to be the justice police."
Bekah did tweet about Colton and Tia during the BIP Season 5 inaugural episode, but to be fair — so did Tia's bestie Raven.
Even Tia had something to say about her own actions!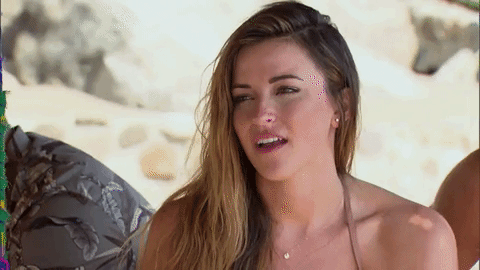 While taking in the premiere, Bekah also developed an appreciation for fan fave Grocery Joe, who made quite the impression on Kendall in the premiere as well. Kendall just happens to be good pals with Bekah, so that's promising.
Joe chatted up a handful of ladies upon touching down in Paradise. The Chicago native and early cast-off from Becca's season expressed his attraction to Tia and caught the eye of Krystal. But it was his conversation with Kendall that took the pair to the next romantic level. Kendall and Joe ended up smooching and exchanging mutual "I like yous" after discussing the oh-so-sensual topic of picnicing in cemeteries.
"Grocery Store Joe is goals in every sense of the word," Bekah noted.
While Bekah dove right into her Paradise observations, the LA-based nanny has also been sharing her thoughts on this season of The Bachelorette. She tweeted about Monday's finale, showing her support for runner-up Blake.
Oh, she's also #TeamJordan.
Bachelor in Paradise airs Mondays and Tuesdays on ABC. Perhaps Bekah will continue to tweet her feelings as the season goes on. OK, she probably will.
Source: Read Full Article