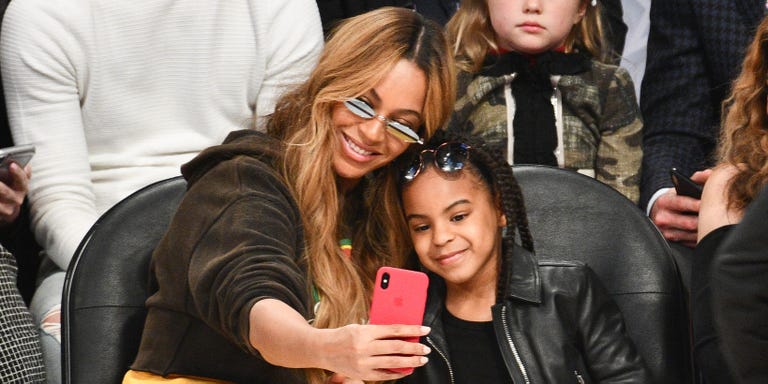 Beyoncé posted a series of photos on her official website from her family vacation in Italy, and the internet has gone wild responding to a few epic shots of 6-year-old Blue Ivy living her best life on a yacht.
The photos show Blue sipping her drink in a pool and rocking a ruffle one-piece swimsuit, cat eye glasses and a top knot bun like the true queen she is.
https://www.instagram.com/p/BlriqnslRu4/
Live your best life #BlueIvy ?
A post shared by The Top Tea (@thetoptea) on
Another shows Blue meditating in a swinging outdoor chair.
https://www.instagram.com/p/BltSqKlAaSq/
Mood af #blueivy #queen
A post shared by @ timeless.co on
Naturally, fans couldn't handle Blue's slayage. Some shared their reactions to the images online, and a meme was born.
https://www.instagram.com/p/BltROk8hPAr/
Positive Vibes Only #icandobadallbymyself #blueivy #chill #peace #thursday #lovelife #calm #balance #mood
A post shared by Odogu Benson (@wizeozidi) on
And as if the Carter vacation photos couldn't get better, Beyoncé also shared a rare look at her adorable 1-year-old twins, Rumi and Sir. The picture shows the brother sister twins sitting on Bey's lap laughing as she holds two water balloons.
https://www.instagram.com/p/Blrd1UKhcmt/
Sir and Rumi?
A post shared by Beyoncé (@beyslife) on
Bey left a sweet message with the photos on her website: "Thank you to Europe for the beautiful memories It's been a pleasure being On The Run with our family, visiting so many incredible places, doing what we love with who we love. We can't wait to come back. Love, The Carters."
https://www.instagram.com/p/BltOy2MFIcQ/
#beyonce #beyoncé #jayz #couple
A post shared by Beyoncé Fan Account (@queenbeyoncekcarter) on
Beyoncé and JAY-Z just wrapped up the Europe leg of their joint On The Run II tour and kicked off their U.S. performances in Cleveland, Ohio on Monday. Though she doesn't join her parents onstage, Blue has stolen the spotlight at her mom and dad's shows. Fans have caught hilarious videos of her dancing and even hiding when NSFW videos come on the screen.
Source: Read Full Article