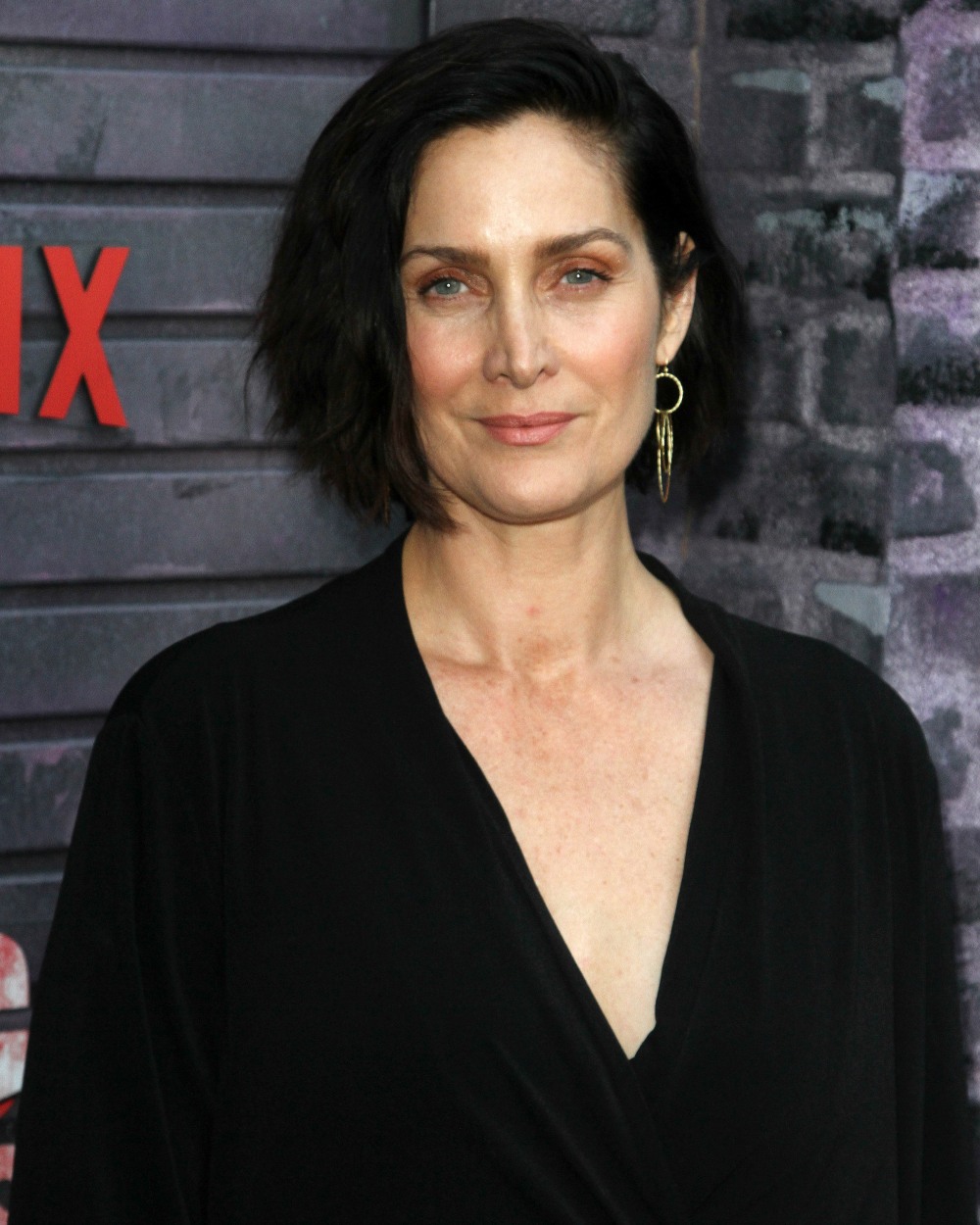 Carrie-Anne Moss became a big celebrity in the late '90s because of The Matrix. She was already in her 30s at the time, and she ended scoring some good roles beyond the Matrix franchise, but I always wondered why she didn't become a bigger deal. She's pretty and talented and an underrated actress. I looked through her IMDB and I'm pleased that she works consistently in film and television, but again, she deserved to be a much bigger deal. Maybe she didn't want that, or maybe Hollywood ageism struck her down and the only roles she got offered were for moms and grandmothers. Carrie-Anne spoke about ageism in casting with Justine Bateman, who is currently promoting her new book on the subject, Face: One Square Foot of Skin.
To promote her new book, Face: One Square Foot of Skin, a creative nonfiction tome about the ways society responds to women as they age, actress turned author and filmmaker Justine Bateman drafted friend Carrie-Anne Moss to moderate a conversation on behalf of New York's 92nd Street Y. The wide-ranging chat saw Bateman open up on eschewing criticism over her naturally aging face ("I had to get rid of this idea that my face was something that was horrible and should be fixed," she said) while the low-key Moss elaborated on life as an actress over 40 in Hollywood.

"I had heard that at 40 everything changed," said Moss, who is now 53 and prepping for the release of The Matrix 4 in which she reprises her role as Trinity. "I didn't believe in that because I don't believe in just jumping on a thought system that I don't really align with. But literally the day after my 40th birthday, I was reading a script that had come to me and I was talking to my manager about it. She was like, 'Oh, no, no, no, it's not that role [you're reading for], it's the grandmother. I may be exaggerating a bit, but it happened overnight. I went from being a girl to the mother to beyond the mother."

Moss said that was a tough transition to process in part because male actors avoid the same trajectory. Moss said she never wanted to stay in the business if she felt like she'd have to change everything about herself in order to stay in it. "You don't feel like you've aged much and suddenly you're seeing yourself onscreen," she said, adding that it's "kind of brutal" witnessing the process. "I would look at these French and European actresses and they just had something about them that felt so confident in their own skin. I couldn't wait to be that. I strive for that. It's not easy being in this business. There's a lot of external pressure."

Moss praised Bateman for writing Face, which serves as a follow-up to her 2018 book that examines Hollywood and popular culture, Fame: The Hijacking of Reality. For Face, Bateman, 55, said she was compelled to take a deeper look at the unfair expectations placed on women, particularly women in the public eye like her, as they grow older. "I find it psychotic that we have leapfrogged any conversations that we should be cutting up our faces," she said. "It's become normalized. Time out, time out! This is not a fact. This is an idea that we can either pull in and make a belief or not. I'm like, f–k that."
[From THR]
I think women should do what they want to do as far as plastic surgery and injectables and all that, just as I think women should be free to NOT do any of that as well. I hate that it's an expectation in Hollywood, like American audiences would freak out at the sight of a wrinkled or naturally-aged face. If anything, the face work so many actresses get is more unnerving to see on-screen than their natural faces would be, and I'm talking about Nicole Kidman, Renee Zellweger, Courteney Cox and all of them. Anyway, I completely believe that Carrie-Anne was being offered grandmother roles soon after she turned 40. They never knew what to do with her! European filmmakers would have known what to do with her.
Embed from Getty Images
Embed from Getty Images
Photos courtesy of Getty, Avalon Red.
Source: Read Full Article