The 'Bring the Funny' host receives a cynical comment on Instagram after posting a photo of herself that sees her flaunting her long and thin legs in a pair of short denim pants.
AceShowbiz –Chrissy Teigen seems to have no problem with putting someone back in their places when needed to. After receiving a cynical comment on one of her social media posts, the former Sports Illustrated Swimsuit Issue model fired back at the hater who wrongly accused her of having "constant liposuction."
On Sunday, May 8, the wife of John Legend shared a photo of her flaunting her long and thin legs in short denim pants. Her Instagram post, however, garnered an unwarranted reaction from one user who said that she went through surgery to get such figure. "Constant liposuction, trainers and good diet.. as she should. I would lol," the hater dissed in the comment section.
Noticing the hate comment, Chrissy did not hold back and immediately slammed back. The 36-year-old model hit back with a sarcastic remark that read, "@playswellwithflour 'constant liposuction' what are you even talking about lol."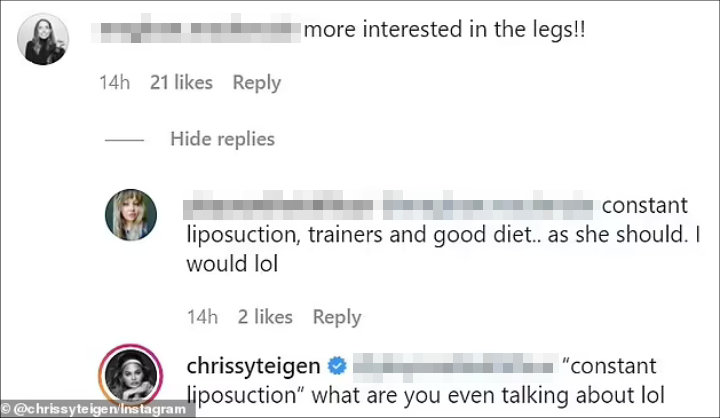 A hater commented on Chrissy's picture and the model slammed back.
Chrissy has been open about her struggle with dieting. Back in 2021, the former "Bring The Funny" judge revealed that she was over diet culture. "I've thrown all of that out of the window," she shared to PEOPLE, "I think now at this point in my life it's more important for me to enjoy things as they come." She also stated that she tried to focus on what made her "happy."
The mother of two also noted that she learned to prioritize her mind over her body. "I eat things when I want them. Because if I don't my mind personally goes crazy," she explained, "I kind of put my mind over body a little bit, mind and spirit over body. If it's going to make me happy and make me feel good, then I indulge in it."
Somewhere in the interview, Chrissy also reflected on her past relationship with food, recalling that she had spent her life constantly worrying about food and calories. "I've lived a whole life," she divulged, "I've spent way too many years counting calories, scheduling way too many workouts and trying to figure out what my term for wellness was for myself."
Source: Read Full Article