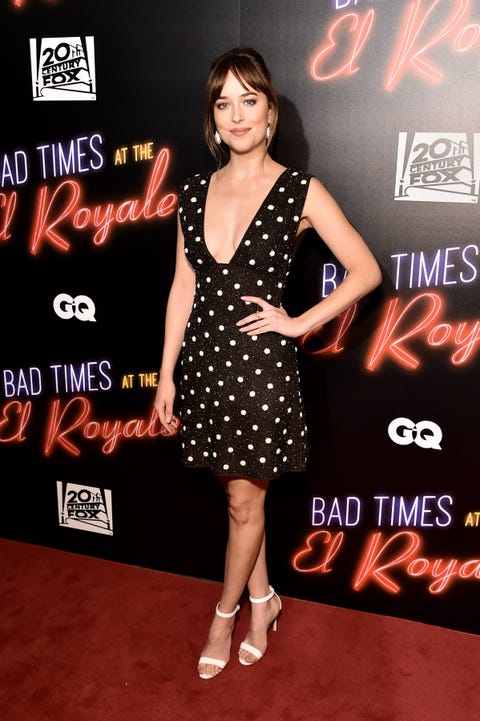 Days after rumors spread that she's expecting a child with boyfriend Chris Martin, Dakota Johnson personally addressed the baby speculation during her appearance on The Ellen DeGeneres Show. Long story short: No, she's not pregnant.
"The only thing I'm pregnant with is a lot of really good ideas," Johnson told Ellen. "But not any babies."
The pregnancy gossip began after TMZ reported on Monday that Johnson had a private gender-reveal party at Martin's home over the weekend. Photos from outside the property showed arches of pink and blue balloons, and the blue arch appeared to be released, leading some to believe the couple was going to have a baby boy.
Johnson's mother, Melanie Griffith, even shared a video of the balloons on Instagram, further fueling baby speculation.
https://www.instagram.com/p/BoqPr3xFNwh/?utm_source=ig_embed&utm_medium=loading
https://www.instagram.com/p/BoqPr3xFNwh/?utm_source=ig_embed&utm_medium=loading
View this post on Instagram
About tonight? Sky over Malibu ?
A post shared by MELANIE (@melaniegriffith) on
But Johnson clarified that event was actually her birthday party "and there were balloons that happened to be pink and blue," she said. Her reps had also denied the pregnancy rumors shortly after the reports broke, and clarified that the celebration was for the actress' birthday.
"I didn't know that the balloons were gonna be released, they were just in an arch, but I guess that accidentally happened. One of the ends just got let go," she explained.
Although the pregnancy news isn't true, Johnson said a lot of people still congratulated her. She got "a lot of attention, more than a just having it be my birthday," the actress said.
Johnson is currently promoting her new film, Bad Times at El Royale, which releases tomorrow. Watch the trailer below.
Source: Read Full Article