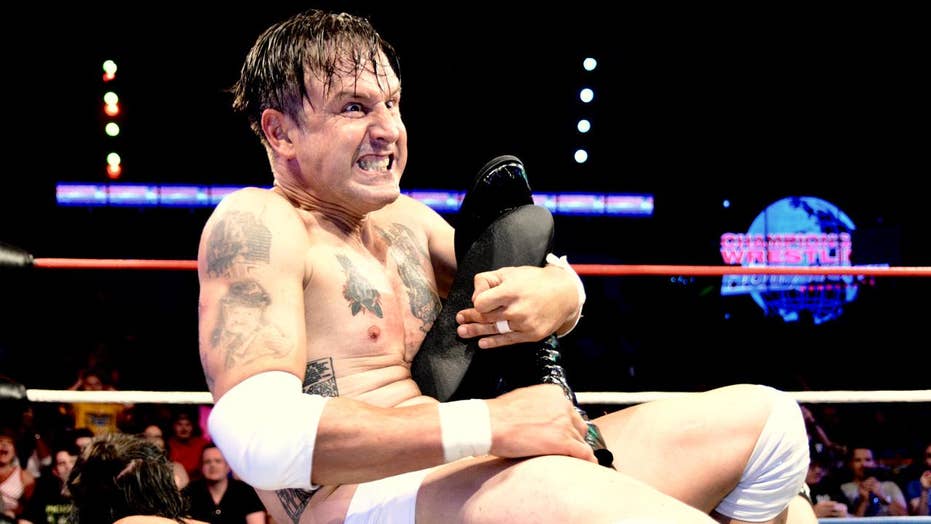 'Scream' actor David Arquette returns to wrestling
Actor David Arquette opens up about his transition from acting in hit movies like 'Scream' and 'Ready to Rumble' to wrestling champion.
David Arquette might want to consider sticking with acting full-time.
WARNING: GRAPHIC CONTENT
The 47-year-old star of the "Scream" movies, and part-time wrestler, competed in a hardcore, death match-style bout Friday night in Los Angeles, leaving the ring covered in his own blood from an apparent neck wound.
It happened during a promotional match for Game Changer Wrestling at Joey Janela's LA Confidential. Arquette was facing off against wrestler Nick FN Gage.
Graphic video quickly spread across Twitter. The footage showed Arquette and Gage's violent encounter, which included various weapons and stunts. Arquette could be seen in one clip dropping Gage onto folding chairs, while in another Gage attempted to scalp Arquette with a pizza cutter.
WARNING: GRAPHIC VIDEO
After getting hit over the head with a light tube, Arquette is seen immediately grabbing his neck. However, he was able to continue the match. Later he walked away from the ring covered in blood.
Arquette later tweeted that he had been "stitched up" and that, as it turns out, "Death Matches aren't my thing."
Arquette, who starred in the wrestling-themed movie "Ready to Rumble," has competed in wrestling before, most memorably by becoming the WCW World Heavyweight Champion in 2000. Now 18 years later, Arquette told Fox News during an interview in September that he has decided stage a comeback to the professional wrestling ring.
"I literally feel like I'm Rocky, I mean like I'm in the gym sweating like crazy going to the gym every day for hours, you know, getting it so I don't get winded so easily and putting on muscle losing a bunch of weight so it's all about training, it's all about determination, it's all about, you know, believing in yourself," Arquette said.
Source: Read Full Article