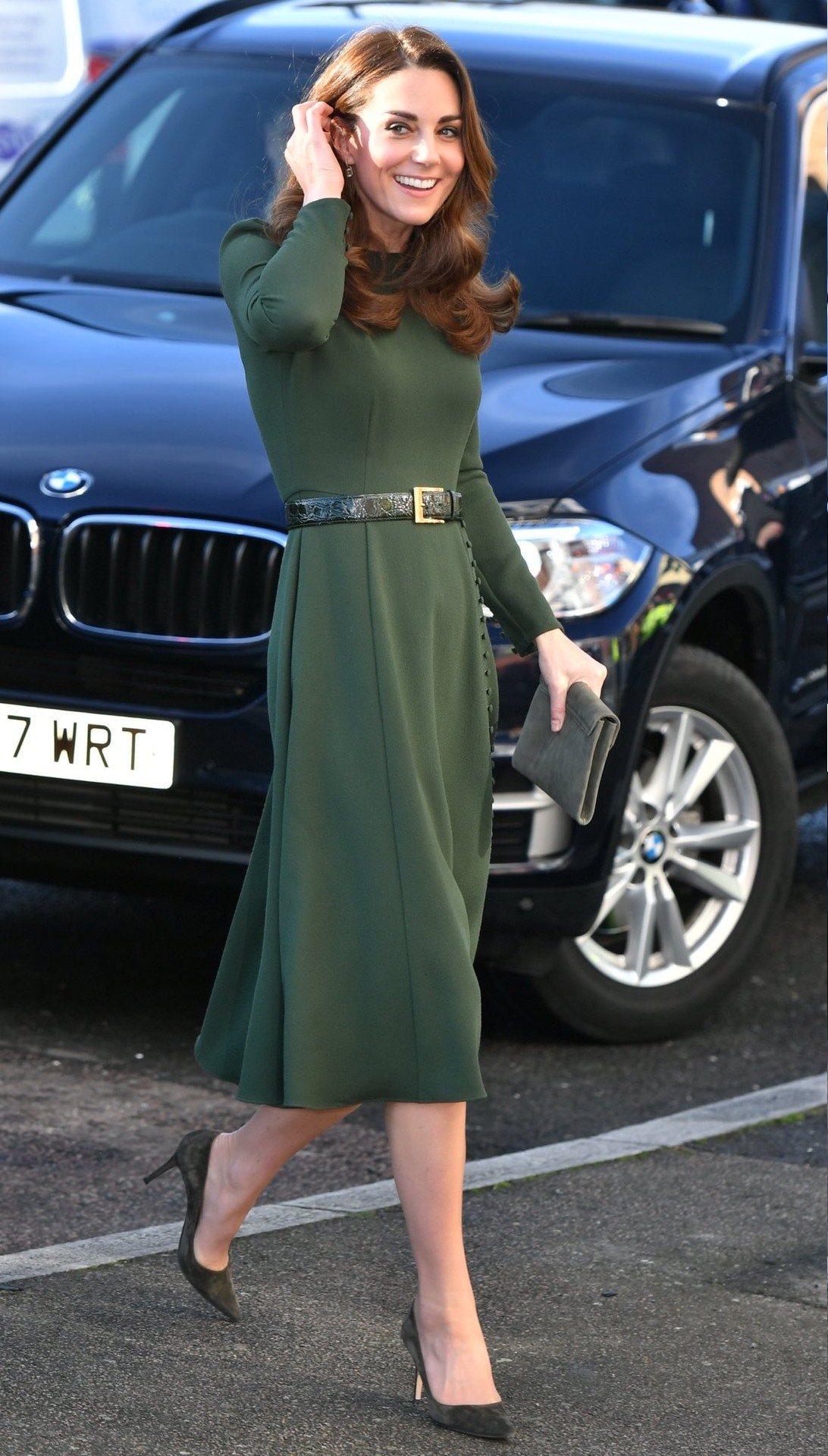 The superfluous buttons down the side of the skirt, I'M DYING!!! The Duchess of Cambridge stepped out today in Lewisham (South London) for yet another event. In case you're keeping track, Kate has already done three days of "work" this month. As we discussed in the Gossip With Celebitchy podcast this week, it really feels like Kate is making the effort to be really and truly KEEN early in the year. For several years of pre-Meghan duchessing, Kate would barely have three days of "work" for the first two months of the year. But now that Meg's around… well, we all have eyes.
Kate's event today was to launch a national support line at the Family Action center. Family Action "provides a range of valuable community support for children and families in the area." For the event, Kate chose a green Beulah London dress which is apparently "bespoke," but something like this dress retails for £550. That's pretty affordable for Kate's usual clothing choices (but to be clear, not really all that affordable). The Daily Mail is making a big deal about how Beulah London is an "ethical line" which donates a portion of its sales to anti-trafficking charities in India, perhaps to emphasize the point that Meghan isn't the only duchess who wears "ethical" clothes from fashion lines which benefit important charities. Overall, I think this is an okay-to-good look, and the vibe is very "Kate." The matchy suede shoes and clutch, the row of buttons (!!!) and the silhouette – it's very dated/totally '80s and it just feels like her default style. Also: this is a good hemline. When I heard "bespoke," I worried that Kate had another dress altered with a raised hemline, but look at that length!
Embed from Getty Images
Embed from Getty Images
Embed from Getty Images
Photos courtesy of Press Association (for Kensington Palace) and Getty.
Source: Read Full Article