The world's richest man has been mocked for his shirtless photos which were taken during a boat day in Mykonos, Greece with bikini-clad pal Sarah Staudinger.
AceShowbiz -Elon Musk isn't bothered with people mocking his pale physique. After his unflattering topless photos that were taken during his Mykonos, Greece getaway were circulated on social media, the SpaceX founder poked fun, encouraging everyone to "free the nip."
On Tuesday, July 19, the Tesla mogul made a tongue in cheek comment after a fan called him out as tweeting, "F**k yea I got my $ behind this man. So so many other smart investors. @elonmusk." In response, he wrote, "Haha damn, maybe I should take off my shirt more often … free the nip!!" before pointing out that he's "already back in the factory" amid his legal battle with Twitter after he pulled out his deal to acquire the micro-blogging site for $44 million due to the company not sharing information regarding bots on its platform.
Someone else even compared him to a naked pale white bulldog. Instead of feeling like he's being a subject of bodyshaming, the 51-year-old billionaire hilariously tweeted back, "My calves are bigger tho."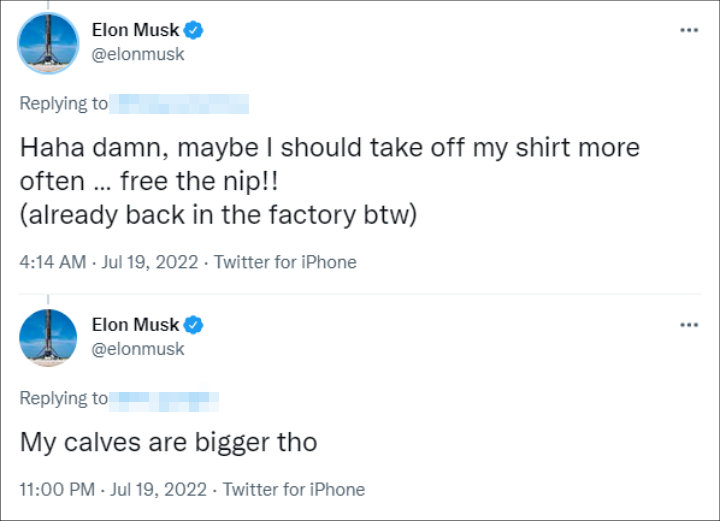 Elon Musk hilariously responded to Twitter users who mocked his naked photos.
On July 15, Elon was spotted partying on a luxury yacht in Mykonos with bikini-clad pal Sarah Staudinger. The world's richest man was seen all smiles as he hung out with Sarah, who recently tied the knot with Endeavour CEO Ari Emanuel.
Before taking off his shirt, dipping in the water and sipping some champagne, Elon was photographed wearing a plain white T-shirt and black swim shorts, with a classic pair of aviators shielding his eyes.
The outing came less than a week after it was reported that Elon and Natasha Bassett called it quits. It's reported that the Australian actress pulled the plug on their relationship after the billionaire confirmed that he secretly fathered twins with another woman.
A source spilled, "Natasha has learned so much from Elon and she is grateful for the time that they spent together, as it was very special and surreal." Despite the split, Natasha allegedly "hopes that they can still be friends."
The source additionally said that Natasha decided to focus more on her career. Her career has exploded following the release of Baz Luhrmann's "Elvis" biopic, in which she starred as The King's high school girlfriend, Dixie Locke.
Source: Read Full Article