AceShowbiz –
It's almost been four months since Cardi B becomes a mom, but only now fans get a glimpse of her daughter Kulture. The baby girl was spotted for the first time on a balcony in Miami with her mother on Wednesday, October 3.
Wearing a pink tutu dress, Kulture was being carried by a helper while the "Bodak Yellow" hitmaker, who was dressing for comfort in a bathrobe, was standing nearby. A proud mama, the 25-year-old rapper took snaps of her daughter with her phone camera.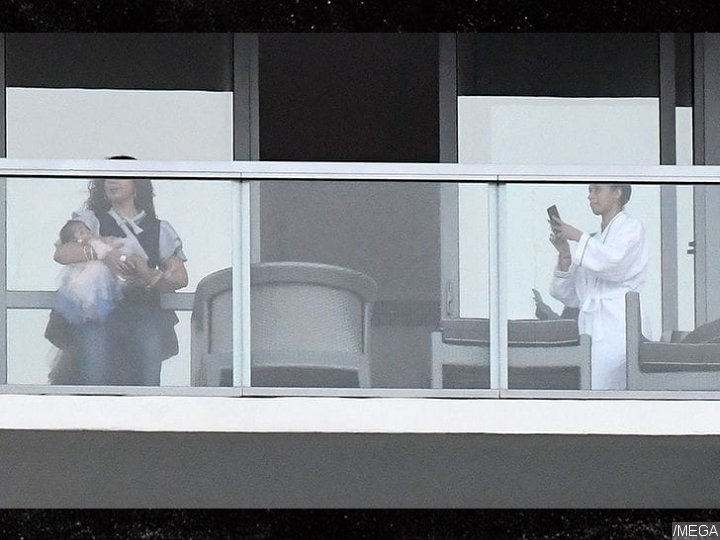 Cardi welcomed her first child with Offset on July 10. The pair, who secretly got married in September 2017, have been very private with their daughter. The Bronx femcee often teased fans with photos of parts of the baby's body without revealing her face.
Offset, meanwhile, showed his love for his daughter by having her named inked on his face. Bricks Tattoo shared a picture of the fresh ink on the rapper's sideburns last month. The Migos star, who is also a father to sons Jordan and Kody and daughter Kalea from previous relationships, said that he had the names of her other children inked on his face.
"No I don't just got her name," the father of four revealed. "I got my other boy right here," he said, as he showed off another face tattoo. "And Jordan, my oldest son, [is] on the shoulder piece."
Back in August, Cardi shocked her husband when she opened the 2018 MTV Video Music Awards by pretending to cradle her baby in a pink blanket onstage. When she unwrapped the blanket, it was revealed that she was just carrying one of the VMA's Moon Person trophies.
Offset apparently had no idea about the prank beforehand and he was so upset because he thought Cardi was about to debut their daughter. She revealed on Twitter, "Why Set said i was sooo mad, when i saw you on stage with that blanket (sad face emoji) I thought you was going to show Kulture."
Source: Read Full Article