Hailey Bieber has addressed speculation that she's pregnant following an appearance at the Grammy Awards this weekend with Justin Bieber, where she wore a gorgeous white Saint Laurent gown that just happened to be slightly baggy.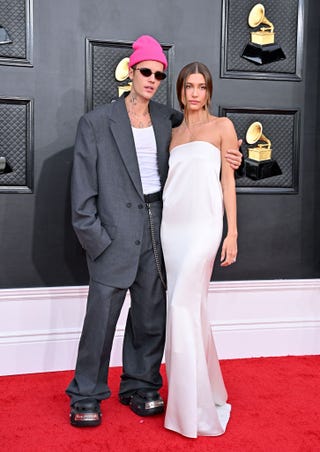 Hopping into the comments of a Radar Online post with the headline "Fans Are Convinced Hailey Bieber Is Pregnanct After She Walks Grammys Red Carpet in Flowing Gown with Husband Justin Bieber," Hailey simply wrote "I'm not pregnant leave me alone."
https://www.instagram.com/p/Cb8qK1vpPJ-/?utm_source=ig_embed&utm_campaign=loading
A post shared by Comments By Celebs (@commentsbycelebs)
yes ! to ! this ! response !
It's obviously beyond not okay to speculate about whether or not someone is pregnant, and—also obviously—wearing a flowing dress to an awards show means literally nothing.
And by the way, Justin already made it clear that he and Hailey are waiting to start a family, telling Ellen DeGeneres in 2020, "I'm going to have as many as Hailey is wishing to push out. I'd love to have myself a little tribe. But yeah, it's her body and whatever she wants to do. I think she wants to have a few.…I think Hailey still has some things she wants to accomplish as a woman. And I think she just is not ready yet, and I think that's okay."
Source: Read Full Article