Ed Helms is a popular actor and comedian who is probably best known for his work on the iconic television show The Office. Helms has also appeared in a wide variety of movies, including, most notably, The Hangover trilogy. While many of Helms' characters are socially awkward, geeky types, Helms himself has earned a reputation as a charming, well-spoken man.
However, when it comes to his family, Helms prefers to keep quiet — in fact, many fans aren't even aware that Helms is married. 
How did Ed Helms become famous?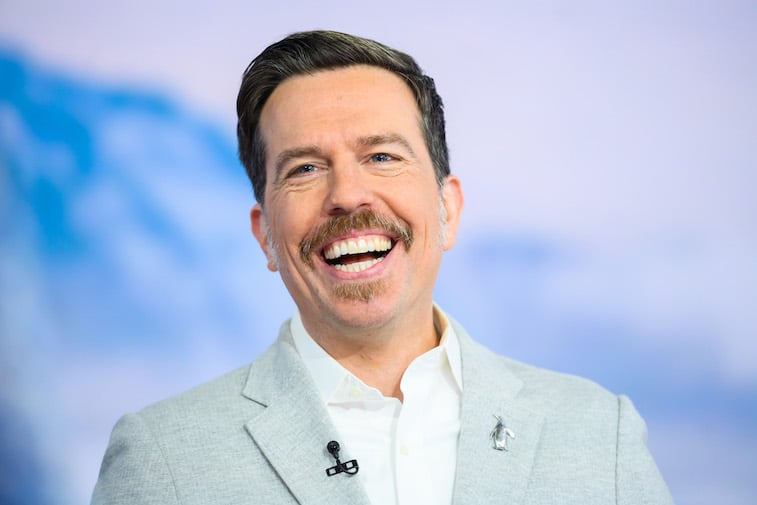 RELATED: 'The Office': One of Jim's Best Pranks on Dwight Was a Complete Accident
Ed Helms was born in Georgia in 1974. A bright child, Helms studied the arts in high school and graduated from college in 1996 with a major in film theory and technology. Helms moved to New York City after graduation in order to pursue his career in entertainment, joining a comedy troupe and performing stand-up all around the city. He also studied improvisation techniques with the famed Upright Citizens Brigade comedy troupe.
Helms got his first big break in 2002 when he was cast as a "field report" contributor on the hugely popular late-night program, The Daily Show. He went on to appear on the show for four years and even returned to make brief appearances in the years after he left. Immediately after leaving The Daily Show, Helms was cast on The Office.
The talented performer portrayed Andy Bernard on The Office from 2006 until 2013, when the show went off the air. Even though Helms has gone on to appear in dozens in television shows and movies, many fans still know and love him best for his work on The Office. 
Ed Helms keeps his personal life extremely private
There's no doubt that Ed Helms is very popular with fans. He has been nominated for numerous awards over the years, including several for The Office and even more for his work in The Hangover. As much as Helms is loved and appreciated by fans, however, he prefers to maintain a very strict separation between his work life and his personal one.
Helms is married, but his Wikipedia page fails to note any details about his wife, including her name, the year that they were married, or any other information about their relationship.
Similarly, his IMDb page doesn't feature any mention of his wife at all. Ed Helms is also a father to one child, but that child's name is not mentioned on any of his pages online, and Helms is careful to never reference his offspring in interviews. 
Has Ed Helms ever mentioned his wife?
RELATED: 'The Office': Rashida Jones Was 'Crushed' When Ed Helms Became a Series Regular, Says She 'Always Felt Like a Guest Star'
Ed Helms clearly doesn't like to bring his family into the spotlight. It is next to impossible to find any mention of Helms' wife or child anywhere online. However, there is at least one instance where Helms talked about his family in an interview.
In late 2019, Helms visited Jimmy Kimmel Live, during the promotional tour for his movie, Corporate Animals. Helms opened up to Kimmel about being on vacation with his wife and his wife's family. While on vacation, Helms received a call from his publicist, asking him about a rumor that speculated Helms was having an affair with his Corporate Animals co-star, Demi Moore.
After Helms shot down the rumor, saying that he is "happily married," he went to tell his family about the call.
Helms told Kimmel that his wife thought the rumors were hilarious: "Before I can say anything, they go, 'Demi Moore, high five! Can you believe that tabloid thought that you and Demi Moore could be a couple? I mean that is insane.'" Helms joked that his feelings were almost hurt by her reaction — but again, he carefully avoided mentioning his wife's name.
RELATED: 'The Office': Ed Helms Says Andy Would Be Making A Cappella Jams During Quarantine
Source: Read Full Article