YouTube
By Joey Keogh/Aug. 24, 2021 10:50 am EDT
Actor Lucas Cruikshank, better known by his moniker Fred Figglehorn, was a YouTube sensation back in the day. As an ABC News profile from 2010 — right at the height of Fred mania — notes, then-17-year-old Cruikshank became an overnight sensation seemingly out of nowhere, with followers numbering over 50 million and a dedicated franchise, leaving the unassuming kid flummoxed. "I know all this stuff is happening, but it never really fully hits me because I don't live in L.A.," Cruikshank explained. "I just commute back and forth from Nebraska to L.A., so I have, like, a totally normal life here in my hometown." 
As IMDb details, the ambitious youngster had a hand in writing short-lived TV spinoffs "Fred" and "Fred: The Show" and movie sequels "Fred 2: Night of the Living Fred" and "Fred 3: Camp Fred." Evidently, he wasn't just some squeaky-voiced flash in the pan, with appearances on "iCarly" and "Hannah Montana" under his belt, alongside a bit part in "Monsters vs. Aliens" and recurring roles in "Cute Combat" and "Marvin Marvin." Most of the time, Cruikshank either played himself or Fred, but he more than made a major impression outside YouTube regardless. 
All these years later, where is Fred now?
Actor Lucas Cruikshank hasn't left YouTube behind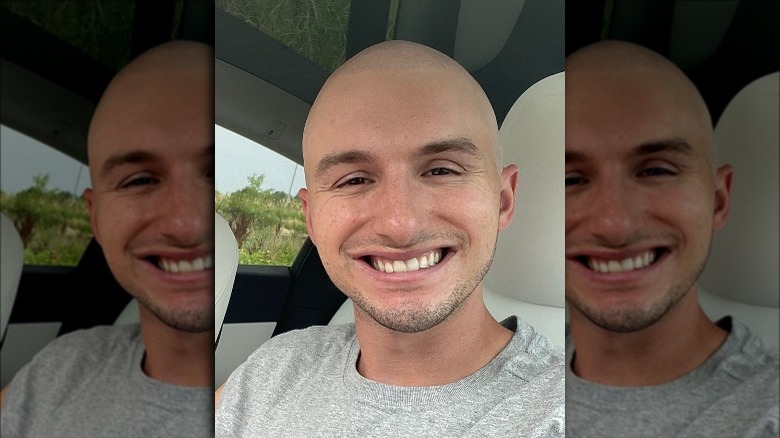 In 2013, Lucas Cruikshank, best known for playing beloved YouTube character Fred Figglehorn, proudly came out as gay in a video posted to his "Lucas" channel. While answering a series of questions alongside BFF and fellow actor Jennifer Veal, the man formerly known as Fred confirmed simply, "I'm gay," before erupting into nervous laughter and acknowledging, "It feels so weird saying it on camera." Cruikshank explained that his closest loved ones had already known for years, negating the need for the social media star to have a big coming-out moment online. Although Fred is firmly in the rearview, the enthusiastic creator frequently posts similarly energetic videos to his YouTube channel. 
According to ScreenRant, because the Fred channel was so universally popular, a bizarre attempt was made to relaunch it in 2014 — except, crucially, without Cruikshank's involvement. Following this failed experiment, the channel was left to die. Cruikshank has reprised his most famous role several times in the intervening years, but he's understandably focused on more adult pursuits nowadays. 
On Instagram, he's living his truth as a proud gay man, often sharing funny shots of him acting up in various spots. He also celebrated the 10th-anniversary release of "Fred: The Movie" in 2020, suggesting that he has no qualms about acknowledging where he came from.
Source: Read Full Article