Stranger Things fans want good things for the lovable, yet tough Hawkins, Indiana Police Chief Jim Hopper. The guy's been through a lot, though it appears viewers might get to see another side of the grizzled cop when the series returns — a romantic side, that is. According to actor David Harbour's recent interview with TVGuide, his character will be exploring his "vulnerability" and "intimacy." Um, those words make it sound like Hopper may get a love interest in Stranger Things Season 3. Good for him. Now please tell me Joyce is involved.
"I think we'll start to see him take more risks with these new languages of intimacy and vulnerability and maybe we'll start to see that he has needs that he hasn't expressed before," Harbour explained.
Translation? That description has me thinking those new "languages" are of the love variety. Hopper isn't what you would call a warm and fuzzy guy on the outside, despite the warmth and compassion he exhibits while acting as a father figure to Eleven, aka Jane. It appears there will be growing pains in the openness department.
"That's exciting to watch him open up in that way. Of course he's going to flail and be horrible at it too, which is always fun as well," Harbour added.
When asked if Joyce might be his love interest, Harbour wasn't about to confirm anything. He now knows better than to divulge too much, considering he's gotten in trouble with Netflix for spilling his insider spoilers in the past.
"That's a good question. I'll have to get back to you on that one," he told TVGuide.
Jim Hopper's romantic life has not gotten much on-screen action throughout the first two seasons of Stranger Things. It was revealed in Season 1 that he was previously married to a woman named Diane for seven years prior to divorcing and that the pair had a daughter together named Sara, who tragically passed away. It was also made clear that the hard-drinking sheriff hasn't exactly been celibate since his married days.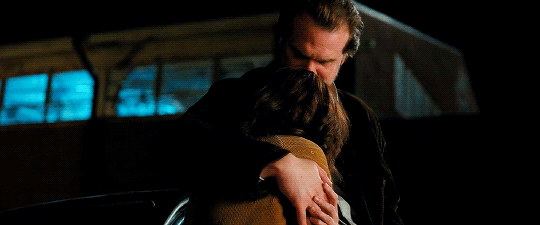 Stranger Things viewers have been shipping Hopper and Joyce Byers (Winona Ryder) ever since their first scene together. The former high school classmates' chemistry is palpable, even when they're dealing with shadow monsters and stuff.
Joyce was busy getting her Kenny Rogers on with nice guy Bob Newby (Sean Astin) in Season 2, but now that he's, er, out of the picture… perhaps something real can truly transpire between her and Hopper. Harbour touched on the possibility while discussing Season 2 back in 2017 — even he wants them to take things to the next level:
https://www.instagram.com/p/BePD-fdnt7R/
No matter who Hopper ends up striking up a potential relationship with moving forward, it will be interesting to see how he deals with that part of himself. If my fellow Jopper shippers are lucky, Joyce will be on the receiving end of his newfound affections.
Source: Read Full Article