WHEN ULI LATUKEFU, 37, heard he'd been cast as the teenage version of Dwayne "The Rock" Johnson on NBC's Young Rock, premiering on February 16, he immediately hit the fridge. "His goal then was to be an NFL player," says. "So my goal was to gain as much muscle as I could, which took eating a lot of chicken breast and rice." Spending two hours a day at the gym five days a week and eating almost constantly, Latukefu gained ten pounds in roughly two months to achieve Johnson's then-260-pound frame.
Luckily, the six-foot-five actor seemed to fit the bill already. "I was like, 'I think I've got this one,'" he says of his auditioning experience for Young Rock. "The crew was like, 'You look exactly like him.'" But Latukefu had to be able to move, too.
During Episode 1, he hit the bench press for a pivotal scene that established Johnson as a force to be reckoned with as a University of Miami freshman football recruit. "The first time we did it, all the guys are cheering and I couldn't hear anything," he says. "I had to do like 36 reps, 10 times, so 360 reps in total. I woke up the next morning very sore."
But his transformation wasn't complete. Becoming The Rock also required a change on the inside, he says. "The hardest part was [achieving] that level of wide-eyed optimism and ambition that young people have," he says. "The rest, I left to hair and makeup. But it wasn't a challenge [playing him], because we both grew up in humble beginnings."
https://www.instagram.com/p/CKtdSR5HFfS/
A post shared by Uli Latukefu (@ulilatukefu)
Before he was playing a mega-movie star in the making, or an actor himself, Latukefu grew up in a tiny town in New South Wales, Australia, raised in a single parent household with his brother. "My father had passed away when I was really young, so we became very tight-knit," he says. He played rugby and a whole host of other sports and had plans to go to college to study exercise science.
During his junior year in college, though, he'd realized he wanted to chase goals other than athletics. He performed in his church's drama skits and auditioned for Australian Idol at 21. "I was just really hoping that might lead to new things,' he says. When that failed—he'd only made it to the third round, which never saw the light of day on Aussie television—he attended drama school at 24, hoping that acting might lead to even bigger things.
Those bigger things came in the form of a role on Netflix's drama, Marco Polo, and a smaller role in Ridley Scott's Alien: Covenant. The biggest thing, though, and his career's tipping point must just be playing Johnson during a pivotal moment in the former wrestler's life.
The sitcom captures Johnson at three times in his life: him at 10 (played by Adrian Groulx), him at 15 (played by Bradley Constant) in high school, and him in his late teens, entering college during the '90s. Then, Johnson was a real-life star football player and top recruited athlete. It was a decade Latukefu, who'd go on to become a star athlete himself, remembers well.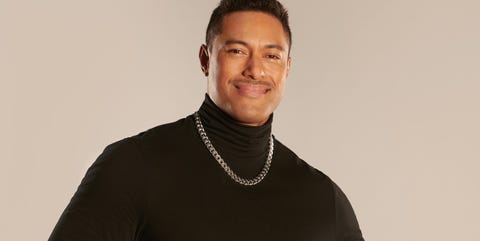 "The pastel jackets, the baggy jeans, the short-sleeved Hawaiian shirts—it's all so fun," he says. "The big hair, the big music—it's all such a cool era."
Of course, playing The Rock on a show about The Rock's life that's executive-produced by The Rock still came with a lot of pressure. While the two have yet to meet in real life—the show films in Australia, meaning in-person interactions are kept to a minimum during the pandemic—Latukefu says The Rock joins in on production meetings via Zoom when he can.
"When I chatted with him, we talked about our families, about the setbacks we'd faced," he says. "We had a lot of similarities. Our cultural heritage—he's Samoan, I'm Tongan—were very important things to us. I was so nervous, but he's just so levelheaded and so human and very open about his life."
Luckily, perhaps the hardest part of becoming The Rock came the easiest to Latukefu. "I had to know how to do the People's Eyebrow," he says. "Sometimes, I have to pinch myself."
Source: Read Full Article