The feud between rapper 50 Cent and boxer Floyd Mayweather is one for the ages. What started as a simple business deal soon unfolded into social media mayhem between the veteran rapper and the undefeated athlete. 50 Cent — born Curtis Jackson — is known for his relentless trolling and outlandish antics, while Mayweather's body of work speaks for itself. When you combine the combustible elements of the trash-talking, street-hardened rapper and the unstoppable boxing behemoth, you get a feud that engages fans on both sides and creates memories worth a lifetime.
The feud, which is approaching nearly a decade old, has ebbed and flowed over its nine-year span. And though the noise has stagnated in recent memory, the 50 Cent/Floyd Mayweather kerfuffle will pop back up from time to time. Heck, chances are the two will continue to lock horns until the end of days. But until then, let's take a look at the storied history of 50 Cent and Floyd Mayweather's historic feud!
Friends turned frenemies following a business deal gone south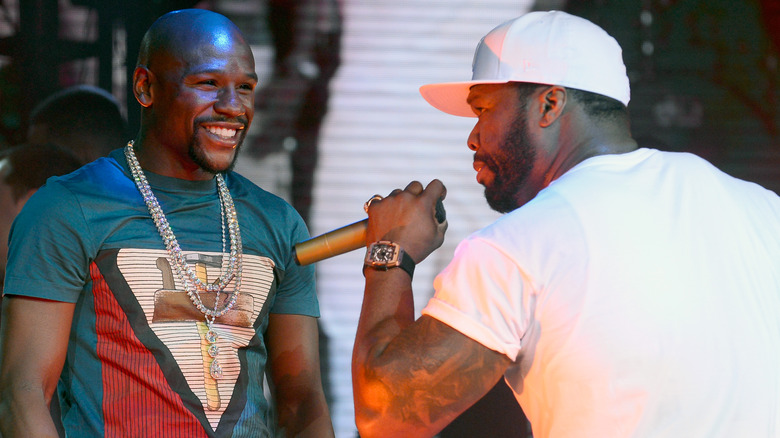 Interestingly enough, prior to the heated beef between the two, 50 Cent and Floyd Mayweather were actually friends! The two had plenty in common, and 50 would come out to show support for Mayweather's fights. In an interview with the Wall Street Journal, 50 Cent recalled that the two bonded over having traumatic pasts and the fact that Mayweather "has a passion for music." In classic 50 Cent fashion, however, he backhandedly called Mayweather "insecure."
The trouble began following Mayweather's 90-day stint in jail for battery domestic violence (per Insider) in 2011 which saw the boxer handing over his business, TMT Promotions, to 50 Cent to manage. During Mayweather's time in jail, the business-savvy rapper applied for a boxing promotions license in Nevada (which was ultimately granted, per ESPN), before he claimed Mayweather slighted him out of $2 million. In an interview with Power 106, 50 Cent "realized there is no Mayweather Promotions. There's no LLC. There's no seal. It's not incorporated," implying Mayweather "wants me to put it together for him."
After 50 Cent sunk his own money in and got the company started up, he began noticing Mayweather's frivolous spending habits — including buying $300,000 chains and a Lamborghini. "I'm sitting there going, 'When you gonna give me the money… when you gonna give me your half of the money back?' But, I ain't trying to press him because he just got out of jail," the rapper told the outlet.
Insults and memes abound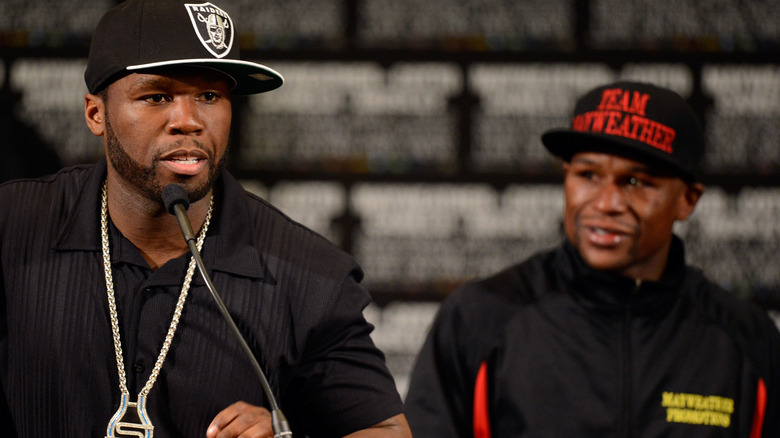 In the era of social media, anything (and we mean anything) can be turned into a meme. On top of 50 Cent's business skills, his trolling antics are top-notch, which spelled doom for the undefeated Floyd Mayweather. Instead of continually pressing the boxer for his $2 million, the rapper took to the internet. In 2014, 50 Cent decided to take aim at the athlete's reading ability in a viral Instagram video that saw the rapper challenge the boxer to read one page of a "Harry Potter" book. If Mayweather succeeded, 50 would donate $750,000 to a charity of Mayweather's choosing.
However, when Mayweather didn't respond to 50 Cent's challenge, the rapper then chose a much simpler book for the boxer to read — "The Cat in the Hat." In response, Mayweather tweeted a picture of two massive checks with a caption that reads, "Read this $72,276,000.00. God bless." Since then, the two have traded petty insults at each other in true meme-worthy fashion. In late 2019, 50 Cent mocked Mayweather's Gucci jacket — referring to it as "granny drip" (per UrbanIslandz). Mayweather later accused the rapper of some unsavory things on Instagram.
Though their banter seems almost childish, you can't deny that the feud between 50 Cent and Floyd Mayweather is one of the internet's greatest gifts today.
Source: Read Full Article