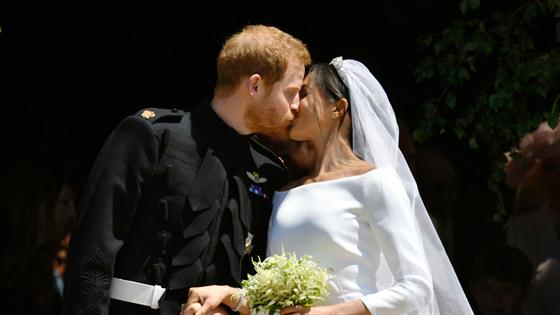 Has it been only two years since Meghan Markle, radiant in custom Clare Wright Keller for Givenchy, glided down the aisle, past her mother and the entirety of Britain's royal family, and into her future at Prince Harry's side?
Of course, if it feels to us like an inordinate amount of change has occurred for these two, think of how it must feel for Harry and Meghan, the ones who actually gave up one life to pursue another.
Not a life style, per se, because no matter what becoming "financially independent" means for them, money is not an issue for Queen Elizabeth II's grandson—the son and brother of future kings—and his wife, the couple formerly known as the Duke and Duchess of Sussex.
But in a stunning turn of events this year, a twist no one would have predicted amid the swell of 2018-era excitement over how much Meghan joining the royal family meant for the monarchy, they stepped down as senior royals. And, today, they're celebrating their second wedding anniversary in Los Angeles—where it all started for Meghan, but thousands of miles away from where Harry ever pictured himself living, even if he had done his own thing sooner.
"Harry has told friends he is really missing the Army as well as his military appointments. He misses the camaraderie of being in the forces," a royal insider told The Telegraph in April. "He has been telling friends that he still can't believe this has happened. He can't believe his life has been turned upside down."
Don't get him wrong, "life has been great" with Meghan, the source continued. "But I don't think he foresaw things turning out quite as they did. Of course he doesn't blame Meghan. There is just a sense that he might have been better protected if he was still in the Army."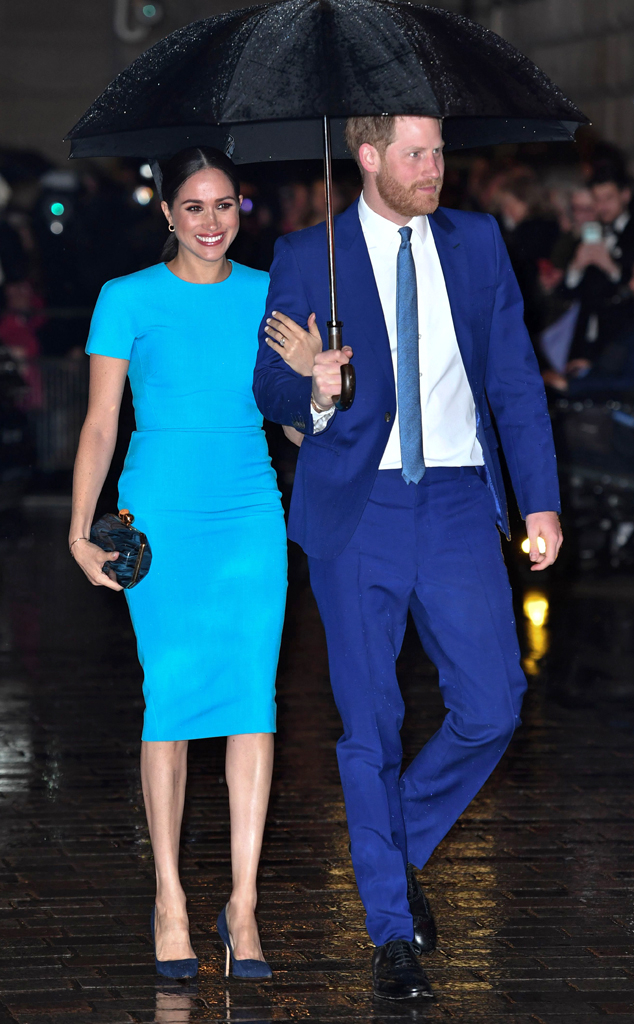 Tim Rooke/Shutterstock
"I don't know how his career is going to map out, but yes, I've been in touch, though I think he's finding life a bit challenging just now," primatologist Jane Goodall, a friend of the couple who spoke with the royal last year for the September issue of British Vogue, guest-edited by Meghan, told Radio Times in April.
In hindsight, you can see the defection train leaving the station even before Harry and Meghan said their I-dos on May 19, 2018, at St. George's Chapel on the grounds of Windsor Castle—a trail of breadcrumbs from A to B, reminiscent of the clues that a celebrity couple not built to last might scatter during their pre-split life together, to be gathered after the fact.
Only in this case, the relationship was between the couple and the Crown.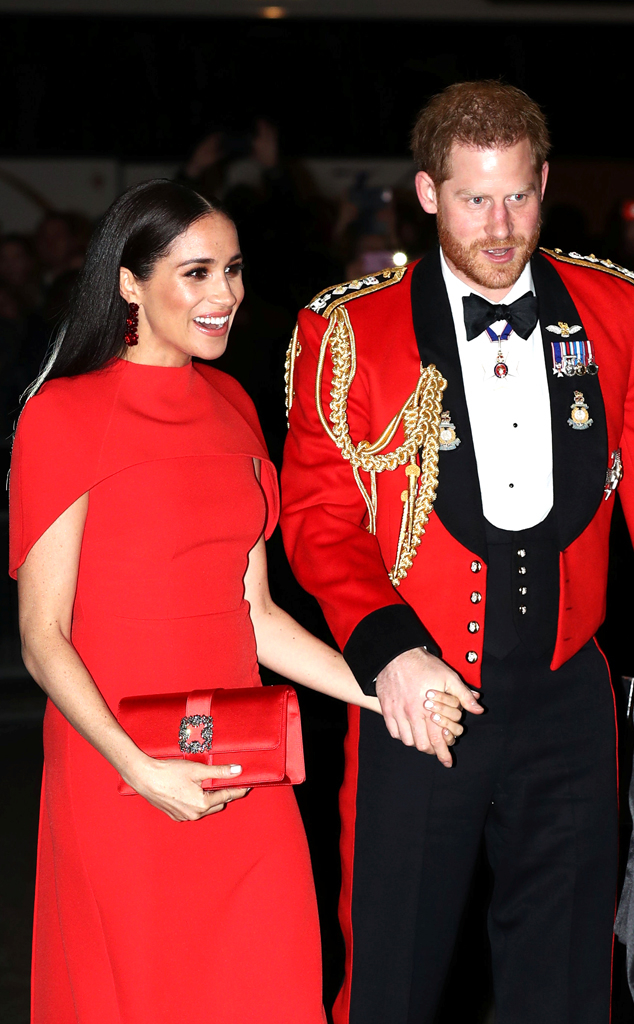 Shutterstock
"I think I can very safely say, as naive as it sounds now, having gone through this learning curve in the past year and a half, I did not have any understanding of just what it would be like," Meghan acknowledged to the BBC when she and Harry sat down for an interview after announcing their engagement in November 2017. "I don't think either of us did, that we both said that, even though we knew that it would be."
"No," Harry added, "I tried…to warn you as much as possible but I think both of us were totally surprised by the reaction after the first five six months where we had to ourselves of what actually happened from then. So I think you can you can have as many conversations as you want and try and prepare as much as possible. But we were… totally unprepared for what happened after that."
Such as a Daily Mail headline touting Harry's L.A.-born girlfriend as being "(almost) straight outta Compton," atop an article that for no good reason includes a primer on gang activity in the area.
Meghan admitted that the myriad untruths and the tone of some of the coverage about her and their relationship had been "disheartening." She continued, "You know it's a shame that that is the climate in this world to focus that much on that, or that that would be discriminatory in that sense. But I think, you know, at the end of the day I'm really just proud of who I am and where I come from, and we have never put any focus on that.
"We've just focused on who we are as a couple. And so when you take all those extra layers away and all of that noise, I think it makes it really easy to just enjoy being together and tune all the rest of that out."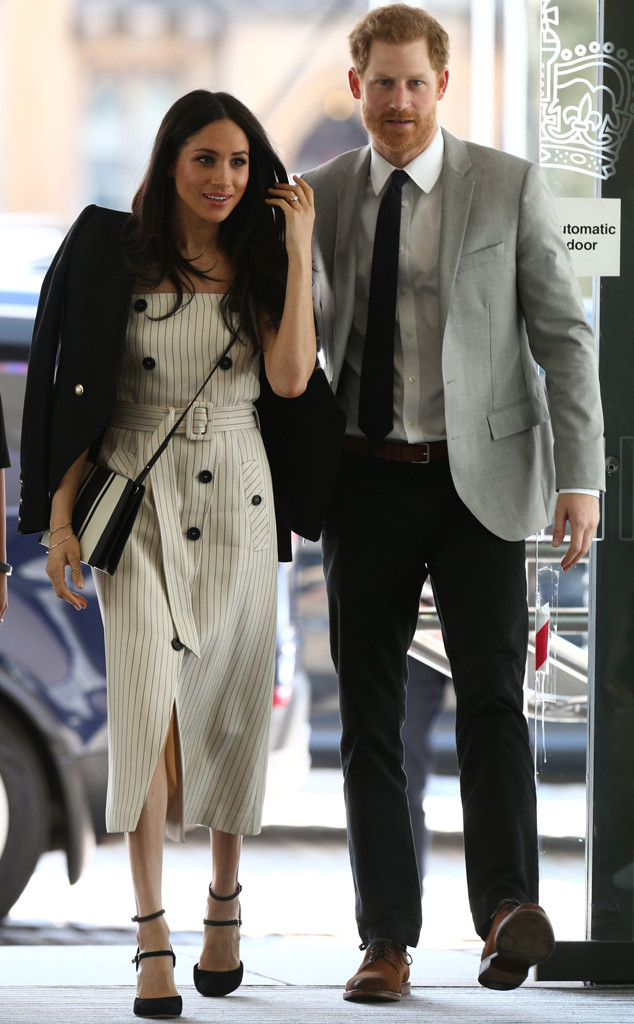 Associated Press
Maybe when you've got a wedding to plan.
The negativity abated long enough to allow Harry and Meghan to get married in relative peace (well, if you ignored the daily stories about Meghan's father, her stepsister's palpable resentment toward her and whoever else was trying to get in on the Meghan exposé business), front pages and TV news around the globe heralding the union with utmost excitement, sentiment and overarching respect for the history-making importance of the day.
Not to mention, swoon, her dress! George and Amal! Oprah! Serena! What a day it was for fashion, celebrity and the melding of cultures—biracial, progressive American with… ye olde English folks.
"It was obvious the significance of this occasion was more than any other, it would be a very personal ceremony with so many choices that would reflect both the bride and grooms heritage and their unique way of being incredibly inclusive, genuine and generous," Clare Wright Keller, who quietly worked on Meghan's dress for months, described her feelings leading up to the big day in a post on Instagram last month.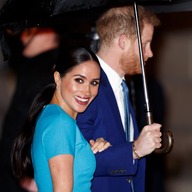 Photos
All of Meghan Markle's Final Royal Outfits
Amid the outcomes of the myriad negotiations with the queen, Prince Charles and Prince William that took place in the interim, Harry and Meghan agreed to personally replenish the government's coffer with $3 million previously paid by public funds for the Frogmore renovation, and they also donated the proceeds from televising their wedding to charity. While they retained their dukedom and His-and-Her Royal Highness titles (and Harry is still a Major in the British Army), they've agreed not to use them for business or philanthropic endeavors moving forward.
"Over the last month and a half, The Duke and Duchess have remained actively involved in this process, which has understandably been saddening for The Duke and Duchess and their loyal staff, given the closeness of Their Royal Highnesses and their dedicated team," a spokesperson for the couple said in February.
"The Royal Family respect and understand the wish of The Duke and Duchess of Sussex to live a more independent life as a family, by removing the supposed 'public interest' justification for media intrusion into their lives," the statement continued. "They remain a valued part of Her Majesty's family."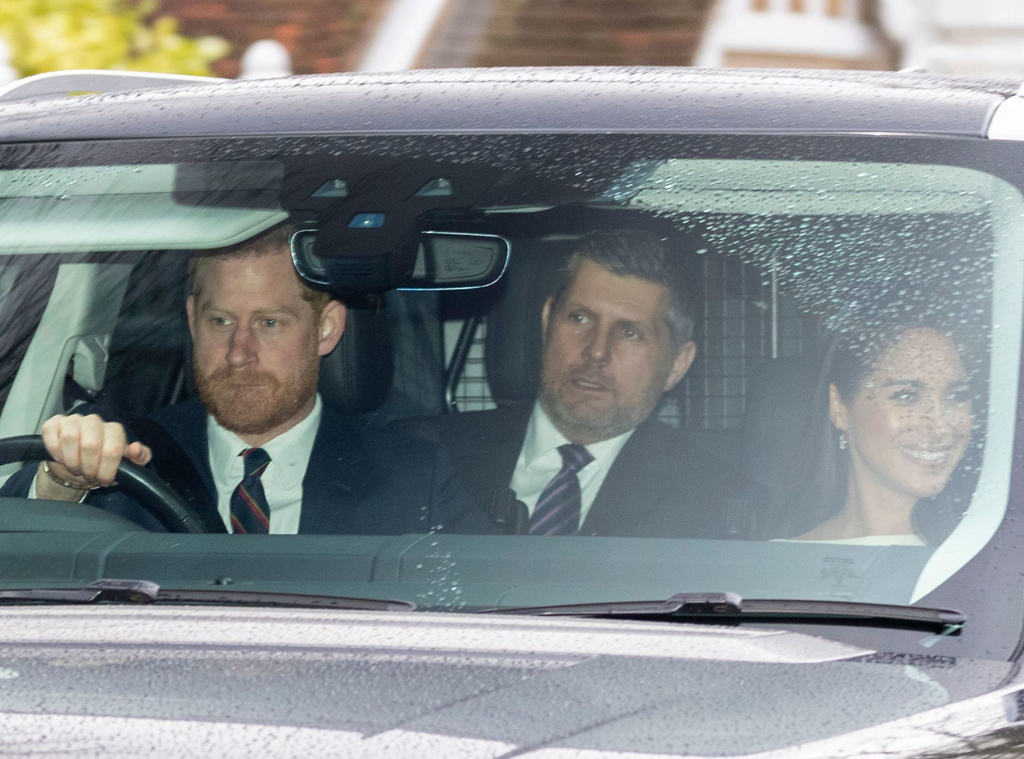 Shutterstock
March 31 marked the official expiration date of their abbreviated life as senior royals—though by then, they were officially hunkered down in L.A., practicing physical distancing and moving on with their lives via Zoom chats and FaceTime due to the COVID-19 pandemic and stay-at-home urgings of city and state officials.
Leading up to their exit date (jauntily called #Megxit when the news first broke), they vacated the Sussex Royal social media accounts and announced their new organization, Archewell, named for their son and the Greek arche, meaning "first cause."
Multiple reports have pinpointed their current location as a 22-acre Beverly Hills estate owned by Tyler Perry, who is a close friend of their wedding guest Oprah Winfrey, but a source tells E! News that Harry and Meghan are looking to plant their own real estate roots in town.
The insider guessed that whichever real estate agent who's lucky enough to get them as clients will need to enter into a confidentiality agreement, but the source was told that they're looking in the $10 million-$20 million range, likely in a gated community because privacy and security are paramount.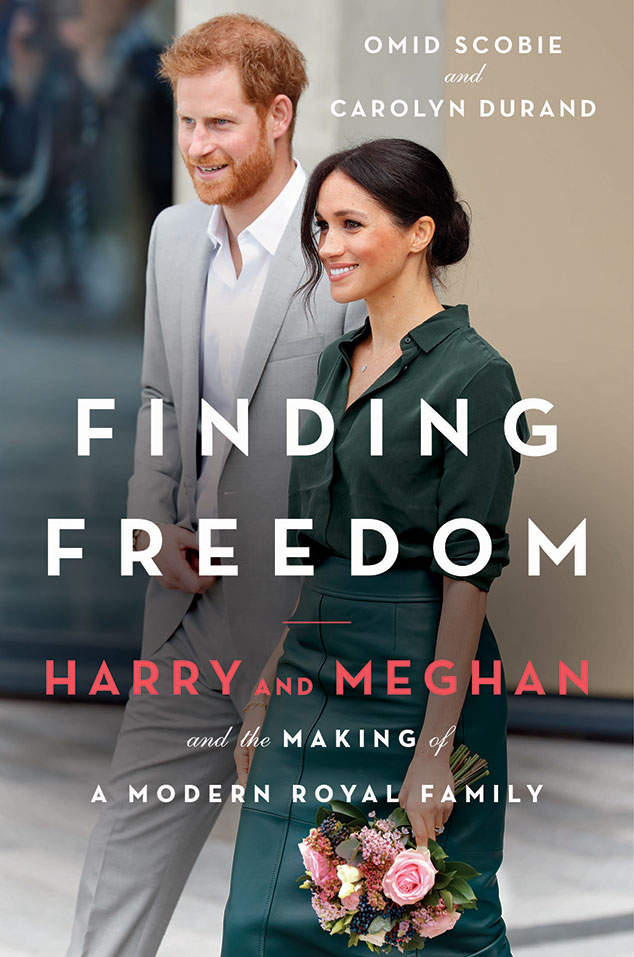 HarperCollins Publishers
Speculation has continued to run rampant since the big move—first, that the Obamas were advising them on their transition from one form of public life to another. That Meghan would give her first big interview to Oprah. Or maybe Ellen DeGeneres. That they were buying Mel Gibson's Malibu mansion. That Harry is leaning on pal George Clooney for support.
Nah.
A biography called Finding Freedom: Harry and Meghan and the Making of A Modern Royal Family is due out in August by longtime royal correspondent and host of the HeirPod podcast Omid Scobie and fellow royal reporter Carolyn Durand, and there have been mixed reports over whether the couple personally granted interviews for the project or not. (Not, is the word, though publisher HarperCollins says the book was "written with the participation of those closest to the couple.")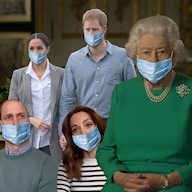 Read
Back to Basics: How the Royal Family Is Boosting Morale in Britain and Beyond
Though Harry has acknowledged that they're mostly just sheltering in place like everybody else, he and Meghan did head out (with gloves and face coverings) during Easter weekend to deliver meals, for the West Hollywood-based charity Project Angel Food, to people whose medical conditions make it unsafe for them to leave their homes to shop for groceries.
"They are still talking to organizations and charities they have worked with to see how they can help," a source shared with E! News last month. "The circumstances have changed but their intent to help has not."
Also in April Harry announced his new mental health awareness initiative HeadFIT for Life, and last week he and Meghan joined a video conference with the Crisis Text Line team, to thank staff for their important work and offer words of encouragement. They both regularly have online meetings and calls with the various organizations they work with, and Harry recorded a special message that was played last weekend during a rebroadcast of the 2019 OnSide Youth Zones Awards.
"This too shall pass," he reassured his audience. "And before you know it, you will be back together again, probably in a Youth Zone, you know, running around, having the best time ever."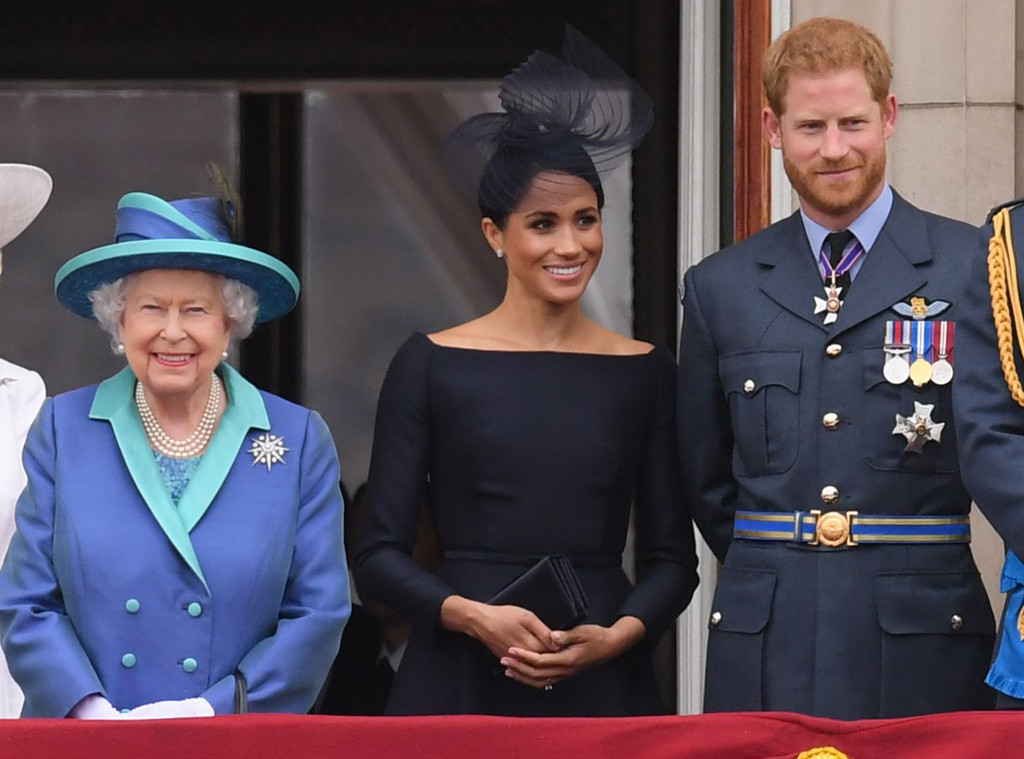 David Fisher/Shutterstock
Also thanks to online technology, Meghan and Harry's invasion of privacy lawsuit against the publisher of the Mail on Sunday, over the tabloid's publishing of a letter Meghan wrote to her father around the time of her wedding, was able to move forward last month. (The paper stands by its story.) Meghan's legal team including a barrister who once represented Princess Diana as well as numerous other celebrities in privacy and defamation cases.
Last month, the couple also announced they would no longer engage with the Mail, The Sun, the Express or the Mirror.
None of the papers took it well, but in their explanation the couple's spokesperson said, "Media have every right to report on and indeed have an opinion on the Duke and Duchess of Sussex, good or bad. But it can't be based on a lie."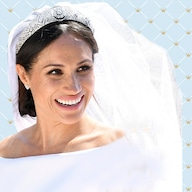 Photos
All Meghan Markle's Outfits From Her Royal Wedding Weekend
On the home front, Harry, Meghan and Archie video-chatted with the queen on her 94th birthday last month, and for Archie's first birthday on April 12, he had a virtual playdate with some of his little pals over FaceTime and his mom baked a cake.
They also released video of Meghan reading to her son—both adorable (not that some people didn't find something to rag on) and for a good cause, the charming sit-down part of her contribution to #SaveWithStories, the campaign launched in March by Jennifer Garner and Amy Adams to raise funds for Save the Children and No Kid Hungry.
"Like many parents, they are focused on Archie and their family as well," a source told E! News. "They are trying to make the best of it and are enjoying all the time together as a family."
Tim Rooke/Shutterstock
As for the rest of Harry's family back in England, royal biographer Katie Nicholl told Entertainment Tonight recently that "things have got better and I know that William and Harry are in touch on the phone.
"They have done video calls together, they have done a lot of family birthdays and I think with Prince Charles not being well, that really forced the brothers to pick up the phone and get back in touch."
Charles tested positive for COVID-19 in March and retreated to Scotland with wife Camilla to recover. He said his symptoms were mild and he quickly returned to doing online engagements and updating the public via social media.
Another source had told ET in April that Harry, feeling "cut off" from home, was talking to his father, brother and sister-in-law more often, as well as chatting regularly with his grandmother. "Things have been stressful for Prince Harry since his move," the sources said. "It hasn't been easy."
Not least because he and Meghan remain under a stay-at-home advisory, which has put getting to know his new surroundings and develop a real routine on hold.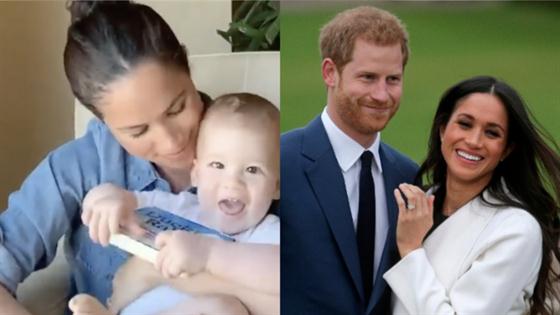 However, Nicholl added last week, she had also been told that the couple "feel a great sense of freedom and they're really enjoying their new lives and things a bit more on their terms."
"[For] Meghan and Harry, this will be the way of the future," she noted. "They will not be jumping on a plane all the time to come to Britain. COVID has given them the opportunity to road test a way of working. These conference calls [are] a way for them to communicate and touch base with people back at home. I think COVID-19 has fast-tracked what was always going to be a future way of working for them, being so far away from many of their charities."
And it's not as if the Clooneys and Oprah aren't just a phone call away.
Source: Read Full Article