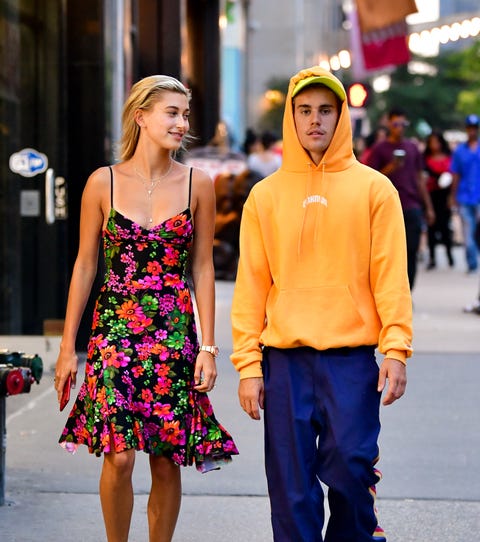 Hello! Good afternoon! I'm here to tell you the story of one of the most impressive plots of all time. The players? Hailey Baldwin, Justin Bieber, and Justin's manager Scooter Braun. Let's set the scene.
It's June, and Hailey and Justin have been broken up for about two years. She comments on a picture of Scooter and his wife, saying "Couple goals" and then "Scoot find me a husband." Thanks @CommentsByCelebs for immortalizing this in a screenshot.
https://www.instagram.com/p/BmQ5NmBhz_P/?utm_source=ig_embed
Ask and you shall receive. #CommentsByCelebs
A post shared by @ commentsbycelebs on
This is funny in and of itself, but it gets better when you consider the timeline. Nine weeks ago, when she commented this, would have approximately June 7. That exact weekend, Justin and Hailey jetted off to Miami and were seen in public together for the first time in two years. Coincidence?
https://www.instagram.com/p/Bj4BX_IgG-7/?utm_source=ig_embed
Hailey and Justin Bieber at LIV nightclub in Miami, Florida. (June 10, 2018) @haileybaldwin @justinbieber #haileybaldwin #justinbieber
A post shared by Hailey Baldwin Updates (@haileybaldwincr) on
The two were engaged not even a month after that. That means Hailey Baldwin literally WILLED her massive engagement ring and slipper-wearing husband into existence.
Hailey rn:
https://www.instagram.com/p/BmCILDBBuTg/?utm_source=ig_embed
?
A post shared by Hailey Baldwin (@haileybaldwin) on
Okay, don't get the wrong idea. I'm not trying to imply that Hailey and Justin's relationship is anything but real. I mean, they make out all over New York City. They obviously are obsessed with each other. I'm just saying these coincidences are unreal. UNREAL.
Want another plot twist? Ariana Grande's manager is also, you guessed it, SCOOTER BRAUN. When Hailey and Justin got engaged so quickly so soon after Ariana and Pete Davidson did, people made jokes about how this couldn't be a coincidence. Scooter must be pulling the strings here, right? Ari did not love that implication.
"….. you do realize we are human beings who love and have lives …… right …. ?" she responded at the time. "and that scooter is a wonderful human being too who cares first n foremost ab our health and happiness ?"
I'm not here to deny that! I'm just saying that when you add it all up, it's just a *little* too crazy, right?
Follow Emma on Instagram.
Source: Read Full Article