Keeping up with self-isolating celebrities on social media has become a pastime for many who are still at home quarantining.
In addition to seeing what they're up to in the categories of food, selfies, fitness, or family, fans occasionally stumble across a mystery in some famous folks' photos or videos. Jennifer Lopez unwittingly provided the latest caper to solve with a selfie she posted on Instagram.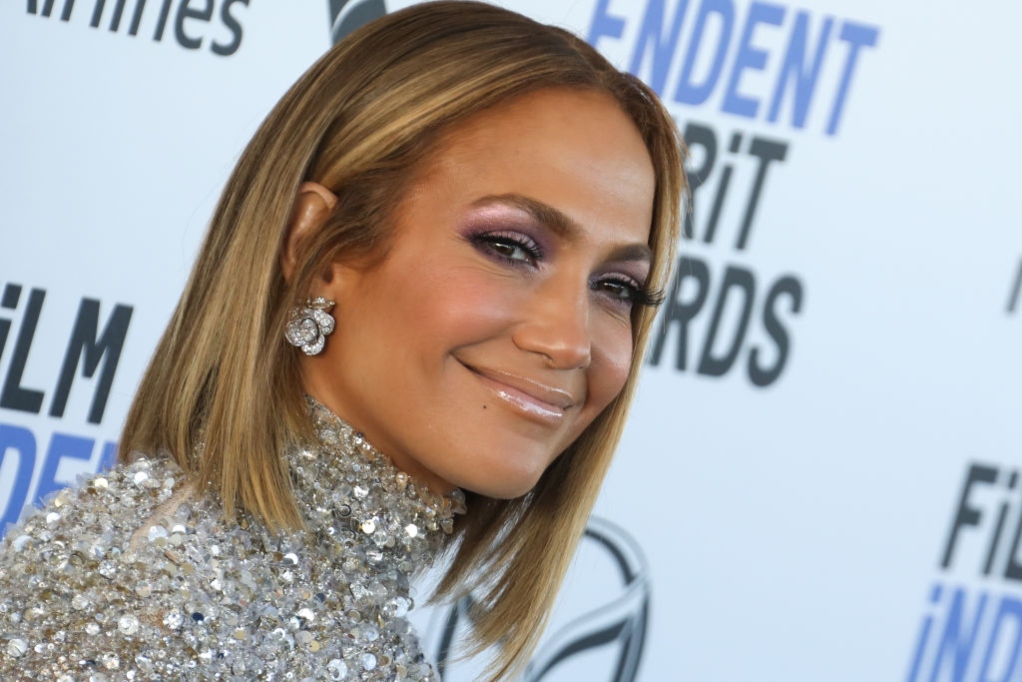 J.Lo has an uninvited guest in her photo
Lopez shares updates on Instagram pretty regularly, and one photo from May 15 has people talking, squinting, and for some, gasping.
The selfie features J.Lo in workout gear posing in what looks like her home gym. But fans noticed an odd sight positioned directly above her right shoulder. What the—? Take a look.
https://www.instagram.com/p/CAOjUjBgZU4/
There's a man face peering through the glass and his mouth is agape. People are just noticing the odd image and want to know if it's a ghost, stalker, or something else.
Instagram commenters are asking "Anyone else see the man in the mask in the background?," "Who is the guy in the background?!," or "Is that a kid in the background mirror?" Some are giggling about it and others are terrified.
RELATED: Jennifer Lopez's Sexiest Instagram Photos
There's an explanation for the namelessface
People can cease their freak-outs because there is a reason the face is there, and it's not because of a haunting. According to E! News, Alex Rodriguez is indirectly responsible for giving J.Lo fans a fright.
He was on a Zoom video call in a room adjacent to the gym, and the reflection from the laptop screen showed up on the glass behind Lopez. A source told E! that Rodriguez is in the frame too:
"If you look closely you can see Alex's arm in a navy blue shirt. He's sitting in front of their desk, with the big screen on it, so the image of the person you're seeing is who is on his Zoom call. That man was covering his mouth with his hand."
There's no need for alarm after all.
RELATED: Jennifer Lopez Uses a Moisturizer From the Grocery Store — Yes, Really
No comment from Jennifer Lopez yet
We're not sure if Lopez is aware of the hoopla going on online, but more than likely, she'll get a kick out of it. The multi-hyphenate is currently busy promoting the next season of World of Dance. The show premieres on NBC on May 26.
Along with Ne-Yo and Derek Hough, she serves as a judge on the dancecompetition series which is heading into season 4. Surprises are on the menufor the dancers and viewers this time, with the qualifying round happening in awarehouse. It's a switch from past seasons.
In addition to gearing up for this show, Lopez is celebrating the publication of her daughter's first book. 12-year-old Emme wrote a children's story about sloths and faith.
The family-centric story features a series of prayers and will be released this fall, and Emme wants to help raise month for sloths. J.Lo is proudly promoting it online with a link to pre-order it before its Sept. 29 drop.
In the meantime, fans will have to see if Lopez catches wind of the selfie excited she created.
RELATED: Why Jennifer Lopez's 12-Year-Old Daughter Could Outshine Her One Day
Source: Read Full Article