The Yeezy designer appears to be trying to hide his face under his blue hoodie, while the Russian model gives a thumbs up when they touch down at Teterboro Airport in New Jersey.
AceShowbiz –Kanye West and Irina Shayk apparently had an extended rendezvous following their one-night French getaway. Continuing to fuel their romance rumors, the pair were spotted arriving together in the U.S. on Wednesday, June 9.
The rapper and the model were pictured exiting the same plane at a New Jersey airport though none of the photos captured them together. Looking shy, the estranged husband of Kim Kardashian appeared to be trying to hide his face under his blue hoodie, which he paired with dark pants and white-and-blue sneakers.
Kanye reportedly dashed out of the plane after Irina and headed straight into an awaiting car. He later ran back on board the plane, possibly to retrieve something that he misplaced on the plane.
As for Irina, the Russian beauty also opted for a casual look in a white sweatshirt with matching pants. She wore a black face mask and carried what looks like a cosmetic bag with another bag slung over her shoulder.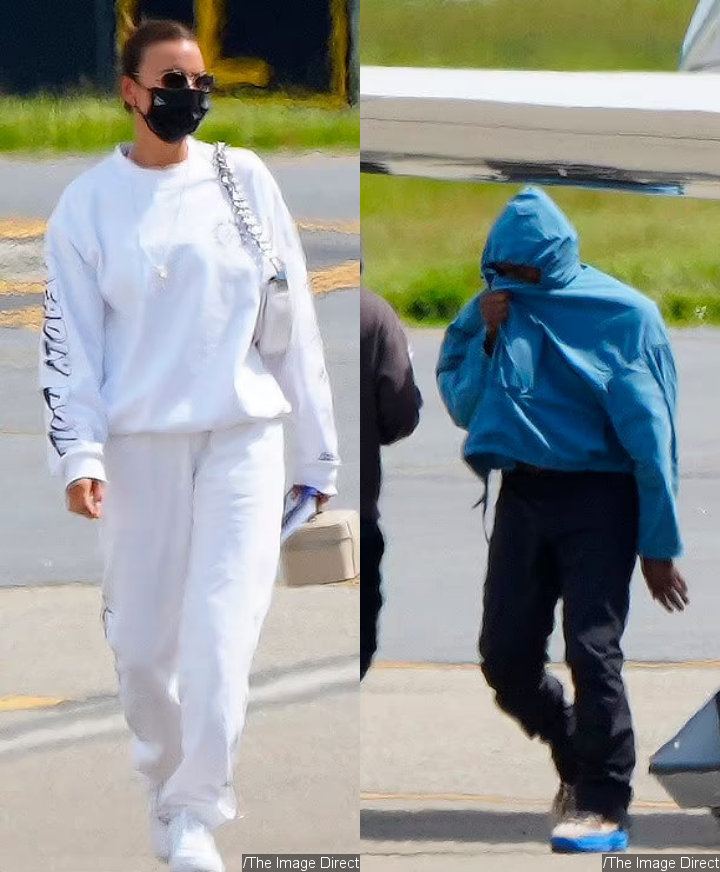 Kanye West and Irina Shayk were seen touching down in New Jersey after French getaway.
She appeared to be in good spirits as she gave a thumbs up when touching down at Teterboro Airport. However, when she arrived her New York City apartment, she tried to avoid the camera and took off her sweatshirt to cover her face, flashing her white crop top underneath and her taut tummy.
Kanye and Irina had a short getaway in France on Tuesday, June 8. The 35-year-old model joined the Yeezy designer as he celebrated his 44th birthday at a boutique hotel, Villa La Coste in Provence, with a group of friends.
Their dating rumors began to swirl last month, when an anonymous tipster wrote to the gossip Instagram account DeuxMoi, "Kanye West is now secretly dating Irina Shayk aka Bradley Cooper's baby mama."
The same source then backed down a bit, writing, "After further looking into this, I don't know if 'dating' is the right word, but there is perhaps some interest there," before another tipster insisted that Irina and Kanye "def dating."
Source: Read Full Article