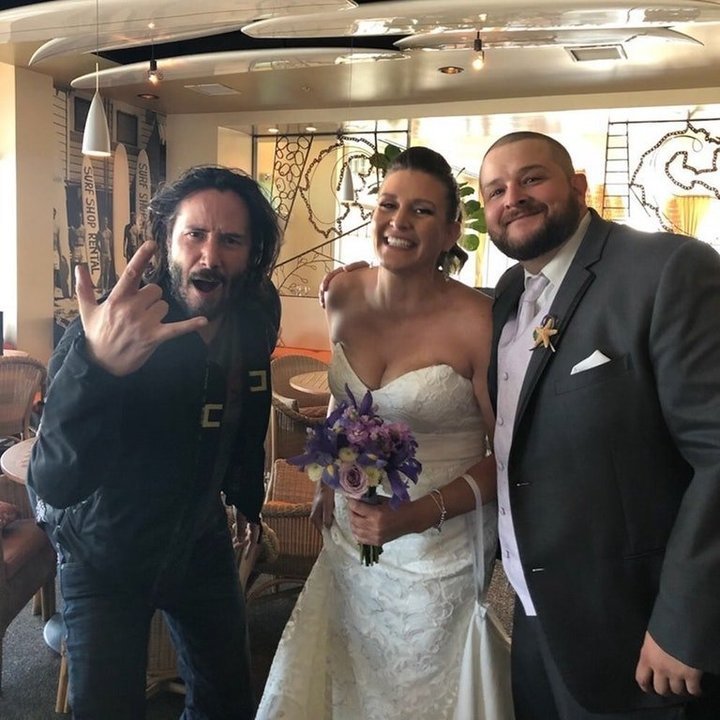 Over the past few weeks, we've seen a lot of Keanu Reeves, and that's a good thing. He's currently filming John Wick 3 (and showing off his horsemanship) in New York and he and Winona Ryder have all of us shipping them IRL as they promote their upcoming rom-com Destination Wedding. I'm with Kaiser on this, they really need to be together. They are completely adorable.
It seems that Keanu is all about weddings, thanks to his involvement in the new comedy. And taking a page from celebs like Bill Murray and Tom Hanks, who shared his best wishes and delivered a pretty sweet photobomb with a couple getting married in New York City's Central Park back in 2016, Keanu has taken to making some couples' special day even more special.
On Saturday, Keanu struck a pose that was inspired by his Bill and Ted's Excellent Adventure character, flashing the ol' rock horns alongside newlyweds Jarrod Camara and Leslie Walker before their ceremony in Santa Cruz, California. Speaking with the Huffington Post, the groom's brother, Jordan, recalled the couple's interaction with the actor, who graciously obliged when asked to pose with the bride and groom.
"My brother went over and Keanu got right up and shook everyone's hands and then did that awesome pose for the picture," Camara said. "He was just as calm and cool as you would think he'd be and he was happy to take a picture with them."
"It was really just a couple minutes right before the wedding but it made the bride and groom super happy right before they tied the knot," he added.
Last week, Keanu posed with another couple in New York. I love a man in a kilt and thought nothing could top that for a wedding picture. Keanu proved me wrong.
I don't know if this is part of some sort of guerrilla marketing campaign for Destination Wedding, but I am here for it. I suspect, especially after watching Keanu and Winona doing press, that he's just a cool guy. That being said, I'm not a rom-com kind of gal, but seeing the press and trailer for Destination Wedding makes me want to go see it. The chemistry between Winona and Keanu sells it as far as I'm concerned.
Embed from Getty Images
Embed from Getty Images
Embed from Getty Images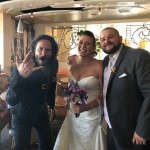 Photos: WENN
Source: Read Full Article