Although there are plenty of moments to look forward to at the 2018 MTV Movie & TV Awards, I always look forward to seeing who wins Best Kiss. This year, there were just so many great contenders, with everything from Stranger Things to Riverdale getting the nod — which honestly had me more on the edge of my seat in giddy anticipation than I've ever been before. But I can finally start to relax (for now) because the results just rolled in: Nick Robinson and Keiynan Lonsdale won Best Kiss at the 2018 MTV Movie & TV Awards on Monday, June 18, and I'm here for it.
Robinson and Lonsdale beat Ready Player One's Olivia Cooke and Tye Sheridan, Stranger Things' Millie Bobby Brown and Finn Wolfhard, Riverdale's Camila Mendes and KJ Apa, and Jane the Virgin's Gina Rodriguez and Justin Baldoni. It was definitely a tough competition (I for one can't believe that the Stranger Things kids didn't take it), but at the end, I think this pair deserved it most.
Lonsdale accepted the award for the two, and though it's traditional for winners to give a speech, it's honestly not usually this perfect. Lonsdale, who has been open about being "not straight," shouted out to everyone who wanted to live their dreams and be themselves, no matter what that meant. He said,
See what I mean? Perfect.
But aside from the latest win, the best kiss segment of the MTV Awards has always been iconic. In 2017, Ashton Sanders and Jharrel Jerome claimed the award for their romantic beachside smooch in the Oscar-winning film Moonlight — where the two starred as childhood friends who developed an emotional connection with each other while struggling with sexuality issues in a rough Miami neighborhood.
Although they didn't use their time on stage to recreate the kiss (like some celeb winners have done in the past), Jerome shared an utterly empowering message with viewers. He said:
Sanders also chimed in, noting that the award isn't just for them, but for anyone who's ever felt like an outsider. He added: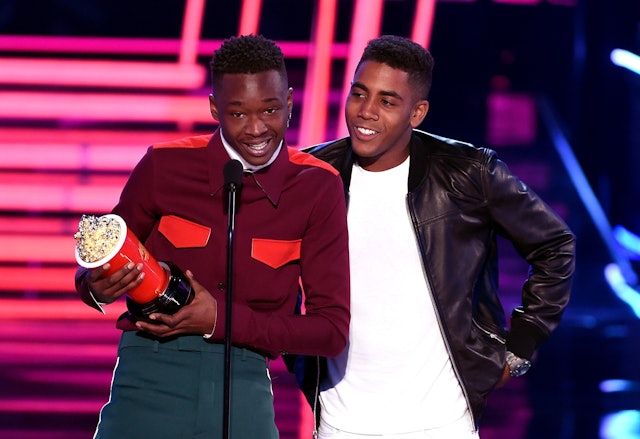 Even so, one of the most memorable, Hall of Fame-worthy moments of the MTV Movie & TV Awards will forever be (IMO) when Rachel McAdams and Ryan Gosling — who were dating at the time — recreated their iconic, uber-romantic make-out session from The Notebook during the 2005 ceremony. If you've never seen it, I bet you a gazillion bucks your reaction is gonna be just like Lindsay Lohan's. Check it out:
Noah and Allie forever!
But seriously, congrats to Robinson and Lonsdale. May their onscreen kiss live on forever, as many of the category's previous winners' have. I can't wait to see what happens next year.
Source: Read Full Article