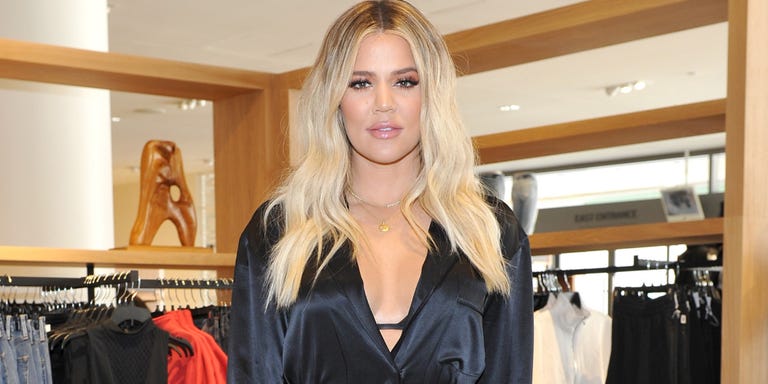 Baby True Thompson may not carry the famous Kardashian surname or "K" moniker, but her one-of-a-kind name definitely carries sentimental value sourced straight from her mom's side of the family.
In a new post on her app, Khloé Kardashian just revealed who first suggested the unique baby name to her, and why the moniker holds great meaning to her and the multi-generational Kardashian clan.
https://www.instagram.com/p/BirXhidBTo0/
"Picking a name for your child is really so tough!" the 33-year-old new mom wrote on her site. "I knew I wanted my baby to have a 'T' initial, so one night while we were all at dinner, thinking of some names, my grandma MJ suggested True."
Not only was the title short and sweet, like many other Kardashian kids' names (i.e. North, Saint, and Dream), "True" is also significant in the family. Throughout her pregnancy journey, as she continued to brainstormed different names, Khloé just couldn't shake her grandmother's suggestion.
https://www.instagram.com/p/BgNhHjWFj5m/
"She told me it was my great-grandfather's first name and my grandfather's middle name," Khloé continued, explaining the significance of "True." "It stuck with me for my entire pregnancy and was the only one I couldn't get out of my head."
Despite building a home for her daughter in Cleveland—where Khloé gave birth last month, and where baby daddy and basketball player Tristan Thompson is stationed as he plays for for the Cavaliers—the new mom says she looks forward to introducing True to her great-grandma. "I can't wait to get back to LA so True can finally meet MJ in person," Khloé wrote.
https://www.instagram.com/p/BhpS1a9lGDq/
Kris Jenner previously shared the meaning behind True's name following her granddaughter's birth. "FUN FACT… my Grandfather's name on my Dad's side was True Otis Houghton….my real Dad's name was Robert True Houghton…so i am so excited Khloe named her daughter True!!!!" the momager wrote.
Source: Read Full Article