It's old news by now that Khloé Kardashian and Tristan Thompson are trying to work through some relationship issues. While the couple has been working diligently to move past Thompson's alleged cheating scandal, not everyone believes they're beyond the drama just yet. But if Kardashian's Snapchat videos are anything to go by, the new parents (who welcomed daughter True in April 2018) are well on their way to a full reconciliation. In Khloé Kardashian's video of Tristan Thompson, you can see the proud dad dancing with his daughter and having a wonderful time with his little family. So, clearly, Kardashian and Thompson are doing just fine!
Kardashian posted the sweet video to her Snapchat on Wednesday, July 11, and, in it, you can see Thompson — fully decked in Cleveland Cavaliers gear — holding baby True and dancing around. Kardashian is recording the video and giggling in the background.
From the looks of it, Thompson, Kardashian, and True are in the baby's nursery. You can see stuffed animals scattered around and there appears to be a baby play gym just in the foreground of the video. So, they're just having a great time with each other in the nursery, which is so sweet.
Look at baby True and her dad: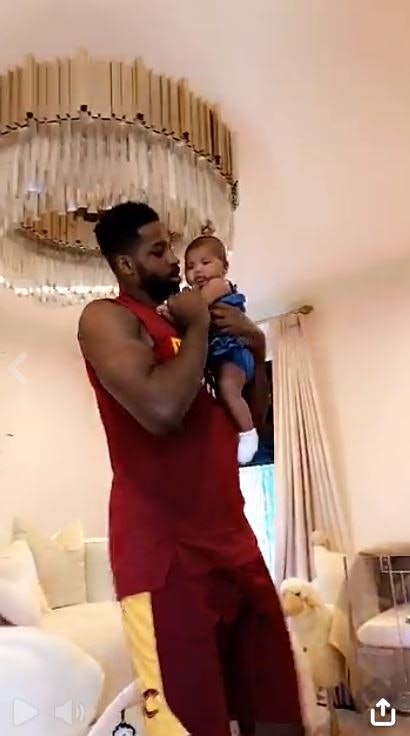 Thompson is even humming to his baby daughter while he dances with her. And he's so committed to the whole thing, too. He's totally into dancing with his daughter and being a good, loving dad!
Kardashian's latest Snapchat video comes just days after Thompson himself posted a Snapchat video in which the two can be seen jamming out to some tunes and sharing some serious PDA.
In the video, Kardashian takes a moment to rest her head on Thompson's chest and he gently kisses the top of her head.
Here's a look at the video:
https://www.instagram.com/p/BlClr4bnkd5/
So, given all that you've seen here today, would you say Kardashian and Thompson are on the mend?
Here's my two cents: they definitely are. And it's wonderful to see.
Just to recap what went down between these two: Back in April 2018, when Kardashian was days away from giving birth, The Daily Mail reported that Thompson was allegedly cheating on her. In their report, The Daily Mail published videos of Thompson allegedly smooching another woman, which obviously set off everyone's alarm bells.
Thompson's girlfriend was literally hours away from giving birth to their first child together and he was reportedly cheating on her? That's a really tough situation to be in, for both parties.
Kardashian gave birth just days later and spent several months in Cleveland trying to work on her relationship with Thompson.
In May 2018, a source told People magazine that Kardashian and Thompson were experiencing ups and downs in their relationship:
That source also told People that although the relationship was not very stable at the time, they were still trying to mend the wounds of the cheating scandal:
By the looks of these Snapchat videos, Thompson and Kardashian truly have worked things out. They seem content in their lives and in their relationship with each other. More importantly, they seem totally committed to being great parents to baby True.
Source: Read Full Article