Kim Kardashian Just Revealed How Tristan Thompson Reacted to Her Comments About Him on TV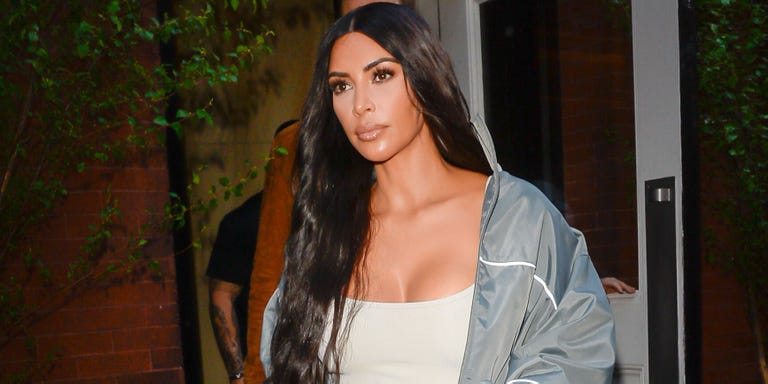 Kim Kardashian was the first member of the Kardashian-Jenner clan to publicly address how Khloé is dealing with her baby daddy Tristan Thompson's cheating scandal, and it might've gotten her into hot water. But that didn't stop her from opening up even more during her guest appearance on Live with Kelly and Ryan today.
When asked how her sister is holding up as a new mom amidst her boyfriend's cheating allegations, Kim voiced her unwavering support.
"Khloé is so focused on her baby," she explained. "The baby is gorgeous. She's so happy. I'm always rooting for her. I'm always rooting for love. I'm always rooting for families."
But when she was asked if she's rooting for Khloé and Tristan, there was an awkward pause. "Yeah, I mean…" Kim started before the audience burst into chuckles.
"Last time I went on TV and answered some questions about her, I got blocked on social media," Kim continued. "And not from Khloé." The reality star was obviously alluding to Thompson, who unfollowed her on Instagram days after clips of her Ellen interview surfaced online.
Though Kim didn't directly drag Tristan or mention the cheating accusations, she did call the situation "so f*ked up" in her sit-down on The Ellen DeGeneres Show. It looks like the Keeping Up With The Kardashians star received some hate from the Cleveland Cavaliers player following her comments.
Kardashian also opened up about her three-month-old baby Chicago, and how the family is loving the new addition. "I give North a really hard time, but she's really good," said Kim of her oldest daughter taking on a new big sister role. "She really is so sweet, and my son loves her. They all really love her."
And it's possible the Kardashian-West clan could grow even bigger in the future, as Kim revealed that she'd be open to having a fourth child. "I would maybe try for one more," she admitted. "I really enjoyed the surrogacy process. It's a game-changer. Having to not go through breast feeding means I can spend more time with the older kids."
The KUWTK star also gave an update on how her husband Kanye West is doing after his recent outbursts on Twitter and controversial interviews. "It's been a week," Kim explained. "He's doing really good. He's in Wyoming recording. He has a couple albums coming out, so he's just focused on that."
Not fully unscathed, Kim revealed that doing damage control following Kanye's explosive sit-down with TMZ took a toll on her. "I will say, he gave me my first gray hair this week—I am blaming that on him. But he's good."
Source: Read Full Article