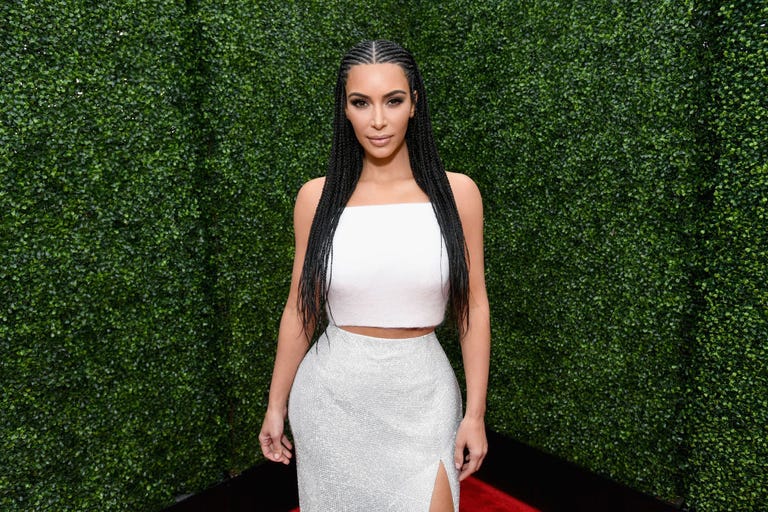 Kim Kardashian told a panel at BeautyCon L.A this weekend that despite the backlash she's received the times she's worn Fulani braids, her desire to wear them comes from "real place of love and appreciation."
Last month, she wore the style to the MTV Movie And TV awards, and fans immediately criticized her on social media for the look, which originated in Africa.
"I've definitely had my fair share of backlash when I've worn braids," she said. "I've been fortunate to be able to travel around the world and see so many different cultures that have so many different beauty trends."
As part of her defense, she said that her daughter North West helped her picked them out.
And! Kim's used this defense before. Right after the MTV awards (which were a month ago) she said North helped her pick them out and asked her to wear them. which made it okay. She said she "hadn't seen" the backlash.
She wore the same basic style in January, too, but her hair was blonde. She posted a snap of them on her Instagram and called herself "Bo West," which is a play on the name Bo Derek, a white actress who wore them in the 1979 movie 10.
https://www.instagram.com/p/BejDGW4FRRS/
BO WEST
A post shared by Kim Kardashian West (@kimkardashian) on
At that time, she faced criticism for, among other things, calling them Bo Derek braids instead of their actual name, Fulani braids.
"I obviously know they're called Fulani braids, and I know the origin of where they came from and I'm totally respectful of that,"Kim said in an interview. "I'm not tone deaf to where I don't get it. I do get it."
Follow Emma on Instagram.
Source: Read Full Article