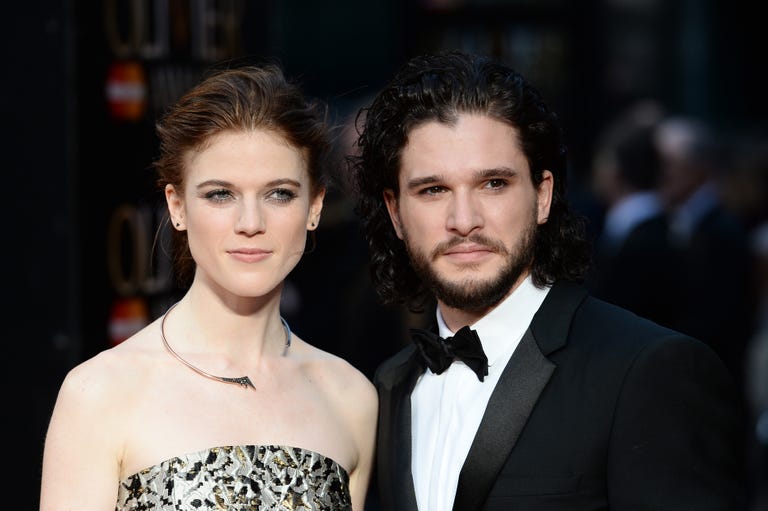 Rose Leslie and Kit Harington are about to go from on-screen couple to real-life husband and wife. According to the BBC, the former Game of Thrones costars registered the wedding date of June 23 at a local office in Aberdeenshire, Scotland, where Leslie's father owns a castle. And that means their big day is this weekend, and their costars, like Peter Dinklage and Emilia Clarke, are reported to be attending their wedding.
The couple have kept most aspects of their relationship private, but as they went from colleagues to future husband and wife, they've revealed some adorable details about their love story. Here's how the two fell for one another both on and off the set.
Their characters fell in love before they did.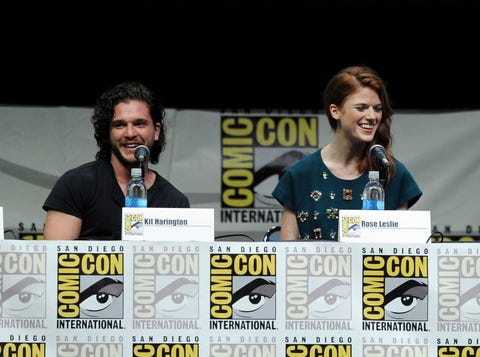 The two met on the set of Game of Thrones in 2012, when Leslie played Ygritte, a wildling who falls in love with Harington's character, Jon Snow. In a 2016 interview, Harington said the two fell in love in real life while filming the show's second season in Iceland. "The country is beautiful, because the Northern Lights are magical, and because it was there that I fell in love," he said. "If you're already attracted to someone, and then they play your love interest in the show, it's becomes very easy to fall in love."
Spoiler alert: Ygritte was eventually killed on Game of Thrones, and Leslie moved on to star in the CBS legal drama The Good Fight. Now, Leslie has forbidden Harington from spoiling her about what happens on Game of Thrones, even non-verbally. "I for sure ask Kit not to show me his excitement after he has read an episode, simply because I don't want to read anything in his eyes," she told Entertainment Weekly. "So when he's at the other end of the room and reading the episode, it's like, no…we are not going to have eye contact for a long time. Go make a cup of tea. Calm down."
They like to keep their private life private.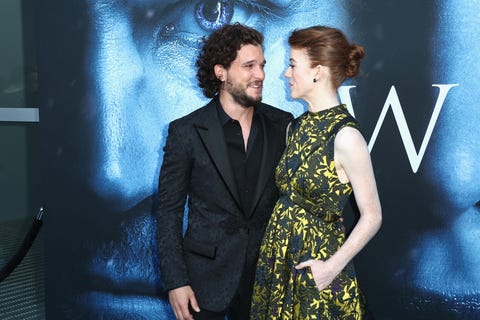 At first, Harington and Leslie kept their relationship a secret, but they were eventually photographed together, and made their red carpet debut as a couple in 2016, at the Olivier Awards in London. Still, they kept things quiet, and Harington declined to say too much in an interview with Esquire, "'cause it's as much her relationship as it is mine and I can't speak for both of us. But yeah, we are very, very happy. So that's what I'll say about that." Harington even said the two decline to take pictures with fans as a couple, because "then it makes our relationship feel like…puppets. Like we're a walking show."
They moved in together, and Harington almost ruined things with a prank.
The two ended up moving in together in 2017. And it was their shared home where Harington pulled an epic prank on Leslie for April Fool's Day, putting what looked like a severed head in the refrigerator. "After that, she was in tears, and I was there going, 'April Fools.' It didn't go down well," Harington said on The Jonathan Ross Show. "She pretty much told me that if I did it ever again, that would be it, and I think that's marriage included."
They got pressure from an Oscar-winner to put a ring on it.
During an interview on The Late Late Show With James Corden, Nicole Kidman pressured Harington to propose. "No, I just think it's kind of nice if you're going to live together maybe to at least get engaged," she told him. "I've been put on the spot by Nicole Kidman! I mean well it's step by step, step by step."
Harington's proposal was romantic, and their announcement was old-school.
It turns out an engagement may have been in the works all along. Harington revealed he proposed to Leslie during a romantic night in the country—though he couldn't wait until he had originally planned to pop the question. "I did have some plans to do it, I was going to string up some lights in some trees and do all the romantic stuff, but we were in the country and we were under this beautiful night sky and had a log fire burning and red wine and I blew my load early," he said on The Jonathan Ross Show, then realizing his unfortunate turn of phrase. "Sorry, that's a really bad expression!"
The couple announced their engagement in September 2017, and did so the old-fashioned way: with an announcement in The Times of London. "The engagement is announced between Kit, younger son of David and Deborah Harington of Worcestershire, and Rose, middle daughter of Sebastian and Candy Leslie of Aberdeenshire."
The two are bonding with family, but not forgetting where they started.
It seems clear that Harington is a hit with the Leslie family, because he was spotted dragging Christmas trees across the grounds of Wardhill Castle, which is owned by Leslie's family and is likely their wedding venue. It turns out he was working as a Christmas tree seller on the property, helping load the trees into customers' cars.
The couple reportedly invited 200 guests to their wedding, and used stamps featuring Harington as Jon Snow. That's because the Royal Mail issued limited edition Game of Thrones stamps, so he could literally use his face as postage. Not a bad way to get a wedding invite.
https://www.instagram.com/p/Bfs_7p_DT4P/
Source: Read Full Article