Lorde has broken her social media hiatus to stick up for herself and her Melodrama Tour. Kanye West and Kid Cudi recently did their first performance as the Kids See Ghosts duo. The performance was held at Tyler, The Creator's Camp Flog Gnaw festival on Sunday, Nov. 11, and while the Kardashians, Tyler, The Creator, and just about everyone at the concert seemed to have a great time, Lorde wasn't loving it. And Lorde's Instagram calling out Kanye West and Kid Cudi explains exactly why.
The "Royals" singer, whose Melodrama tour is nearing its final performances (the tour ends on Nov. 17), posted to her Instagram story on Nov. 12 calling out the Kids See Ghosts duo for allegedly copying the set design of her tour. Elite Daily reached out to Kanye West and Kid Cudi's teams for comment on the accusation, but did not hear back by the time of publication.
During their performance on Nov. 11, West and Cudi spent the entirety of the show floating above the crowd in a glass box. Think of it as a giant fish tank with lights. Lorde had an eerily similar floating glass box for a stage during her Melodrama Tour, as well as during her 2017 Coachella performance.
Now, she has broken her social media hiatus to call out West and Cudi for seemingly copying her glass box.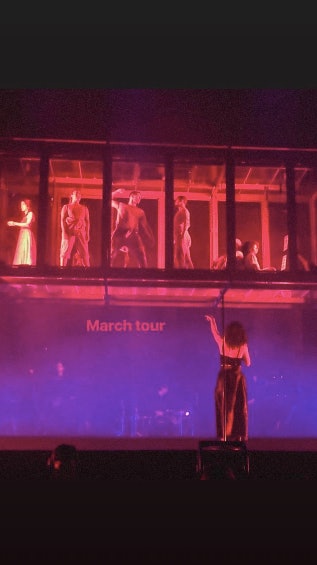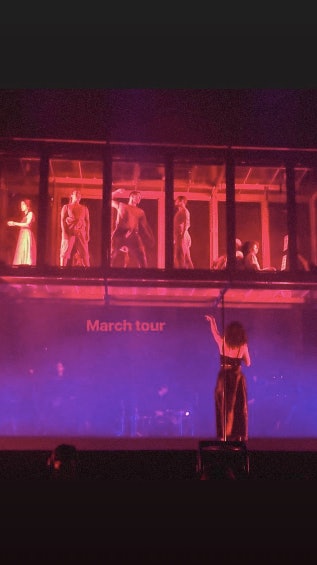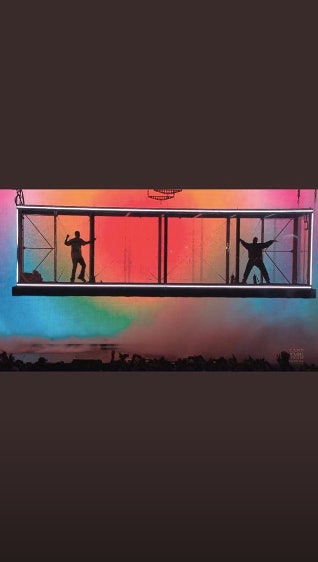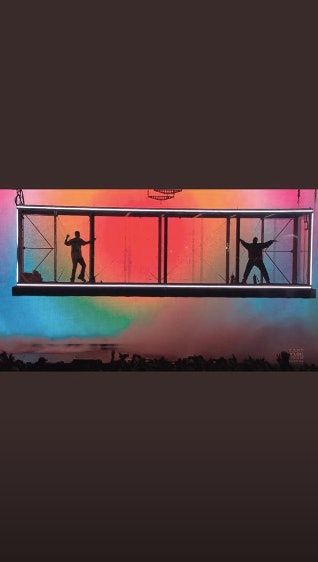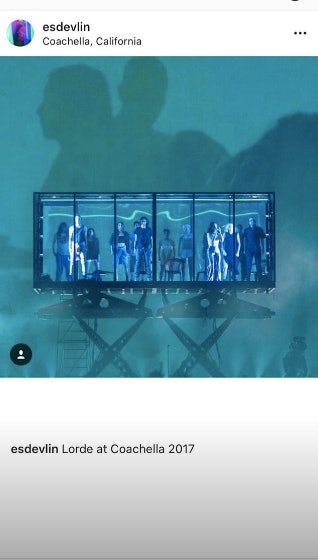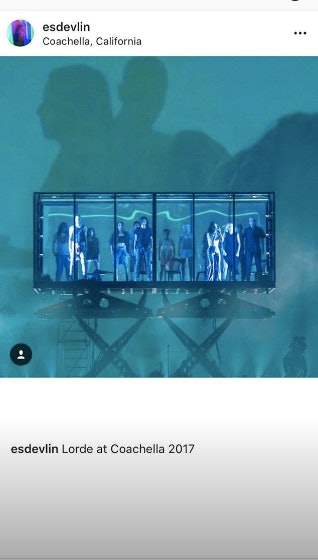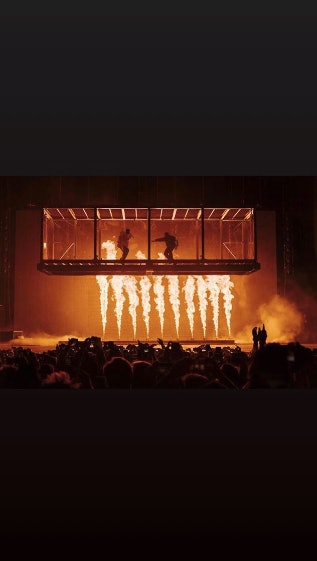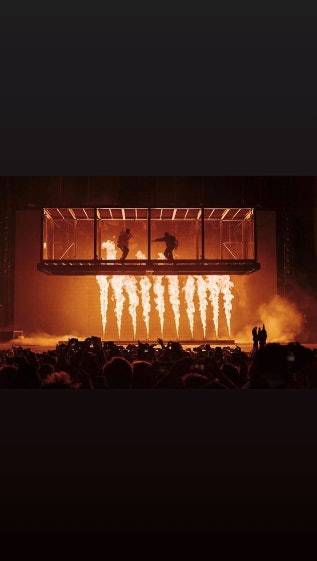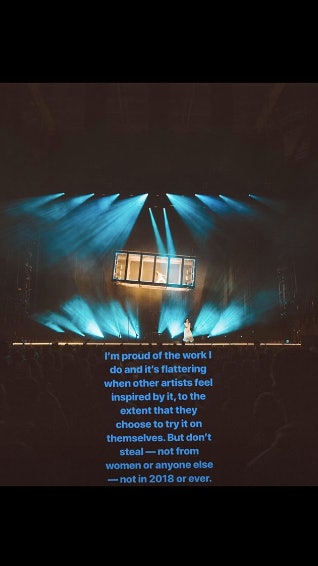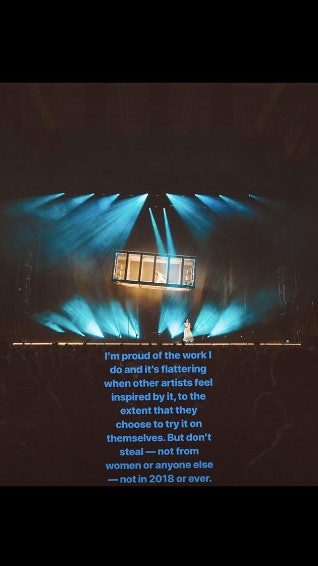 The singer posted a series of five photos to her story on Nov. 12 — three of her own stage, and two of West and Cudi's stage she claims is a copy of hers.
The last photo in the set of five had a caption that read,
It's pretty easy to see the similarities between Lorde's stage and West and Cudi's. Lorde's glass box stages have both been suspended in the air and elevated off the ground via platforms. West and Cudi's stage was suspended like hers, but West had his own suspended "floating" stage for the Saint Pablo tour, so Lorde can't claim he copied her on that front.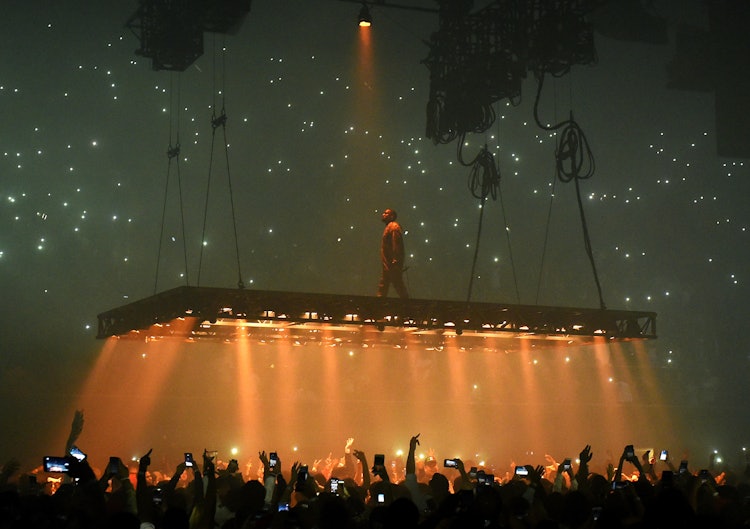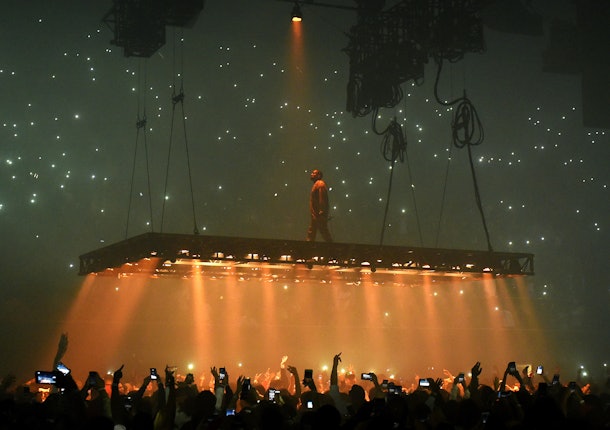 The "glass box" stages do look very similar, however.
Lorde fans love that she broke her social media hiatus to defend herself.
Other Twitters have justifiably pointed out that Lorde's floating stage seemingly pulled inspiration from West's Saint Pablo stage.
Things get more complicated, however, when you take a closer look.
One of the screenshots Lorde posted to her Instagram story to call out West and Cudi was of Es Devlin's Instagram page. Devlin is the female set designer who reportedly created Lorde's floating "glass box" stage, but she has also been working with Kanye West on his set designs since 2005.
It was Devlin who designed West's floating stage for the Saint Pablo Tour in 2016, as well as Lorde's original "glass box" stage for Coachella 2017. The box was then suspended for the Melodrama Tour.
People on Twitter are now calling Lorde out for calling out West and Cudi. It's just a lot of people calling each other out right now.
Devlin herself has seemingly responded to Lorde's claims that West and Cudi copied her stage.
https://www.instagram.com/p/BqHzIypFQvm/
Devlin posted a photo to her Instagram of a stage she designed for a production of Carmen for the English National Opera… in 2007. The stage looks exactly like West and Cudi's Kids See Ghosts stage, as well as Lorde's stage she used for Coachella and Melodrama.
So, to be quite honest, Lorde's Melodrama stage wasn't her own design, so she can't really complain about Kids See Ghosts getting a similar set design when they both employed the same person. And Devlin proved she has been evolving this floating tank design over the last decade. While it's pretty epic that Lorde called West and Kid Cudi out, she probably should have done her research beforehand. Sorry, Lorde, but you're going to have to take the L on this one.
Source: Read Full Article