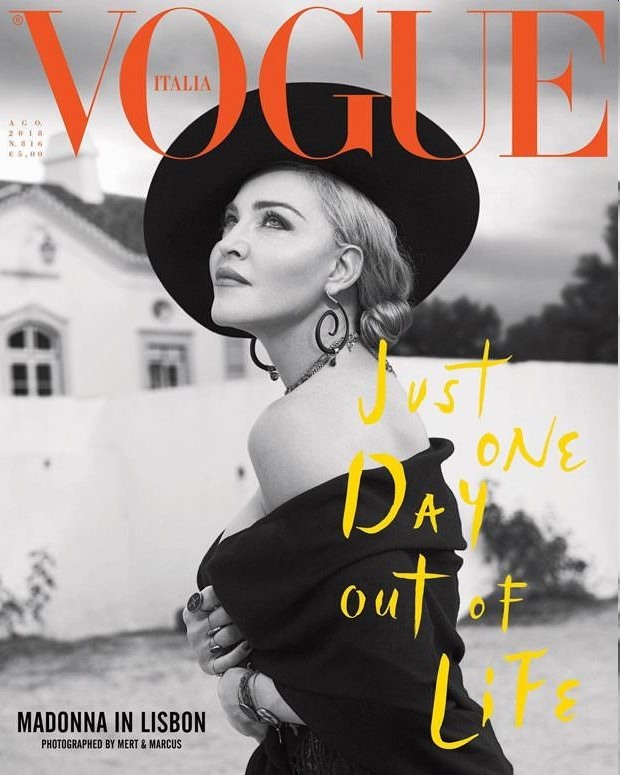 Madonna turns 60 years old TODAY. Isn't that crazy? We're all getting older, but I never thought that we would be sitting here, talking about Madonna turning 60 years old and… like, she's still a relevant artist and celebrity? Don't get me wrong, I'm not saying that out of ageism: there are many artists who are still vital and relevant into their 80s and 90s. But it always seemed to me that Madonna was going to have a shorter shelf life as an artist, that her "always rebranding" persona would eventually phase out and she would be "over" at some point. I don't know if Madonna still has a lot of good music to make – does she? – but I respect her position as an elder stateswoman of pop music. As it turns out, she doesn't know what half of the kids are doing in music anymore either. Let's consider this Madonna's "get off my lawn!" statement – when she was profiled in Vogue Italia, she discussed the state of the music industry and why she prefers to live in Portugal now.
She doesn't get music today: "Everything's so formulaic, and every song has 20 guest artists on it, and everyone sounds the same."
In Portugal, the music life is much different: "In Alfama, you'll hear people singing and playing fado music everywhere. There are these weekly sessions called living room sessions which pop up in people's beautiful homes that are 500 years old, and you walk up the marble steps which are lined with candles into the living room which is also dimly lit with candles. And there's this rolling, very intimate performance happening where people play, they sing, they recite poetry. It's like a salon; something which doesn't really exist in many places anymore – people elsewhere say, 'Call my manager, this is how much I charge.' I'm pretty sure in Lisbon people would do these shows and not get paid, they just do them for the love of what they do, and for me, this is glorious and inspiring."
[From NME]
Yeah… Madonna isn't wrong? There's a lot of pop music that just isn't good, and there's a lot of pop music that all sounds alike. Music trends do go through phases and we're in a particularly bad phase right now. I mean, I love Beyonce as much as the next person, but Beyonce and Adele can't save the music industry on their own (and Beyonce's latest album is not her best work, ouch).
https://www.instagram.com/p/Bl5ngqfnJJI/
#JustOneDayOutOfLife on Newsstands Friday August 3rd [email protected] by #mertandmarcus @mertalas @macpiggott @artpartner styled by @eyobyohannes @theonly.agency Madonna with @dinodsantiago , @kimidjabate , Gaspar Varela, Vania, Donatelli and Tuniko Goulart at Jon Luz's establishment Tejo Bar. It is located in the Alfama district, whose streets are enlivened by the sound of fado day and night. Read the exclusive interview with Madonna by @xerxescook in our new issue and tomorrow on vogue.it ? Full credits ❤️ Talents – #Madonna Dino D'Santiago Kimi Djabate Gaspar Varela Vania Donatelli Tuniko Goulart Editor in chief @efarneti Creative director @gb65 Make up @visionaaron Groomer (models) #FedericoSimao Hair @andylecompte @thewallgroup Manicure @adamslee_ @streetersldn Skincare @mdnaskin Props stylist @franciscotrepa Props @avidaportuguesa On set @ Across Media Production Local production @warsawcreatives Retouching @ Dreamer Locations @nomadportugalproduction With thanks to Turismo de Lisboa
A post shared by Vogue Italia (@vogueitalia) on
Cover and IG courtesy of Vogue Italia.
Source: Read Full Article