Madonna has never been afraid to break taboos at the Met Gala over the years ― donning bunny ears, chugging rosé from a canteen and even flashing her derrière. But she found yet another way to make a splash at Monday's event, reminding fans and A-list attendees why she's still the Queen of Pop by giving them a stunning three-song performance.
The theme of this year's gala was "Heavenly Bodies: Fashion and the Catholic Imagination" ― which, frankly, seems tailor-made for Madonna, who has built her career on blurring the lines between religion and sexuality. True to form, the star descended the staircase in the Metropolitan Museum of Art's Great Hall in a monk's cloak singing her 1989 smash "Like a Prayer" with Gregorian chants in place of the song's usual gospel choir. 
She later removed the cloak to reveal a bustier and sheer skirt, both in pure white, for a dance break before segueing into Leonard Cohen's "Hallelujah."  
Vogue captured snippets of the performance for posterity on Instagram. 
A post shared by Vogue (@voguemagazine) on
Meanwhile, fan site Madonna Nation shared additional footage. 
Madonna's set also included a sparse, and as-yet-unreleased, new tune.
"It's a beautiful plan, but I'm not concerned. It's a beautiful game, that I never learned," she appeared to sing in the song, believed to be from a forthcoming album. "You have taught me to shut my mouth, so I don't get burned. Keep your beautiful lies, 'cause I'm not concerned."
Earlier in the evening, the Material Girl walked the red carpet in a black, floor-length Jean-Paul Gaultier gown. It was a fitting choice, as Gaultier has created some of Madonna's best-known looks, including her legendary cone bras, worn on the 1990 Blond Ambition Tour. 
She completed the look with a bejeweled crown and rosary necklaces by Indonesian designer Rinaldy Yunardi.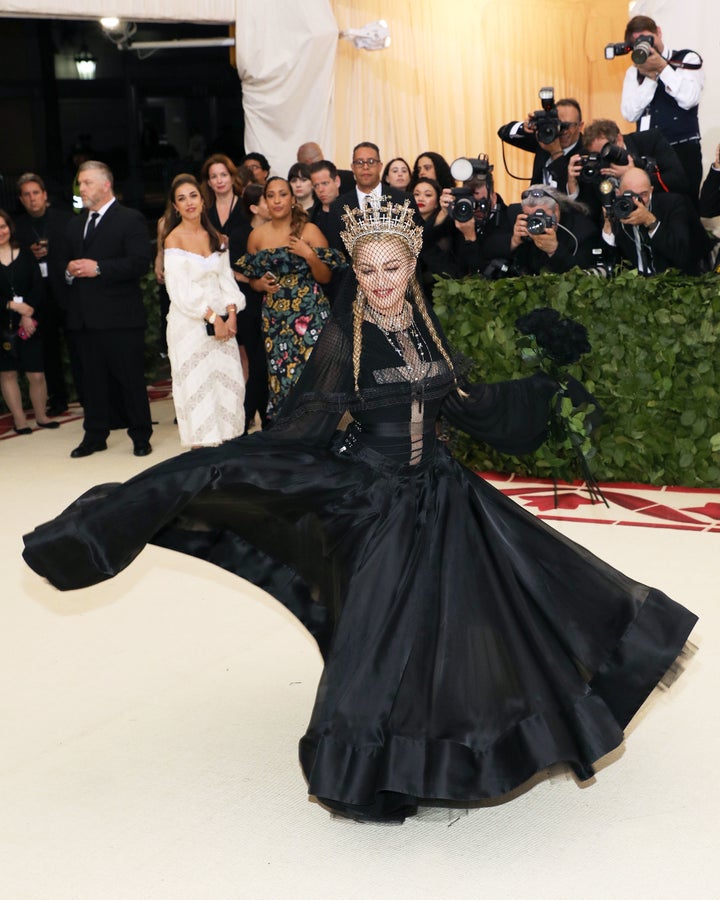 After four decades in the business, the famously lapsed Catholic said her childhood faith continues to influence her music and performances. 
"When I first started, I was covered in rosaries, so nothing's changed, really," she told Vogue, as seen in the clip above. "Religious themes have always been a part of my work and always inspired me in everything that I do ― my music, my creativity, the way I dress."   
"Tonight I feel so close to God," she added. 
Source: Read Full Article