Today in celebrity news that you didn't see coming, Mariah Carey recently made it *very* clear that she has no intention of getting back together with Nick Cannon.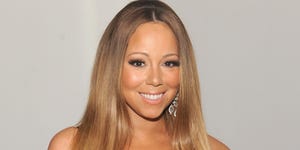 Last month, Nick got fans riled up when he reportedly said that he'd be happy to get married to his ex-wife again, and, naturally, this news made it back to Mimi. When asked by a TMZ photog what she thought of Nick wanting to re-join her in matrimony, Mariah fired back with, "Remarry? This is him making this up. This is him being silly." She was then asked, "Are you good with the single life the rest of your life, basically?" And Mariah, having none of that nonsense, replied, "What is he, my last hope?"
FWIW, it looks like Nick didn't mean that he actively wants to get remarried to Mariah, but rather that if he had to get married again for some reason, it would be with her. He clarified the comment on The Ellen Degeneres Show, saying:
So basically, don't hold your breath for a Nick/Mariah reunion!
Source: Read Full Article