By now, you've probably noticed it's hard to look anywhere without catching a glimpse of a royal wedding photograph. It seems everywhere you turn Prince Harry and Meghan, Duke and Duchess of Sussex, are staring back at you. Fans have seen sweeping shots of Meghan's veil, touching tears in Prince Harry's eyes, and the Queen sitting in her epic green and purple hat. But, there is one photo that seemingly trumps them all. Meghan Markle and Prince Harry's overhead photo in their carriage has taken fans' breath away, and the story behind the gorgeous picture is truly awesome.
The image is damn near perfect. It was taken from directly above Meghan and Prince Harry as they made the rounds post-ceremony in a horse and carriage. In the picture, Prince Harry and Meghan hold hands in their laps and look over their left shoulders, and her wedding gown looks like it was pristinely placed just for this shot. Something about the picture is almost too perfect, like the cover of a Disney movie or an old painting in a museum… almost like you've seen it before.
Now, the man behind the picture has revealed himself and is responding to all of the hype. Photographer Yui Mok responded to a tweet calling his picture "exquisite." Semi-hilariously, he started his message off with "Thanks."
Mok tweeted:
He also took time to shout out the editors behind the image, too.
Here's the picture again, this time a little larger.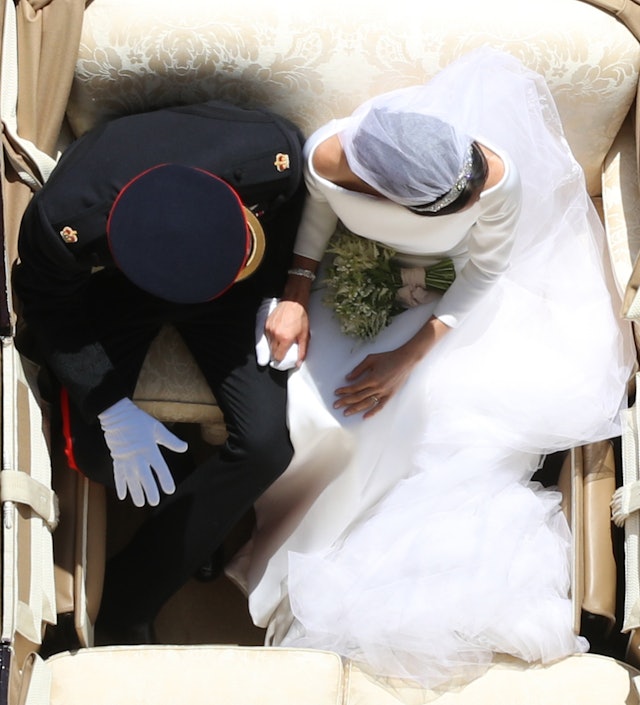 Get real.
The picture has been re-shared thousands of times and every time you look at it you can notice something different. For example, one fan pointed out it looks like Prince Harry and Meghan make a heart-shape, which Mok calls "purely coincidental." He elaborated that he took the picture through a grate at the top of Windsor castle and had "less than a one-second window" to take the shot. Mok says he was just happy he captured anything.
Meghan's veil and the tip of her tiara are two of the most prominent details in the photo. Based on a statement released by Kensington Palace, fans now know they were two of the most intense pieces of her ensemble, too. The statement explained the veil is five meters long and made up of silk tulle. It stated:
Pristine. Exquisite. Eff-ing awesome. All these words work when describing this picture of the gorgeous train and happy couple. I'm sure one day I'll get tired of looking at the world's most beautiful event on the world's most beautiful day, but that time is not now.
Keep em comin', Mok.
Check out the entire Gen Why series and other videos on Facebook and the Bustle app across Apple TV, Roku, and Amazon Fire TV.
Source: Read Full Article