Here's one that the world might have saw coming: Meghan Markle's sister may be on Celebrity Big Brother. The outspoken relative of the Duchess of Sussex, Samantha Grant (now Markle), is rumored to have signed on for the UK version of the reality competition series, which is slated to debut later this summer. Rumblings of her participation have been swirling for a weeks now and the theme of the upcoming season is reportedly going to be "scandal," which may point to why she was offered a spot on the long-running program.
Samantha has not been shy when it comes to opening up to the media since her half-sister Meghan stepped into the spotlight. She's done a series of interviews discussing her estranged family member and even has a tell-all memoir in the works titled The Diary of Princess Pushy's Sister. Samantha did not receive an invite to the Royal Wedding and Meghan has not commented on her book, media presence, or commentary.
Meghan and Samatha's father, Thomas Markle, was supposed to give Meghan away at her May 18 nuptials, but he could not attend due to poor health.
"Meghan and I do not have a relationship now. The last year I think has been strained because what tabloids have said, but Meg does not have a relationship that I've seen with anyone in the family," Grant explained to TMZ in May regarding her and Meghan's current communication status.
Samantha's public opinion of Meghan has run the gamut, from the negative to the flattering and complimentary.
"I think the British people and the world will be surprised. There's so much the public doesn't know," Samantha told Good Morning Britain in October of 2017.
What is her book about? Samantha additionally explained:
Samantha has expressed reality television ambitions in the past.
"I'm ready for it and rolling up my darn sleeves. I want a show down!" Grant reportedly told the Sun Online in April 2017. "I'm not really interested in fame, I just want to speak the truth," she added.
If Samantha does join Celebrity Big Brother, she'll potentially live and be filmed with cast members like model Chloe Ayling and reality star Charlotte Dawson, who are among the list of celebs rumored to be in the cast.
The UK's Celebrity Big Brother began airing in 2001 following the success of Big Brother. Many American stars have competed on the reality game show, which films a group of celeb housemates as they live in isolation under one roof. Tara Reid, Heidi Montag, Spencer Pratt, Aubrey O'Day, Perez Hilton, and Farrah Abraham are all alums of the series.
The United States has their own Celebrity Big Brother on CBS — the first season premiered in 2017 and featured names like The Cosby Show's Kesha Knight Pulliam and former Trump political aide Omarosa Manigault.
If Samantha does end up having the opporunity to compete on the UK version Celebrity Big Brother and use the platform to "speak the truth," I'd be willing to bet my last crumpet that Meghan and Prince Harry won't be tuning in.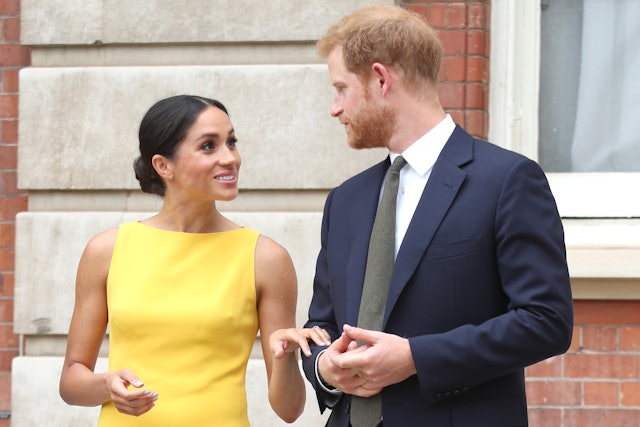 Source: Read Full Article