I'm not a huge sitcom fan, but I absolutely love That '70s Show. The hilarious jokes, the amazing hair, and the star-studded cast — what's not to love about the long-running comedy? It's been almost 20 years since the show first premiered in 1998 (hard to believe, I know), and now that we're firmly entrenched in revival mania, I'm desperate to know whether a That '70s Show reboot could actually happen. Like the angel she is, Mila Kunis stepped in to answer my burning questions, and she definitely made it seem like a That '70s Show reboot is still on the table. Can I get a, "Hello Wisconsin!"?
Kunis first stoked the That '70s Show revival fire during a CinemaCon event for her new movie, The Spy Who Dumped Me, on Thursday, April 26. When asked if the cast of the hit show would ever reprise their roles, Kunis said:
I'll take a maybe! I would love to see Kunis take on Jackie Burkhart again and rekindle the romance with her boyfriend Michael Kelso (played by her IRL husband, Ashton Kutcher). The 2006 series finale ended just before Jan. 1, 1980 (the last moment of the '70s), so why not pick it up again, but this time on Jan. 1, 1990? Let's just skip the '80s — there are too many shows about that decade, anyways.
While it definitely seems like a That '70s Show revival is possible, at least from a casting standpoint, Kunis acknowledged that she doesn't know if fans are as desperate to see the sitcom's characters again as they are for other shows like Will & Grace or Roseanne. "We're not as interesting as Roseanne. Nobody wants to see us back together," she told Entertainment Tonight. "It'd be like 1990s." I'm not one to tell Mila Kunis that she's wrong, but I would kill for a revival. Who wouldn't want to see how Fez (Wilmer Valderrama) turned out 10 years later?
The pro-revival camp has one more thing going for it: Kate McKinnon, Kunis' The Spy Who Dumped Me co-star, believes that people will watch a That '70s Show reboot regardless of the decade it's set in. As soon as Kunis made the comment about not being like Roseanne, McKinnon leaned into the mic, saying, "I beg to differ. I'm sorry." Hell yeah, Kate. Way to represent the team.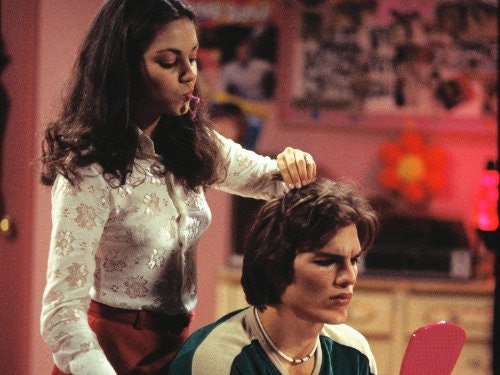 Plus, now that the show is airing pretty much 24/7 on cable and streaming on Netflix, an entirely new generation of fans is getting to appreciate the '70s magic. According to Kunis, these new fans are just as loyal to That '70s Show as the show's original viewers:
These new fans may be younger than the show itself, but I'm sure that they would love to have a revival to binge watch after they've made their way through all eight seasons of That '70s Show on Netflix.
We may have to wait a little to see how all this That '70s Show revival talk pans out, but if you're desperate for a Mila Kunis fix, you won't have to wait too long. The Spy Who Dumped Me premieres in theaters on Aug. 3, 2018, and it looks absolutely hilarious. Kunis and McKinnon star as best friends who get caught up with an underground spy ring when they learn that one of their ex-boyfriends is actually a CIA agent. McKinnon and Kunis haven't worked together before, but it's about time, because these two seem like the perfect complement to one another. Maybe McKinnon will appear in Bad Moms 3, if we ever get one (please, please, please, give us one).
If we don't end up getting a That '70s Show reboot, at least we'll have its best product: an IRL Jackie-Kelso relationship. Now that's something even Red Forman can get behind.
Source: Read Full Article