Last week, Kylie Jenner's 21st birthday party ended with model Tammy Hembrow being transported the hospital, and the Instagram star just spoke out about the scary incident. In a video posted to her YouTube channel, she reassured fans that everything is okay.
"I've had a lot of concerned followers messaging me and asking if I'm just alright. So, I just want to clear that up and say yes, I'm okay,'" she said.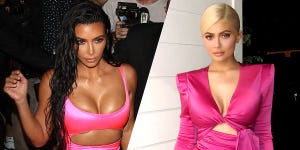 She went on to explain that when she was in L.A. for the party she hadn't slept in about 30 hours. She couldn't even stay awake while she was getting her hair and makeup done.
"I've been throwing myself into work way more than ever, and also, I have my kids the majority of the time," she said. "[It's] literally been like a non-stop, on-the-go kind of thing."
Tammy broke up with her fiancé Reece Hawkins in June, and she said ever since then she's been keeping herself really busy with work and not focusing on herself as much as she should.
https://www.instagram.com/p/BcyY5f9n-1V/?utm_source=ig_embed
Last Night at the @live_fit_apparel Black Tie Event ?
A post shared by Reece Hawkins (@hawk_reece_) on
"I probably, definitely shouldn't have been drinking because of how jet-lagged I was, because of how exhausted I was, and I already wasn't feeling well at all. I was honestly fine at that point, and I was talking to a bunch of my friends; I was catching up with some people."
"So, yeah, I pretty much collapsed. Honestly, I'm like already super, super embarrassed about it. I read a quote yesterday and it said, 'Make time for rest or your body will force you to slow down in ways you probably won't like.' And I feel like that couldn't be more true."
After the party, the rumors about her collapse spread online, and the fact that people made stuff up about her hurt her feelings. She reminded followers in the video that you never know what someone else is going through.
Thankfully, it looks like Tammy's been getting some much-needed R&R since the incident.
https://www.instagram.com/p/BmRK9PpD1Xg/?utm_source=ig_embed
This weather ohhhh my goodness
A post shared by ⠀⠀⠀⠀⠀⠀⠀⠀⠀⠀⠀⠀⠀⠀⠀⠀⠀⠀Tammy ? (@tammyhembrow) on
Follow Emma on Instagram.
Source: Read Full Article