Prince Harry and Prince William came face-to-face for the first time in more than a year when they attended the funeral for their grandfather, Prince Philip, back in April. It was also the first time that the brothers were seen together following Harry and Meghan Markle's interview with Oprah Winfrey, which sent shockwaves through the palace. All eyes were on Harry and William as they walked into St. George's Chapel with their cousin, Peter Phillips, standing between them, according to Entertainment Tonight. Harry and William also sat apart from one another during the service, and things were looking quite tense. However, things changed when the service was over. The two walked out of the chapel together — and even shared a chat.
Things looked calm between Harry and William, despite the reported tension between them. In those moments they shared walking to Windsor Castle, the two didn't show any signs of a rift, according to CNN. Many found themselves wondering if Harry and William would sit down and talk further, perhaps making an effort to begin the healing process after several months of being on different pages. 
In an updated version of the book "Finding Freedom," the world has some new insight on what happened back on April 17 — and in the days that followed, according to Today. Read on for more.
Prince William and Prince Harry talked 'at least' twice more after Prince Philip's funeral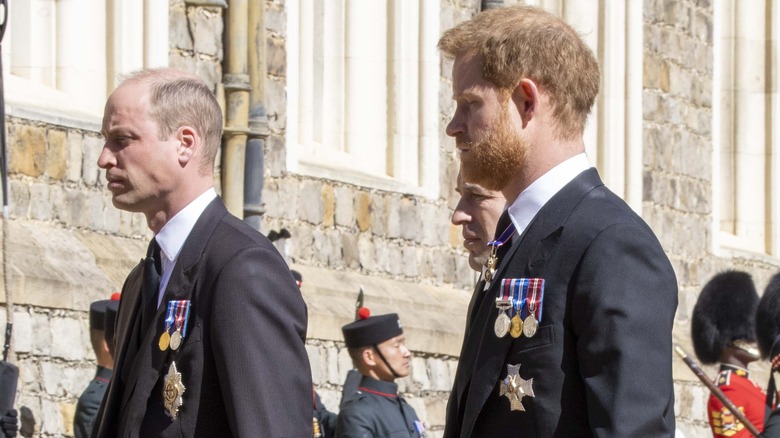 Prince Harry may have been optimistic about his time in the UK when he returned in April. According to "Finding Freedom" authors Omid Scobie and Carolyn Durand, the Duke of Sussex purchased a one way ticket to the UK, leaving a date to return to the U.S. open, Today reports. The updated version of the book reveals that Harry hoped that his trip "might also present an opportunity to come together and talk [with Prince William] without the filter of staff as go-betweens." And the two brothers did indeed have that opportunity — more than once. "At least two further conversations took place between the brothers during Harry's eight-day trip," the book reads.
Scobie and Durand revealed that Harry and William spent some time planning their next meeting, which would come on July 1 for the unveiling of a statue honoring their late mother. Further details about what the brothers may have discussed beyond the statue unveiling were not revealed. Overall, however, it seems that Harry and William were able to work together, and it sounds like their conversations went better than anticipated. Their chat following the funeral was described as "a far cry from the tense silence shared between the brothers at March 2020's Commonwealth Service," according to Today.
Source: Read Full Article