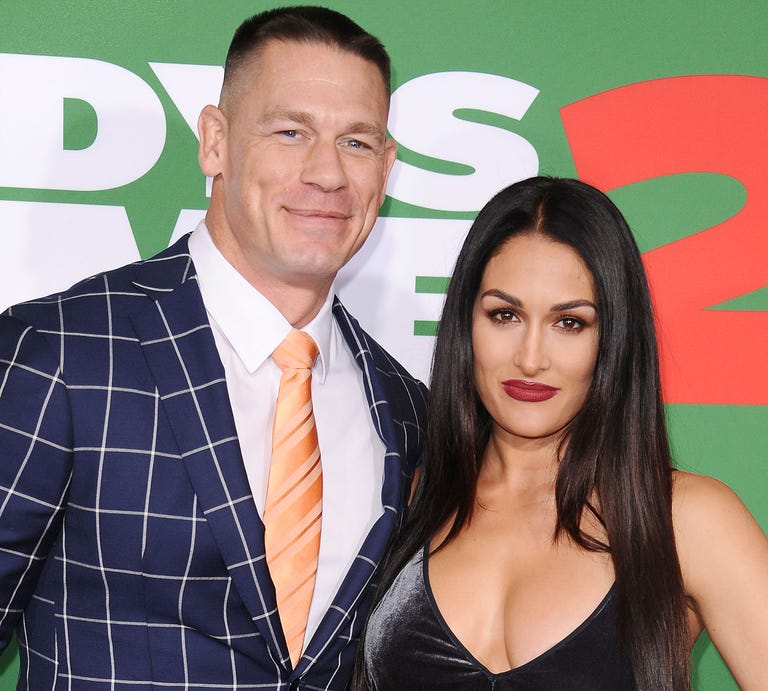 Nikki Bella called off her engagement to John Cena almost three months ago, and now new episodes of Total Bellas are revealing what may have driven the couple apart.
On Sunday's episode, Nikki hosted her bachelorette party in Paris alongside her sister Brie Bella, mom Kathy, brother J.J., and a few close friends. At dinner, Nikki opened up about how seeing John act intimate – albeit for a film – with a female costar has personally affected her.
"Imagine watching your man do a sex scene and have the whole world see his big butt," she said. "You know you get visuals. I swear, I couldn't masturbate forever because I just think of the sex scene."
John stripped down for his role in 2015's Trainwreck with Amy Schumer. He played a gym-addict named Steven that occasionally hooked up with Schumer's character, whose name was also Amy.
When promoting the film, John told host Conan O'Brien that shooting the scenes got him in trouble with then-girlfriend Nikki. "I didn't think I'd get the part, and I kept putting it off not telling Nicole and not having the discussion of 'Hey, there may be some graphic scenes," he said. When John finally landed the role, he said Nikki's "beautiful brown eyes..glowed with hell-fire."
However, Nikki's wrath did not stop John from getting naked for another movie role. He bared his butt in a scene for 2018's Blockers, in which his character participated in beer butt-chugging contest.
In a vlog posted to her YouTube channel on July 1, Nikki shared that she and John are still not together and are "just friends." The couple's biggest dispute revolved around John not wanting to have children.
Source: Read Full Article