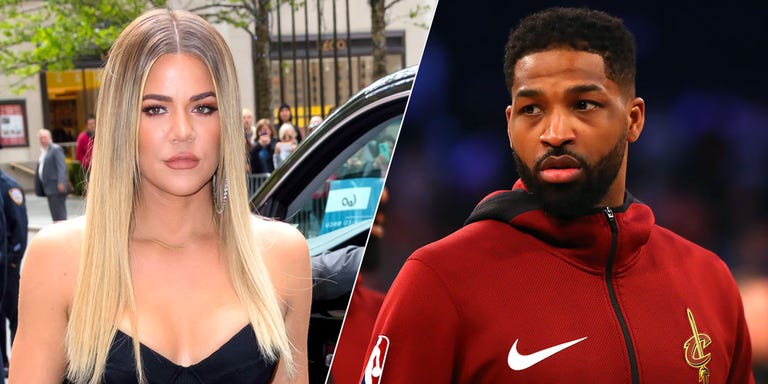 A mystery is afoot! Many folks think Khloe Kardashian cheered Tristan Thompson on at Saturday night's Cleveland Cavaliers vs. Raptors game, but some folks at Cosmopolitan.com have their doubts.
First things first, you need to see the evidence. TMZ has the photo of a woman who is or is not Khloé being escorted by security and wearing a leopard print duster and large sunglasses.
Khloe Kardashian Shows Up at Cavaliers Game to Support Tristan Thompson https://t.co/UlUEadZNCg
Now, personally, I'm pretty sure that's Khloé, but also several people at Cosmopolitan.com are pretty sure it's NOT Khloé. Or that it's maybe not Khloé. Honestly, I'm very confused!
Like, I FOR SURE thought it was Khloé until the suspicions were registered, and now I'm not so sure! My head! It hurts!
The (supposed!!) court side visit happened just weeks after Tristan Thompson was spotted cheating with (allegedly) multiple women, and Khloé giving birth to their daughter True Thompson on April 12.
Apparently, Tristan is back in his Cleveland home living with the Khloé and True.
"Khloé seems happy," a source said. "She loves being a mom. She's focused on keeping her family together. She seems okay with Tristan — there's no talk of a split."
The two were also seen out at lunch together on Friday. Khloé is apparently determined to work things out with the NBA player, who is currently in the middle of the NBA finals.
Source: Read Full Article