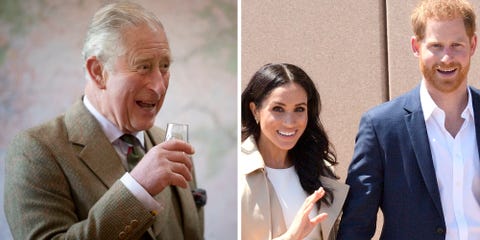 The public greeted the news of the Duke and Duchess of Sussex's pregnancy with paroxysms of glee, but apparently, no one is more excited than grandfather-to-be (for the fourth time!) Prince Charles.
During Prince Charles' visit to the Royal Lochnagar Distillery in the Scottish Highlands today, a reporter asked the royal if he'd "toasted news of the royal baby." With a cheeky grin, the Prince of Wales replied, "Oh yes, absolutely," before adding, "Several times, at the moment!" with a hearty laugh.
Charles' comment comes just one day after the Sussexes' announced Meghan's pregnancy. Kensington Palace told reporters at the time that the Queen and Prince Philip, Prince Charles and the Duchess of Cornwall, and Prince William and the Duchess of Cambridge "are delighted for the couple." BAZAAR.com confirmed yesterday that most immediate members of the royal family knew about the pregnancy before Princess Eugenie's wedding on Friday, and they took the opportunity to congratulate the couple for the first time in person at the wedding.
The Duke and Duchess of Sussex spent much of the first day of their royal tour of Australia, New Zealand, Tonga, and Fiji greeting well-wishers and fielding congratulations from members of the public. They received their first baby gifts, UGG boots and a stuffed kangaroo, from Australia's Sir Peter Cosgrove and his wife. Later, the Taronga Zoo presented the couple with a stuffed koala which Meghan promised would receive prime placement "in the nursery."
Throughout the day, the Sussexes could barely contain their excitement over the impending arrival of their first child. During a speech, Prince Harry said of Australia, "We also genuinely couldn't think of a better place to announce…the upcoming baby. Boy or girl. So thank you very, very much," while Meghan was overheard telling someone she "couldn't wait to join the [parenthood] club."
Given all they've said about starting a family in the past, Harry and Meghan are sure to be amazing parents.
Source: Read Full Article