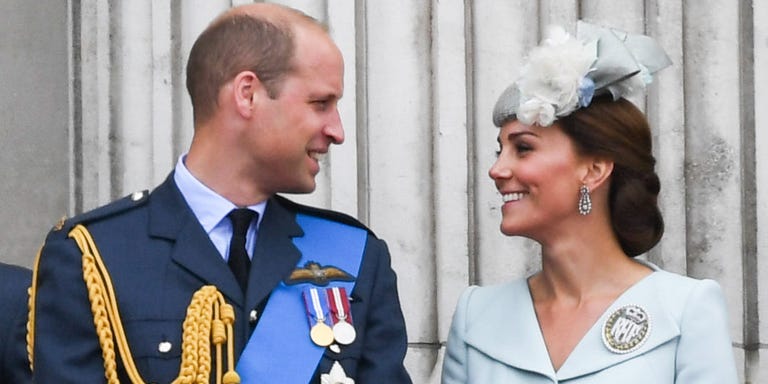 Prince William and Kate Middleton made a very regal appearance on the Buckingham Palace balcony this week with the rest of the royal family while celebrating the Royal Air Force's 100th anniversary. However, even while wearing a princely military uniform and custom Alexander McQueen dress, the Duke and Duchess of Cambridge still proved they're like any other married couple.
While stepping out with the rest of the clan, William was seen nudging Kate to move over to make room for their relatives (including Prince Harry and Meghan Markle) on the balcony.
"It's as if Prince William is going, 'come on, wake up, here we go," body language expert Susan Constantine told Good Housekeeping of the interaction.
William, of course, has once been on the receiving end of a nudge on the Buckingham Palace balcony. At Trooping the Colour in 2016, the Queen told him to stand up when he was crouching to talk to Prince George.
That wasn't the only adorably relatable moment the Cambridges shared during the RAF celebrations on Tuesday. During the church service at Westminster Abbey earlier that morning, Kate caught William giggling to himself in his seat. The Duchess turned around and found her husband stifling his laughter and let out a smile when he appeared to tell her what was so funny.
We still don't know why William broke into a giggle fit, but at least we have this cute moment to cherish:
https://www.instagram.com/p/BlC_1PNhYfy/
And while William and Kate joined other members of the royal family on the balcony, their two oldest children Prince George and Princess Charlotte were busy making faces from the palace windows. Charlotte was seen sticking out her tongue at the crowds below and waving frantically.
https://www.instagram.com/p/BlFdJUTHqun/
Royals: they're just like us.
Source: Read Full Article