Princess Eugenie marries Jack Brooksbank at Windsor Castle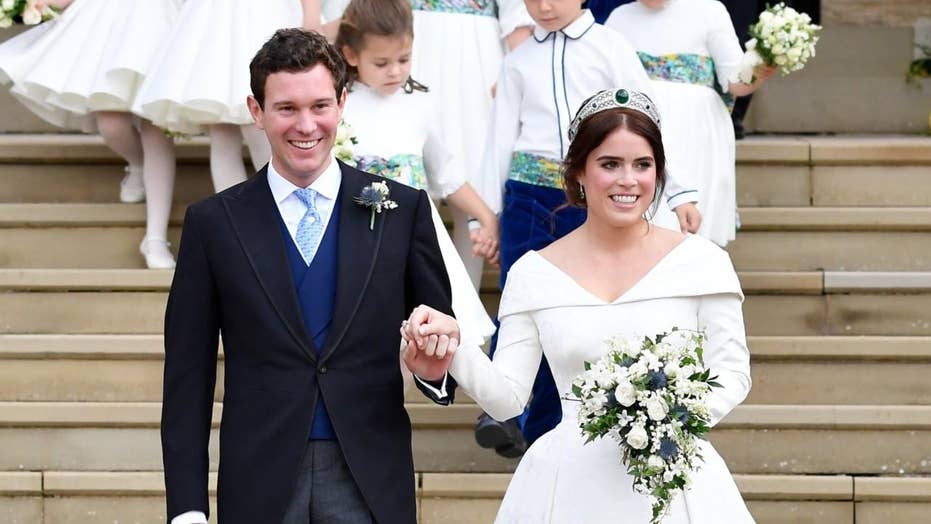 Princess Eugenie marries Jack Brooksbank at Windsor Castle
Princess Eugenie married Jack Brooksbank at Windsor Castle for the second Royal Wedding in 2018. The Royal family and celebrities gathered for the occasion.
Princess Eugenie married business executive Jack Brooksbank at St. George's Chapel on the grounds of Windsor Castle Friday.
The 28-year-old bride, who is the granddaughter of Queen Elizabeth II and is ninth in line to the British throne, wore a custom gown by British designer Peter Pilotto and was walked into the chapel by her father, Prince Andrew, Duke of York. The dress was designed to display the scar she received after having major spinal surgery when she was 12 years old.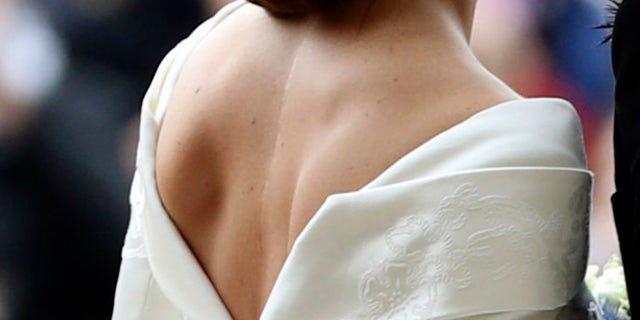 Princess Eugenie of York shows off her scar in her wedding dress on Friday, Oct. 12, 2018.
(AP)
She topped off the look with a diamond and emerald-encrusted tiara by Christopher De Vos, which was loaned to her by her grandmother.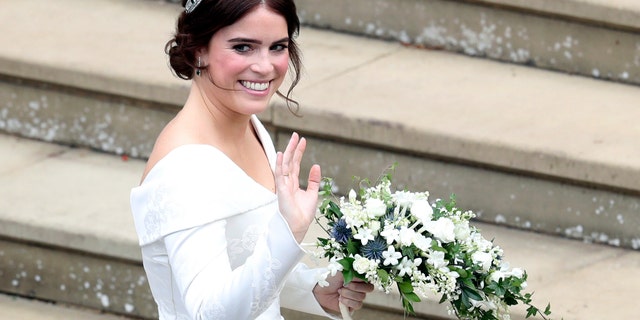 Princess Eugenie wore a tiara by Christopher De Vos, loaned to her by Queen Elizabeth II.
The queen and her husband, Prince Philip, attended the wedding, along with Prince Charles, Prince Harry and Meghan Markle, and Prince William and his wife Kate, the Duchess of Cambridge. There had been doubts about whether the 97-year-old Philip would be well enough to attend, but he seemed to be in good form during a rare public appearance.
William and Kate's son, Prince George, played page boy while his little sister Princess Charlotte served as one of the six bridesmaids.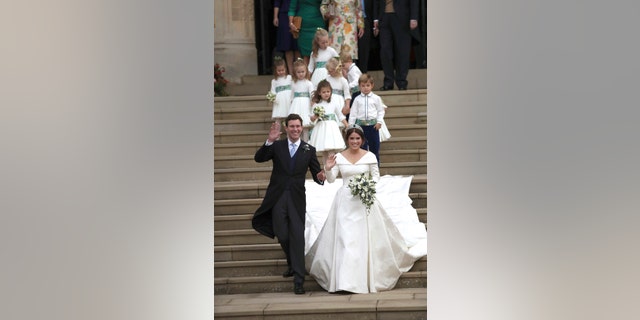 Princess Eugenie of York and Jack Brooksbank after their wedding ceremony at St George's Chapel, Windsor Castle, near London, England, Friday Oct. 12, 2018.
(AP)
The newlywed couple married in the same venue used in May by Prince Harry and Meghan Markle, as crowds gathered outside Windsor Castle ahead of Britain's second royal wedding of the year on a gusty day that required early arrivals to hold onto their elegant hats as they crossed the manicured grounds.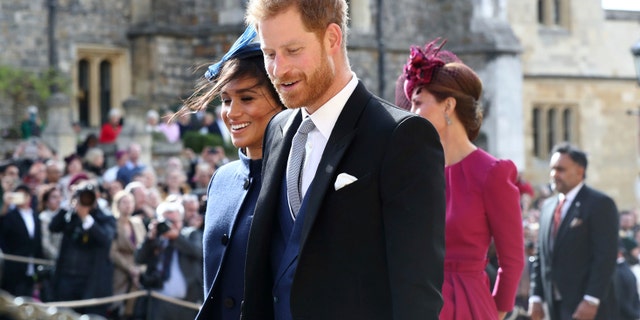 Britain's Prince Harry and Meghan Duchess of Sussex leave after the wedding of Princess Eugenie to Jack Brooksbank.
The couple got engaged in January when Brooksbank, 32, proposed during a holiday trip to Nicaragua in Central America. They had dated for seven years.
Eugenie works at a contemporary art gallery and her new husband has been working as a brand ambassador for George Clooney's Casamigos tequila's expansion into Britain and Europe. Her sister, Princess Beatrice, served as maid of honor and read a excerpt from F. Scott Fitzgerald's "The Great Gatsby" during the service.
Eugenie and Beatrice are the daughters of Prince Andrew and Sarah Ferguson, who are divorced but keep an amicable relationship. They left the chapel together smiling as the newlyweds embarked on a horse-drawn carriage ride through parts of Windsor.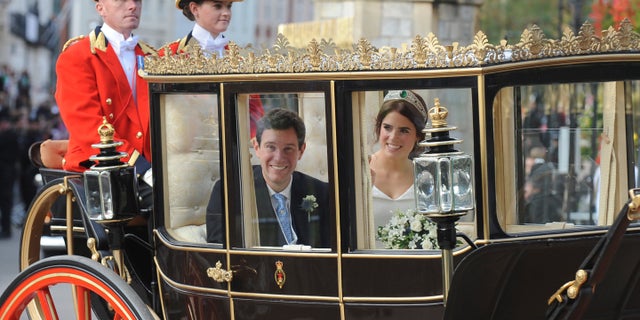 Princess Eugenie of York, right, and Jack Brooksbank travel from St George's Chapel to Windsor Castle after their wedding at St George's Chapel, Windsor Castle.
(AP)
The queen hosted a champagne luncheon for the guests following the ceremony, with a second reception planned for the evening.
Eugenie told ITV, which broadcast the hour-long service in Britain, that she was both excited and a bit on edge.
"It's nerve-wracking and a bit scary and all the things that come with getting married, but at the end of the day you get to marry the person you love," she said.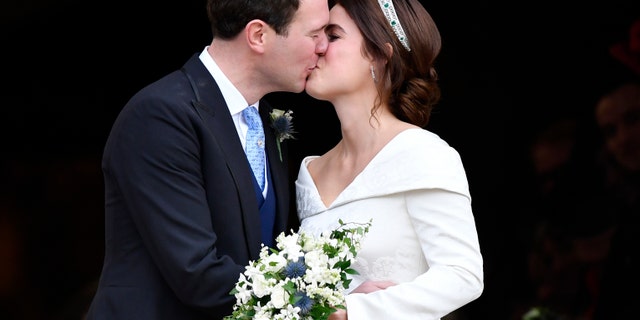 Princess Eugenie and Jack Brooksbank kiss after their wedding.
(AP)
The royal told Vogue in August that the one thing that she's making sure is included on her special day is to shine a light on her mission to make her life plastic-free. "It's been eye-opening," the brunette royal explained. "My whole house is anti-plastic now — and Jack and I want our wedding to be like that as well."
Her older sister Beatrice told the magazine at the time that rumors of Eugenie having a "preposterously lavish wedding" were false.
"Euge is amazing. She's a very modern bride," Beatrice told Vogue.
PRINCESS EUGENIE'S INSTAGRAM REVEALS A RARELY-SEEN-PART OF BUCKINGHAM PALACE
The couple invited 1,200 members of the public to come onto the castle grounds for a closer glimpse of proceedings and like the Duke and Duchess of Sussex, took a carriage ride through parts of Windsor after the ceremony.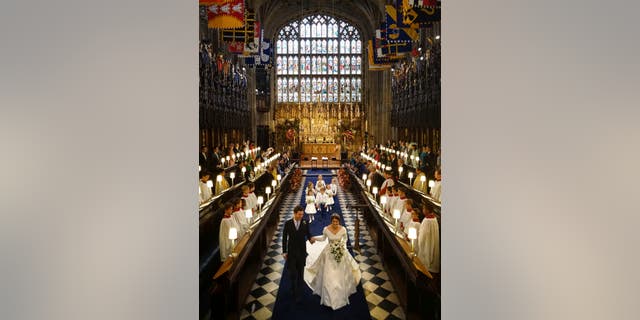 Princess Eugenie of York and Jack Brooksbank after their wedding ceremony at St George's Chapel.
The star-studded event was also attended by celebrities such as Demi Moore, Cara Delevingne, Liv Tyler and Ellie Goulding.
The Associated Press contributed to this report.
Source: Read Full Article