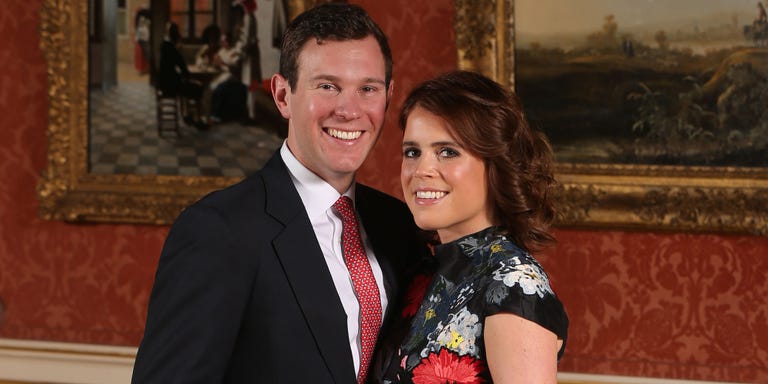 Prince Harry and Meghan Markle won't be the only couple to have a royal wedding this year. His cousin, Princess Eugenie, is also tying the knot to her longtime boyfriend (and now fiancé), Jack Brooksbank. Here's everything you need to know about the couple's upcoming nuptials.
It will take place on October 12, 2018.
When Buckingham Palace initially announced the news of the princess' engagement, it said the wedding would take place this autumn. Back in February, Prince Andrew, Duke of York (Eugenie's father) revealed the exact date of the ceremony.
It will be in the same venue as Harry and Meghan's wedding.
Brooksbank and Princess Eugenie will say their vows at St. George's Chapel in Windsor Castle, the same place where Prince Harry and Markle are tied the knot on May 19.
Most people may associate royal weddings with Westminster Abbey, but St. George's Chapel has been hosting its own I do's since King Edward VII married Princess Alexandra of Denmark in 1863.
More recently, it was the venue for Peter Philipps (Eugenie's cousin) and Autumn Kelly's wedding in 2008, Prince Edward (Eugenie's uncle) and Sophie Rhys-Jones' wedding in 1999, and Prince Charles and Camilla Parker Bowles' marriage blessing in 2005. (They were actually married in a civil ceremony, followed by a blessing at the chapel.)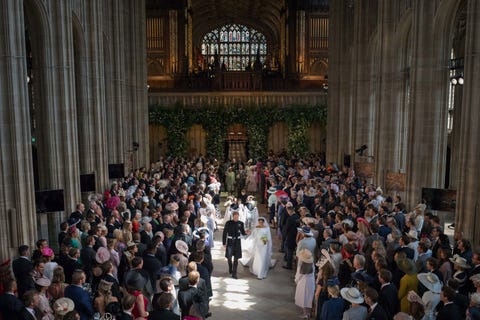 Princess Charlotte will be a flower girl and Prince George will be a page boy.
Princess Eugenie has selected Princess Charlotte, 3, to lead the flower girls and Prince George, 4, to be a page boy for her nuptials, the Express reports.
The bridesmaids are: Theordora Rose Williams, 5, daughter of singer Robbie Williams, who is a friend of the couple; Maud Windsor, 4, daughter of Lord Freddie Windsor and actress Sophie Winkleman; and Ines de Givenchy, 2, daughter of JP Morgan exec Olivier de Givenchy, according to the Express.
Ines' brother, Louis, will be a page boy with Prince George.
1,200 members of the public are invited.
Over a thousand lucky guests will be selected to experience the festivities from Windsor Castle grounds. They'll be able to witness the guest arrivals, listen to a live broadcast of the ceremony, and watch up-close as the couple steps out for their first appearance as newlyweds. Applicants must be over the age of 5 and U.K. residents. Get more info here.
There will also be representatives from charities the couple supports, students from local schools, Windsor Castle residents, and members of Royal Household staff present.
There will be a carriage ride.
Like Harry and Meghan, Eugenie and Jack will embark on a carriage ride through the town of Windsor after their wedding ceremony.
"The newly married couple will then undertake a short carriage procession through part of Windsor High Street. The carriage will process through the grounds of Windsor Castle, departing via Castle Hill to proceed along part of the High Street before returning to the Castle via Cambridge Gate," Buckingham Palace announced.
The ring is a stunning pink sapphire.
Eugenie's engagement ring features a pink padparadscha sapphire surrounded by smaller diamonds on a yellow gold band. She and Brooksbank apparently worked together to design the ring of gems surrounding the rosy center stone.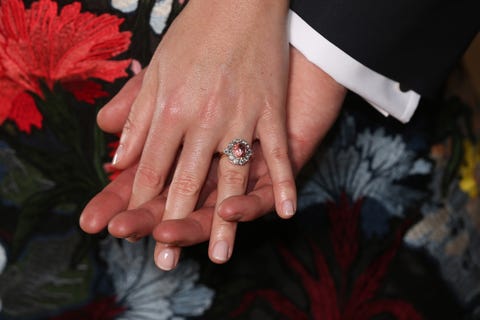 It also looks a lot like the ring her father, Prince Andrew, gave to her mother, Sarah Ferguson, in 1986.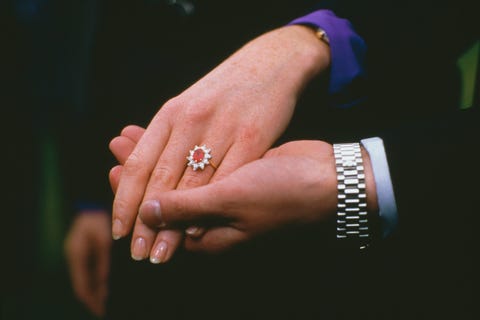 Brooksbank proposed in Nicaragua (without the ring).
Brooksbank popped the question to Eugenie in early January 2018 during a scenic trip to Nicaragua.
"We had a beautiful volcano, [the] sun was setting, birds were flying," he told BBC in a joint interview with his fiancée.
"The light was just a special light that I've never seen," Eugenie added. "I actually said, 'This is an incredible moment,' and then he popped the question."
But Jack didn't have the ring on him when he got down on one knee. "I found a ring in a jeweler's, and then proposed to Eugenie without it," he said, because he wanted to make sure she'd approve of the design.
The couple has been together for seven years.
"We met when I was 20 and Jack was 24 and fell in love," the princess said during the interview. She first met Brooksbank, the former manager of Mayfari's Mahiki nightclub, during a ski trip to Verbier, Switzerland.
It's rumored Eugenie will wear the York tiara for the wedding.
The princess' mother, Sarah, Duchess of York, wore the headpiece during her 1986 wedding to Prince Andrew. "Traditionally when brides get married, they normally wear the family tiara, which in this case would be the York Tiara," royal expert Grant Harrold told The Daily Mail.
The tiara was made from Mayfair jewelers Gerrard & Co. and consists of diamond-studded leaves and collets mounted on platinum, The Express reports. The high-wattage piece would be an elegant for the bride-to-be. Plus, it's "something borrowed."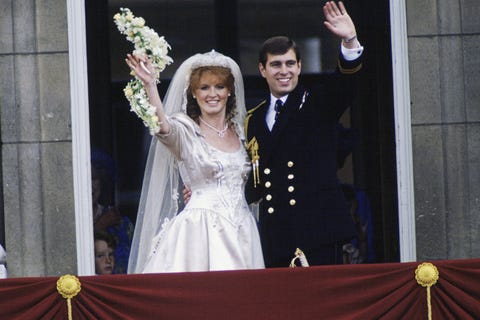 Follow along for updates as the engaged couple announces more details about their big day.
Source: Read Full Article