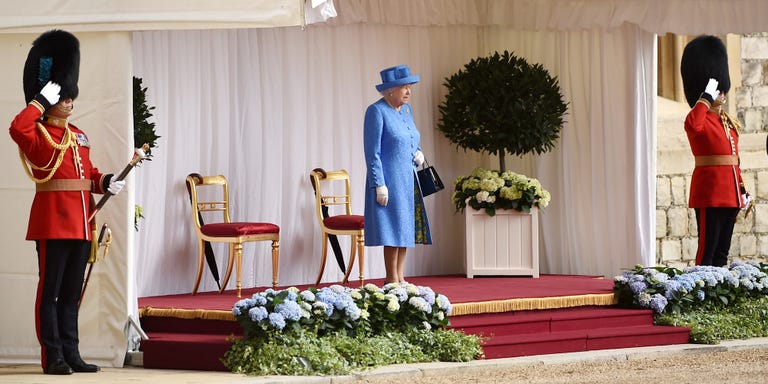 Don't keep the Queen waiting. Ahead of her meeting with the Trumps at Windsor Castle today, her Majesty was seen checking her watch before her guests' arrival, royal reporter Patricia Treble pointed out on Twitter.
Other Twitter users noticed the gesture, too.
It's unclear whether the president and first lady were specifically late to their rendezvous with the sovereign. The couple arrived around noon eastern time in the courtyard of Windsor Castle, where the Queen received them at a tent before a group of Cold Stream Guards, one of Britain's oldest Army units, CBS News reports.
The monarch smiled as she shook hands with America's first couple. (It looks she wasn't upset with the timing of their arrival after all.) The Cold Stream military band performed the U.S. national anthem for the trio.
After the Queen took Trump to inspect the guards on the quadrangle, she led the president and first lady indoors for tea. Unlike their meeting outdoors, there was no live footage of their private meeting. We'll have to wait to find out what happened within Windsor's walls.
This marks Trump's first official visit to the U.K. as president, but he didn't receive quite a warm welcome from the public upon arrival. Thousands of demonstrators protested his visit in London's Trafalgar Square—reportedly 100,000 people, according to CBS—and more crowds gathered outside of Windsor Castle ahead of his meeting with the Queen today.
On top of that, a massive "Trump baby" balloon was flown over Parliament Square, a decision that was approved by London's mayor Sadiq Khan.
Source: Read Full Article