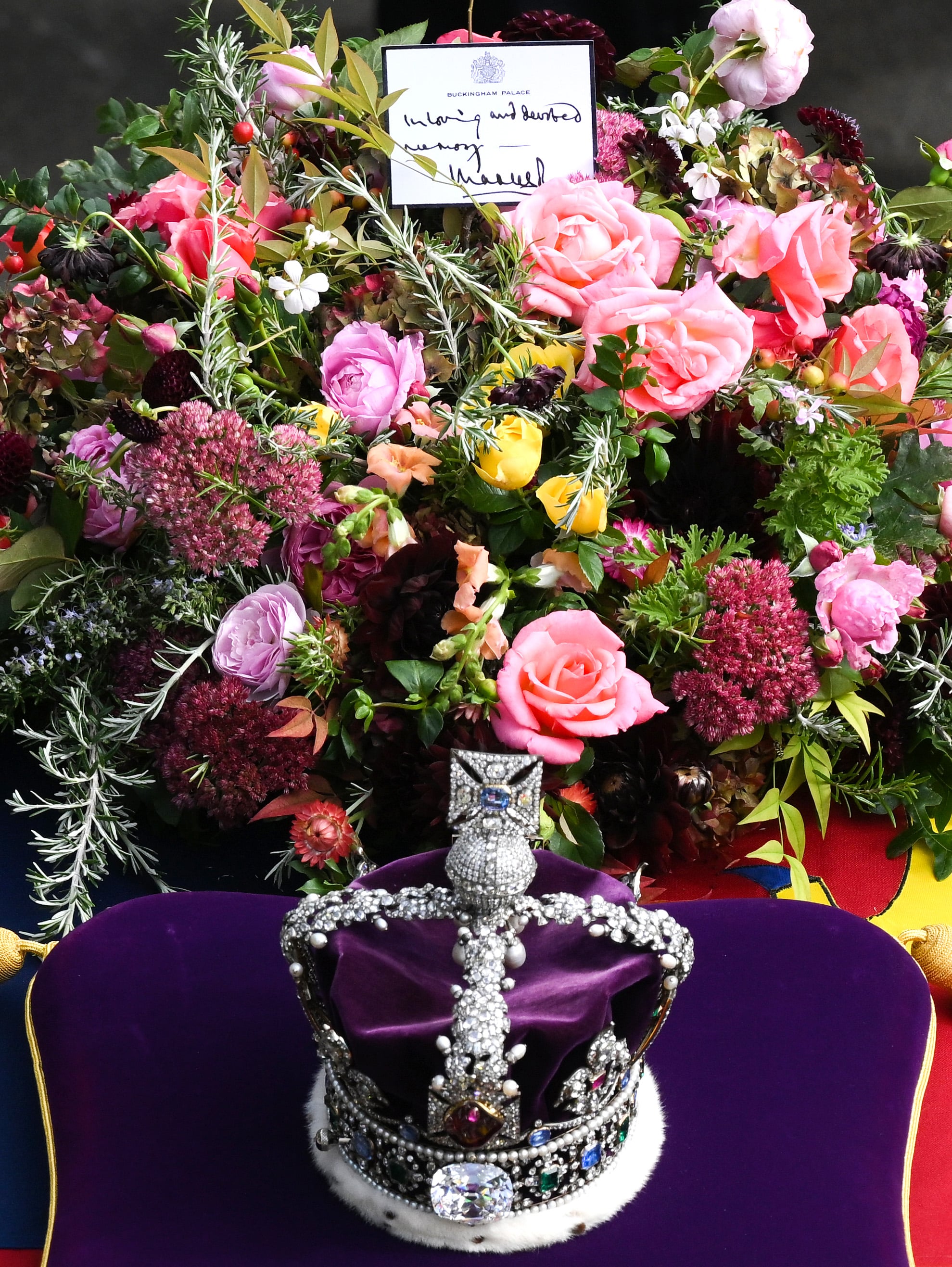 While much of the world continue to mourn the passing of Queen Elizabeth II, the late monarch's casket has returned to Westminster Abbey for the state funeral. As the queen was brought through the church, many eyes were drawn to the beautiful wreath placed on her casket, and it turns out that the flowers actually carry a deeply significant meaning: in addition to rosemary, English moss, and oak, the wreath also included myrtle grown directly from the exact sprig used in the queen's 1947 wedding bouquet.
The rest of the foliage in the wreath was similarly symbolic. Rosemary represents loyalty and remembrance, and English oak is used as a sign of strength of love. (Couples even used to get married under English oaks to strengthen their love.) Myrtle, meanwhile, signifies love and a happy marriage. Ultimately, the wreath is a tribute to the queen's 73-year marriage to Prince Philip.
"At His Majesty The King's request, the wreath contains flowers and foliage cut from the gardens of Buckingham Palace, Clarence House and Highgrove House," Buckingham Palace announced in a statement before the funeral on Monday. "Also included are: Scented pelargoniums; garden roses; autumnal hydrangea; sedum; dahlias; and scabious, all in shades of gold, pink and deep burgundy, with touches of white, to reflect the Royal Standard, on which it sits."
To ensure the wreath endures for as long as possible, the queen's son, now King Charles III, also specifically requested the floral arrangement to be made in a sustainable manner, devoid of any kind of floral foam. As a final touch, the new king left his mother a note on the wreath, which read, "In loving and devoted memory — Charles R." Following the funeral, Queen Elizabeth will be buried alongside her husband at St. George's Chapel in Windsor Castle.
Source: Read Full Article