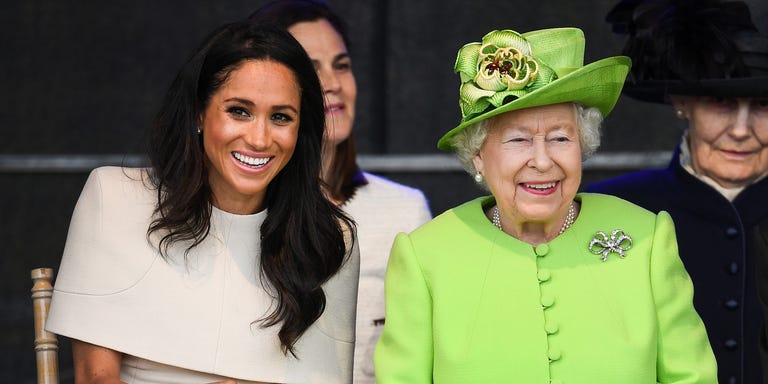 Meghan Markle's first solo outing with Queen Elizabeth was filled with many firsts, including an overnight ride on the royal train. But it also included some learning moments as the Duchess of Sussex becomes familiar with her brand-new royal status.
Having married Prince Harry less than a month ago, Duchess Meghan is still relatively new to royal life and all that it entails. Accompanying the Queen on a royal engagement solo is undoubtedly an impressive feat for the new royal—but she is still learning about the family's intricate set of rules.
During their first outing as everyone's new favorite royal duo, the Queen guided Markle through an almost-awkward moment when it came to getting into their car to travel to the opening of the Mersey Gateway Bridge.
According to People, the Duchess was unsure what etiquette dictated about who should get into the car first. The publication reports that, to avoid making a faux pas, Markle asked the Queen, "What is your preference?" to which the Queen allegedly replied, "You go first." The Duchess said, "Oh, okay," suggesting that she wasn't expecting this response.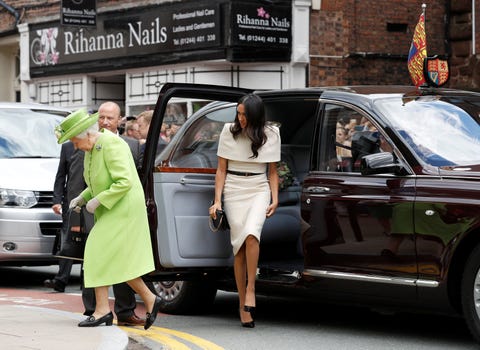 But despite her nerves, Markle (wearing Givenchy to mark the occasion), revealed to the Lord Lieutenant of Cheshire, "I'm very happy to be here," clearly relishing her first major royal engagement without Prince Harry by her side.
And as Queen Elizabeth was smiling and laughing throughout the day, it appears that the monarch was very happy to have her grandson's wife by her side.
Source: Read Full Article